Trump's Stock Market Gains Once Again Surpass Those of Obama
President Donald Trump's stock market gains have soared, surpassing those made during the same period of time under his predecessor President Barack Obama.
After crashing dramatically as the novel coronavirus pandemic spread across the country, the stock market has rebounded with a stunning performance. The S&P 500 stock market index surged an additional 1.5 percent on Wednesday, bringing it to an overall 42 percent gain since Trump was elected in November of 2016. During the same period of time, Obama saw the same index make gains of 31 percent.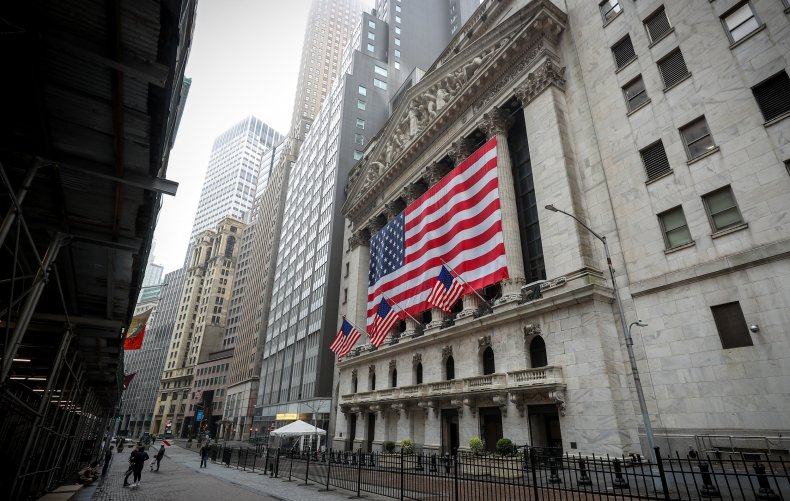 When Obama took office, the American economy had sunk into the Great Recession and unemployment was on the rise. Trump has repeatedly compared his administration to that of his predecessor and was a routine critic of Obama's leadership throughout his tenure in the White House. Trump has also regularly pointed to the stock market, which had reached historic peaks prior to the pandemic, as his favorite benchmark of his presidency's success.
"The president's bold policies of low taxes, deregulation, reciprocal trade, and energy independence took this economy to record setting historic highs for all Americans, and they will do so again," Judd Deere, White House deputy press secretary, told Newsweek when asked to comment on the stock market gains.
In March, the S&P 500 had dropped dramatically on news of pandemic-related closures, but has now risen by 36 percent since bottoming out. Meanwhile, the Nasdaq Composite index is just shy of tying its former record highs.
"Stock Market up BIG, DOW crosses 25,000. S&P 500 over 3000. States should open up ASAP. The Transition to Greatness has started, ahead of schedule. There will be ups and downs, but next year will be one of the best ever!" Trump tweeted on Tuesday.
While Trump and his supporters have pointed to the stock market's rebound as a marker of economic success, tens of millions of Americans remain unemployed as the unemployment rate has surged into the double digits from a low of 3.5 percent in February. Due to the coronavirus pandemic, large sectors of the economy remain shuttered even as all 50 states begin reopening after stringent lockdowns.
Progressive Democrats have been critical of the focus on the stock market as a marker of economic success. They have pointed out that millions of Americans are still out of work and struggling to pay rent, despite the resurgence in the markets.
"Hint: it starts with a C and ends with -apitalism," Democratic Representative Alexandria Ocasio-Cortez of New York tweeted on May 6, sharing a post question how the stock market could be doing fine as millions of Americans suffer economically. "(aka this is what happens when Wall Street captures Congress and writes themselves bailout check after bailout check as working people die)," she added.
This article has been updated with a comment from the White House.