Trump's Stump Speech on White House Lawn May Be Legal—But Some Republicans Don't Like It
The Trump administration is no stranger to violating ethics laws. But while President Donald Trump's desire to deliver his convention speech from the White House lawn may blur the lines of ethics rules, it has some Republicans labeling the idea as "problematic."
"Well, I don't—is that even legal?" Senate Majority Whip John Thune (R-S.D.) said to reporters Wednesday.
Senator Ron Johnson (R-Wis.) said it was "probably not allowed" and that the president "probably shouldn't do it."
Just hours earlier, Trump confirmed on Fox & Friends that he was considering a live address to accept his official nomination from the Republican Party at the White House, which he argued would save taxpayer money because of less travel and security costs.
The in-person celebration of the Republican National Committee in Jacksonville, Florida, slated for later this month was scrapped amid a surge in new coronavirus cases in the Sunshine State. And Trump will not give remarks at the pared-back events that will occur in Charlotte, North Carolina.
"I'll probably do mine live from the White House," Trump told Fox. "It's the easiest alternative. I think it's a beautiful alternative."
That idea, said Thune, is not beautiful. In fact, he called the idea "problematic" because of intermingling the official office of the presidency with a re-election campaign.
"I think anything you do on federal property would seem to be to be problematic," the No. 2 GOP senator said. "I don't know what the laws allow for, if it's ever been done before, like in the 1800s or something. But I don't know. I'll try and get a better answer for you."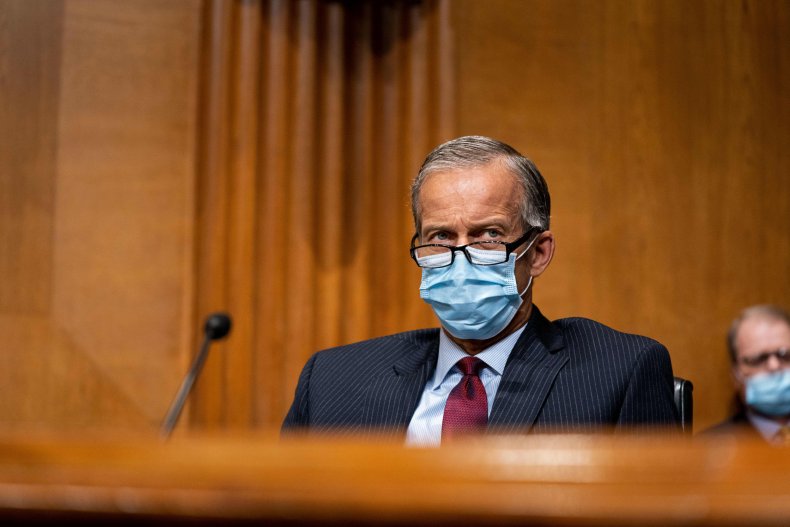 Thune added that he assumes such political speech from White House grounds would be prohibited by ethics laws, such as the Hatch Act. But while the law bars federal employees from engaging in political activity in their official government capacity, it exempts the president and vice president.
Still, the Hatch Act would prohibit White House officials and government employees from partaking in the production of a Trump convention speech from the White House. And it's illegal to force any federal employee to engage in political activity.
"It's difficult to see how he could produce it without those same employees who are prohibited from doing such activity," said Kedric Payne, general counsel and senior director of ethics at the Campaign Legal Center.
Theoretically, Trump may be able to bring in campaign officials to do 100 percent of the event from start to finish, including the camera operator. But Trump said the Republican National Committee would reimburse taxpayers for the cost of using the White House grounds, something that Payne said is nearly impossible to estimate a fair market value for.
"It's impossible to know how to reimburse for fair market value of the White House lawn and explain to the public how taxpayer dollars did not fund this political event," Payne said.
Senator Mitt Romney, who's no fan of Trump and was the only member of his party to vote for his removal from office, seemed indifferent to the idea.
"I don't know whether that's technically legal or not," the Utah Republican said. "But it's gotta be somewhere."
If past is prologue, Trump may not mind the public scrutiny.
Countless Trump administration officials have not only been accused of violating the ethics law—several officials have been found to have breached the Hatch Act by a government watchdog. The Office of Special Counsel (OSC) ruled in November 2018 that a half-dozen Trump officials broke the ethics rules, but the agency declined disciplinary action.
White House counselor Kellyanne Conway is one of the most frequent Hatch Act violators. Last year, OSC recommended that she be removed from her post for being a "repeat offender." Conway remains in her current role.
While unusual, Trump has already shown a willingness to flout White House norms. He has given partisan speeches from the Rose Garden, attacking his Democratic rival Joe Biden and has appeared to endorse private businesses, most recently with a tweet of Goya bean products lined up in the Oval Office when that company faced backlash after its CEO met with Trump.
Washington Correspondent Elizabeth Crisp contributed to this story.
This story was updated to include remarks from Senators Johnson and Romney.