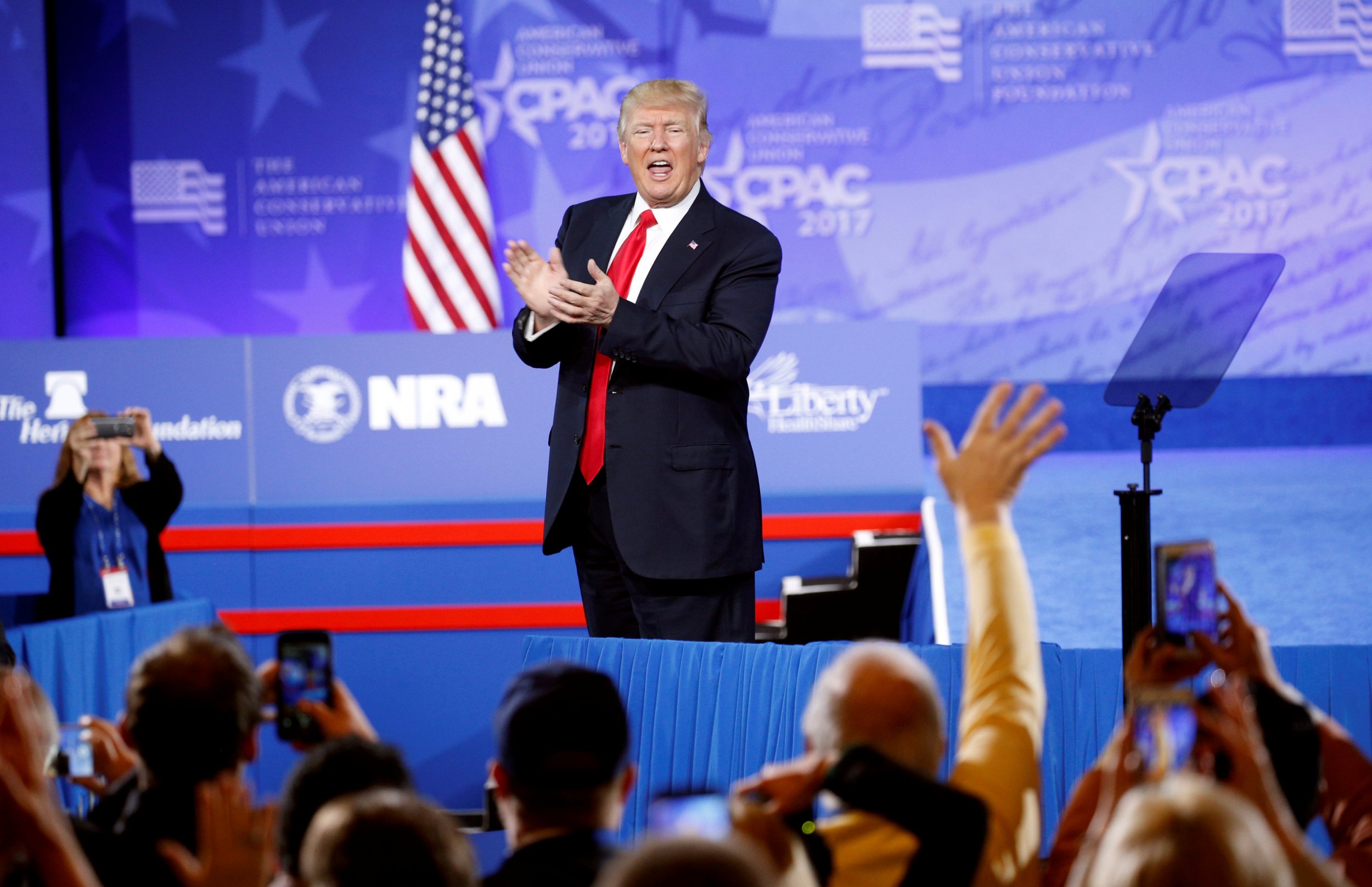 "I sense your fear."
With those words, NRA exec Wayne LaPierre tried to connect with his audience at the annual Conservative Political Action Conference this week. Fear has been a binding emotion for conservatives at least since 9/11. But Wayne's sense was off. Fear is on the run along with ISIS and control of all three branches of government and no socialist in the White House to resist has turned the rightest edge of the conservative movement relatively content and listless.
Holding all three branches of government is, it seems, a little boring.
The crazy sizzle of past CPAC conventions was all but extinguished this year. The organizers appeared to have scrubbed alt-right agitators not just from speaker rolls but from the registration lists. No more Milo Yiannopolous and other preachers of open neofascism—although two of the groups on the agenda had earned spots on Right Wing Watch's hate group list. No fanatical Knights of Malta anti-abortionists manned booths among this year's vendors, just $10 t-shirts emblazoned with the mugs of libertarians Hayek and Milton Friedman. No Steve Bannon (sitting it out in Utah, for some reason). Vice President Mike Pence was somber and conciliatory.
Panelists talked a lot about deregulation and taxes, Trump's judges, fighting the orthodoxy of political correctness on campus. It's all important stuff for real conservatives, but not the grist to inspire rage or fear in the rank-and-file in the run-up to an election season that could spell disaster for the GOP. Besides the media there wasn't a lot to complain about.
The venue itself was more Truman Show than Trump rally. Denial hovered over the proceedings, where no one dared mention (until the last hour) the elephant in the room—Donald Trump's legal and ethical problems. A conservative college professor, interviewing White House lawyer Don McGahn, let McGahn meander through an eye-glazing account of the minutiae of the administration's regulatory reforms, without once bringing up the Mueller investigation or several lawsuits brought against Trump personally since his election, including one filed by one of his female accusers, and another by activists who have accused him of inciting violence against them at a Trump rally in Kentucky during the campaign.
The aura of unreality was enhanced by the venue itself—a spanking new development in Oxon Hill, Maryland, just south of Washington —an eerily perfect stage set for a rock-ribbed conservative crowd. The Gaylord National Resort and Convention Center on the shores of the Potomac anchors a development called National Harbor. A $1.4 billion MGM casino and an outlet mall anchor the other end. The vast open atrium in the convention center is a fake village, with street signs and storefronts, and outside even the landscaped shrubbery on the streets looked fresh from plastic packaging. Security-guarded, spic and span, absolutely odorless, new-moneyed and faux-quaint, it's downtown Aspen on the Potomac, with a Carhartt shop (blue-collar chic for the kids of lobbyists and federal employees) and a Jos A Bank Clothiers (duds for said kids' dads).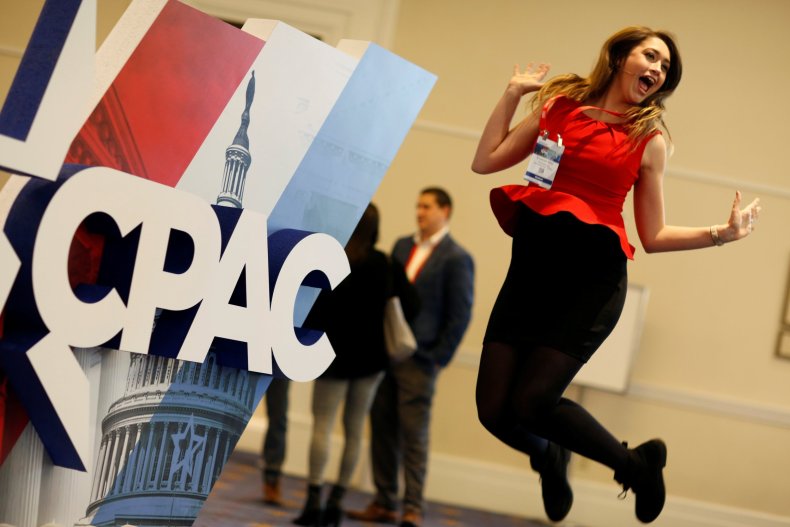 A #MAGA dream town, in every way.
Adult attendees had forked over up to $5,000 to the organizers, the American Conservative Union, for a "premium gold ticket" that included listening to Fox commentator and former prosecutor Jeannine Pirro keynote the Ronald Reagan dinner, plus "private access to the Gold Lounge" near the speakers' holding pen, while students paid $85.
Based on the size of the crowds in the room for the main speakers, attendance appeared to be down from its peak in 2014 when 14,000 people showed up. But the ACU told Newsweek it didn't have final figures.
The NRA's Dana Loesch and Wayne LaPierre—feeling feisty in the face of scrutiny in the wake of the Parkland school shooting, as MetLife, and rental car companies were racing to distance themselves—injected the only emotion into the proceedings. Loesch, the NRA's black leather-clad pitch-woman scorched the media pen. "The legacy media loves school shootings," she said, as the crowd turned to glare at the press pen in the rear of the hall. Her fiery performance preceded NRA President Wayne LaPierre's warning that the post-Parkland backlash against the gun lobby was a "socialist smear."
But the crowd didn't seem to be buying fear and rage this year. A random sample of college students and other attendees in line to buy the $4 bananas and $4 granola bars for sale in the Gaylord vending booth outside the hall waiting for Trump's speech found more people saying they were inspired by Vice President Mike Pence's somber and restrained speech than the angry NRA duo.
A small group of Florida State University freshmen, members of the College Republicans, were among the students coaxed away from campus for the three-day event. Waiting for Trump, they were less interested in the NRA's pleadings. A gunman wounded three at Florida State in 2014, and the school has been under increased security, so students feel safe, said Kelvin Ready, 19. He agreed with Wayne LaPierre that the shootings are probably the government's fault, because the FBI and other law enforcement agencies had failed to heed numerous warnings about the shooter's volatility and gun collection, but he said he was most inspired by Pence. "He restated the principles of our party and made me feel really good about being a Republican," he said.
Republican Nevada State Sen. Don Gustavson, standing nearby, concurred. "I'm very energized with all the young people here, and Pence's speech was great," he said. "It was uplifting and encouraging and I see a future for American again."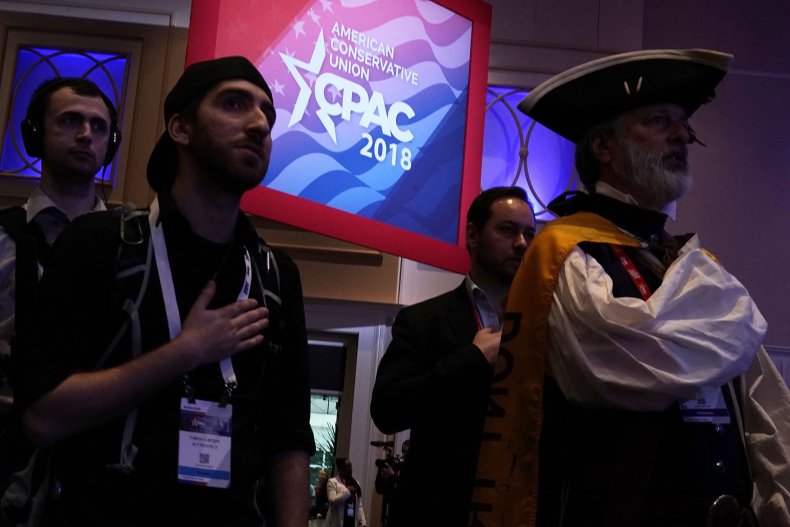 Two senior class women from Miami University of Ohio, College Republicans who also asked not to be named, said they are satisfied with Trump's accomplishments. "Trump is trying," one of them, a business major, said. "But if he did exactly what they wanted, they wouldn't let him pass it anyway. I think he's working, doing a lot to create change." The two added that they had attended the event for four years, mainly for the networking opportunities and "the CR Bar" of discounted drinks offered to College Republicans at area pubs during the event.
The angry style in American politics certainly moves some. Emily and Darcy, two sophomores from Furman University in South Carolina (who asked that their last names not be published) said Loesch was the best speaker they had seen."She's badass," Emily said. "She commands a room. She doesn't take anybody's BS."
As in years past, the college kids got to gawk at professional conservatives they see on TV, who were strolling the main hallway accompanied by flacks and bag-carriers. Ambassador John Bolton stopped for a chat between interviews at one of the right-wing, talk-radio outlets with temporary booths along the walls.
"A lot of people here are interested in how the first year of Trump will play out in the election," he said. "I'm more optimistic now, although the constant headwinds from the media make it difficult to have a sensible conversation."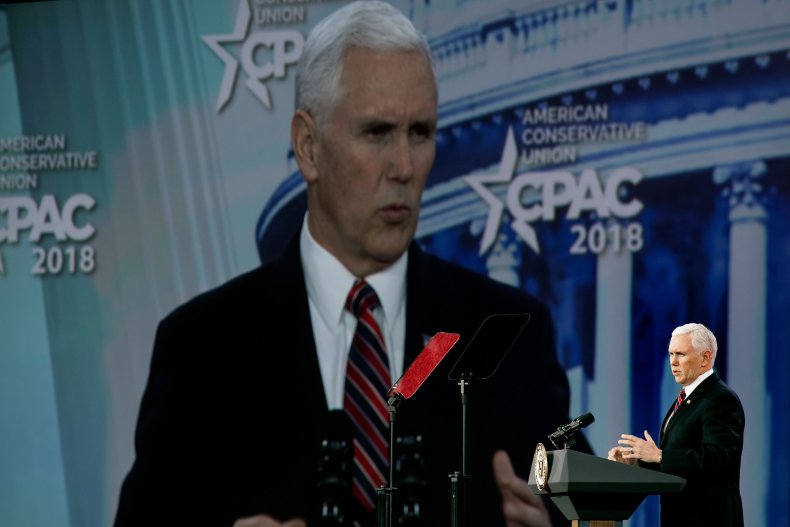 Fired Trump aide Sebastian Gorka was accessible enough that a reporter from the liberal website Mediate approached him Thursday. Gorka was so incensed by a question from Caleb Ecarma, that he raised his hand, shoved and told him to "Fuck off." By Friday, Gorka had found a reporter he could open up to—sitting for an interview on NRA TV. "I'm a gun guy," he said. "We are the last guardians of democracy. The Second Amendment must stay sacrosanct."
As in years past, the usual red white and blue court jesters and fire-breathing right-wing talk radio characters set up shop with their microphones on Broadcast Row, spewing minute-by-minute updates on the proceedings across American airwaves and vying for time with the right's celebrities.
Comedian and TrumpTalk U.S. podcaster Suzzanne Monk, a former small business owner in Chicago, sported a tiny spangled "Trump-Pence" hat and a "Trump 2020" t-shirt. She calls herself "an escalator Trumper," having made up her mind to support him the day he announced his candidacy at the Trump Tower lobby. She also blamed the media for his problems. "There are obviously journalists with a narrative they want to push," Monk said. "MSNBC, morning shows, Morning Joe, those are basically pundits. But opinion has been pushed into journalism. And unbiased work is on the back pages."
The media was a consistent vent for whatever subconscious unease the attendees harbored about Trump's problems. It was a rare speaker that didn't excoriate journalists, with one asking the audience to turn around and "wave goodbye" to the mainstream media.
That scapegoat and the whole Truman Show edifice of denial held up nicely until the last hours of the gathering, when National Review columnist and former Reagan administration official Mona Charen blew a hole through it. "I'm disappointed about our side about being silent about serial harassers and abusers, including the one sitting in the White House," Charen said, "because they happen to have an R beside their name." The hall instantly erupted in booing and some shouting—a stark break from the cheering and applause that have marked the four-day conservative conclave, as Newsweek's Alexander Nazaryan reported.
Charen has been critical of Trump for a while, perhaps why CPAC organizers saved her for last. In January, she urged Republicans to avoid conspiracy theories in support of Trump and against Mueller. "President Trump's champions demand that so-called Never Trumpers acknowledge his accomplishments (which many do), yet they display no willingness to concede that they are paying a huge price in credibility by descending to truth-free tactics in defense of him," she wrote.
Thus it fell to a traditional female Republican to play the part of Jim Carrey in The Truman Show, ripping down the precarious stage set. And finally, the crowd was worked up, as in years past. This time the rage was directed at one of conservatism's own. Three security guards then had to escort her out, for her own safety.