Trump's Team Was at Odds With 'Inebriated' Rudy Giuliani on Election Night
Donald Trump's campaign team was at odds with Rudy Giuliani on the night of the 2020 presidential election, when the former president prematurely declared that he had won the race against Democratic challenger and current President Joe Biden, according to recently unveiled testimony.
During her opening remarks at Monday's hearing from the House committee investigating the January 6, 2021, Capitol riot, Representative Liz Cheney previewed testimony that Trump "rejected the advice of his campaign experts on election night and instead followed the course recommended by an apparently inebriated Rudy Giuliani to just claim he won, and insist that the vote counting stop, to falsely claim everything was fraudulent."
In recordings of testimony from Jason Miller, a senior adviser to Trump's 2020 reelection campaign, and from campaign manager Bill Stepien that were played during the hearing, both said that they believed it was too early to declare victory on election night, and recommended against the move. Miller said that Giuliani, a former New York City mayor and personal attorney for Trump, indicated that anyone who didn't agree with his position that Trump should announce he'd won, even as votes were still being counted, was "being weak."
The House panel, which consists of seven Democrats and two Republicans, is holding a series of hearings to present evidence that it says shows a coordinated effort to overturn the 2020 presidential election results and prevent the transfer of power to Biden. The first hearing offered an initial preview of the committee's findings, but the second has taken a deeper dive into what was happening behind the scenes on election night, months before a mob of Trump's supporters stormed the Capitol in an effort to halt the certification of Biden's victory.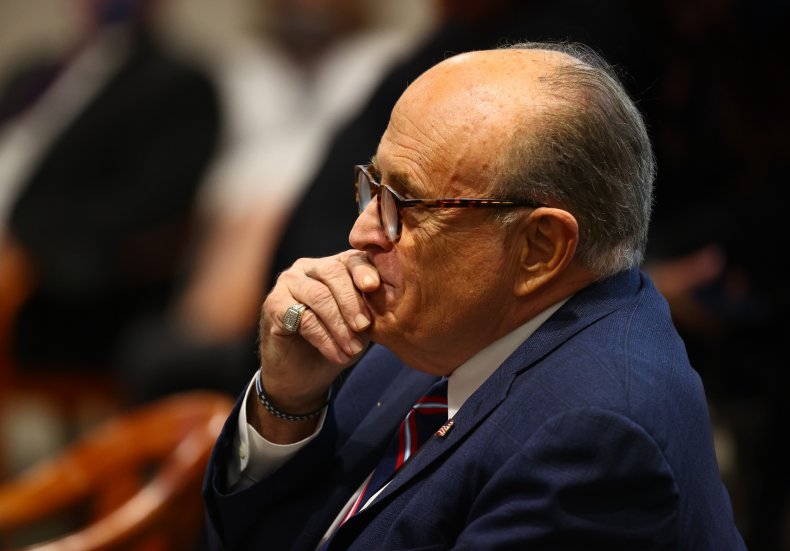 When asked in the recorded testimony about Giuliani's inebriation level during discussions on what Trump should say when he addressed the nation on election night, Miller responded that Giuliani was "definitely intoxicated." Miller added that he did not know how intoxicated Giuliani was when he spoke directly with Trump that night.
Also referencing election night, Stepien was seen in the recorded testimony saying that it was "far too early" to be making any calls on who had won the election. His recommendation was for Trump to say that votes were still being counted and that it was too early to tell who had won, Stepien said.
When asked if anyone disagreed with that recommendation, Stepien responded that Trump told him that he was "wrong" and wanted to go in a different direction.
Miller also said that, to the best of his memory, he advised against declaring victory that night.
The panel showed a clip of Giuliani being asked whether he was involved in election night discussions on whether Trump should make a speech. Giuliani responded that he spoke with Trump "several times" that night, but he did not specify what those discussions involved in the clip.
The select committee also played a brief clip of recorded testimony from Ivanka Trump, who said that she didn't know if she had a "firm view" that night as to what her father should say when addressing the nation.
"The results were still being counted," she said. "It was becoming clear that the race would not be called on election night."
Newsweek reached out to Giuliani via his website and to a Trump spokesperson for comment.