Trump's Threat to Withhold Coronavirus Relief From Sanctuary States Is a 'Fear Tactic,' Boston Mayor Says
Boston Mayor Marty Walsh has accused President Donald Trump of using fear tactics to push cities and states with sanctuary laws protecting undocumented immigrants to abandon their policies amid the coronavirus outbreak.
On Tuesday, Trump suggested that he was considering withholding coronavirus relief money from states with sanctuary policies, unless they agree to make "adjustments" to their rules, which typically bar local law enforcement from working with the U.S. Immigration and Customs Enforcement (ICE) agency.
Citing concerns about providing financial support to states that he felt had been managed poorly, Trump said at a White House news conference: "We're not looking to recover 25 years of bad management and give them the money that they lost. That's unfair to other states."
While the president said he was open to discussing the possibility of funding with states, he said his administration would "want certain things also, including sanctuary-city adjustments."
"People are being protected that shouldn't be protected. And a lot of bad things are happening with sanctuary cities," Trump said. "If we're going to do something for the states, I think we probably want something having to do with sanctuary cities."
Responding to Trump's threat, Walsh accused the president of using a "fear tactic" to drive his administration's agenda on immigration forward.
"Every time the President gets his back up against the wall he pulls out the sanctuary city card and talks about immigration," Walsh, a Democrat, said at a press briefing on Wednesday. "I think he should focus on what's in front of us–COVID-19."
"We have challenges in front of us; we should focus on COVID-19," Walsh said. "And then, when that is complete we should be challenged on how do we open up America again, not focus on immigration policy that's a fear tactic."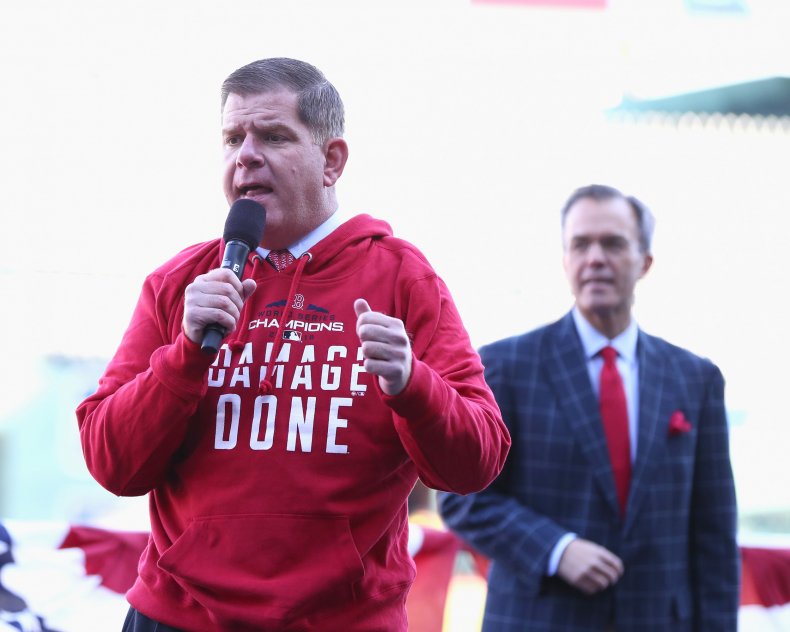 Walsh is not the only official to speak up against Trump's apparent threat.
In a statement shared with Newsweek on Wednesday, New York Attorney General Letitia James accused Trump of trying to "hold coronavirus funding hostage to cities and states across the country" to "push a sinister political agenda that only aims to punish us all—citizens and non-citizens alike."
"This is just another attempt to again feed to his base and push the same partisan ideology we've seen for the last three years," James said.
"New York is proud of its status as a sanctuary state that welcomes and will fight to protect its immigrant residents—many of whom are fighting on the frontlines to battle the coronavirus," James asserted.
"It is my sincerest hope that one day the president will wake up and realize the power of his words," she said, adding: "Until that day comes we will be ready to take legal action."
It is unclear what form of legal action her office would potentially take if Trump were to try to withhold coronavirus aid from New York over the state's sanctuary policies.
James' office told Newsweek on Wednesday that they would only be able to comment on what legal action they might take if Trump follows through with the threat.