Trump's Transgender Military Ban Memo Shows His 'Embrace of Hate,' Says Veterans Group
President Donald Trump's White House has drawn up a two-page memo for Secretary of Defense James Mattis outlining its ban on transgender service members.
It is a move that some veterans groups say underscores Trump's "embrace of hate" because neither the military nor public called for it.
The memo says the military should consider a service member's "deployability" when considering to hire them or keep them on and directs the defense department to stop spending money on medical treatment, such as hormone therapy, or hiring trans service members.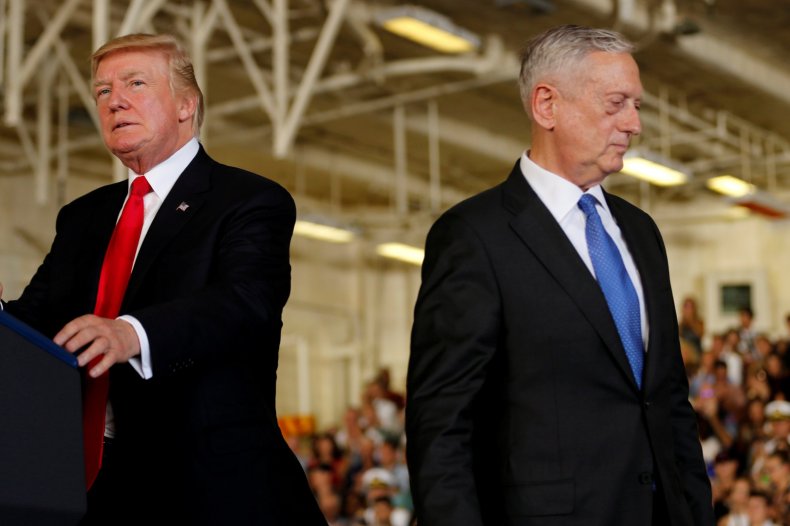 If they are not able to serve in a war zone, live for months on a ship, or undertake training exercises, servicemen and women can be ejected from the military, U.S. officials familiar with the content of the memo told The Wall Street Journal. A U.S. official confirmed the content of the memo to Reuters.
Trump announced the policy on July 26 on Twitter in a move that caught the Pentagon by surprise. The government "will not accept or allow transgender individuals to serve in any capacity in the U.S. military," he tweeted.
Three U.S. defense officials told CNN in July that the U.S. military's Joint Chiefs of Staff and its chairman General Joseph Dunford weren't aware of Trump's decision to make the change.
Transgendered people have been allowed to openly serve in the military since June 2016. A Rand Corporation study estimates there are between 1,320 and 6,000 transgender troops serving in the U.S. military. These service members stand to lose their jobs under Trump's policy.
Read more: Trump's spiteful transgender ban is bad for military readiness
After Trump's tweets, Dunford told service members that there wouldn't be any changes "until the President's direction has been received by the Secretary of Defense and the Secretary has issued implementation guidelines."
The memo has not been sent yet, but is a sign Trump intends to go ahead with his plan.
The president said that the military "must be focused on decisive and overwhelming victory" and that it "cannot be burdened with the tremendous medical costs and disruption that transgender in the military would entail."
Data reveals that the military spends more than five times as much on Viagra and erectile dysfunction than it does on medical treatments for transgender service members, spending a combined $64.4 million on the former compared to $8.4 million on the latter.
The White House memo gives the Pentagon six months to enact the ban.
"There's NO reason for a transgender ban. Military isn't asking for it. Americans don't want it. This is about Trump embrace of hate. Period," the veterans group VoteVets tweeted late Wednesday.
In an August 11 poll of nearly 1,000 voters, VoteVets found that 69 percent of people believed that if a transgendered service member should stay in the military if they can do their job. Only 22 percent said that "we should remove all transgender troops from the military." When it came to Republican voters only 48 percent said transgender troops should serve even if they can do their job.
Trump's proposal already faces legal challenges that were brought following his tweets.
A lawsuit filed by GLBTQ Legal Advocates & Defenders (GLAD) and the National Center for Lesbian Rights, calls the ban unconstitutional. The suit represents five plaintiffs from the Air Force, Coast Guard and Army.
The American Civil Liberties Union has said it plans to launch a lawsuit against the ban. Studies, they said, have clearly shown "there are no cost or military readiness drawbacks associated with allowing trans people to fight for their country," the ACLU said in a statement.
"Trump's awful #transmilitaryban" has not been issued yet, but the memo offers "more suggestions it is coming," the civil rights group tweeted Wednesday night.
The ban, they said in a past statement, "is an outrageous and desperate action. The thousands of transgender service members serving on the front lines for this country deserve better than a commander-in-chief who rejects their basic humanity."