Trump's Travel Ban Targeting Women 'Of Child-Bearing Age' Condemned by Health Experts: 'Babies Are Not a National Security Threat'
The Trump administration is facing backlash over its plans to institute new visa rules aimed at restricting "birth tourism"—women and families traveling to the U.S. with the goal of having children there to obtain U.S. citizenship for their infants.
Under the new rules, which are expected to take effect on Friday, women who consular officers believe to be pregnant would be required to demonstrate that they have a legitimate reason to travel to the U.S., according to The Associated Press.
Those who are pregnant would be denied a tourist visa unless they can prove they have valid medical reasons for coming to the U.S. and the funds to cover any associated costs.
While the Trump administration has made clear that consular officers would not be asking all female visa applicants of child-bearing age whether they are pregnant or have plans to become pregnant, according to AP, officers will be given the purview to question female applicants if they "have reason to believe the applicant is pregnant and likely or planning to give birth in the U.S."
Under the new rules, cues, such as appearing to be pregnant or having "medical treatment" listed as a reason for traveling to the U.S. could prompt questioning.
While the rule would not apply to travelers coming from the 39 largely European and Asian nations enrolled in the U.S.'s Visa Waiver Program, which allows citizens from participating countries to come to America without visas, it would impact those who apply for "B" class visas, which allow for short-term business or leisure stays.
While the Trump administration has defended the policy change as a critical step to addressing a loophole in the constitutional protection of "birthright citizenship," health advocates have condemned the rules as a new form of government-enforced "racial profiling."
"As someone who holds the identity of a physician, a woman of color and a first-generation American, I am angry and horrified by this recent travel ban," Dr. Ghazaleh Moayedi, OB/GYN and Board Member with Physicians for Reproductive Health, said during a press call on Monday.
"This travel ban is the very definition of discrimination. Having cared for thousands of pregnant people, I know first-hand that pregnancy is not a national security threat," Moayedi said. "Being of child-bearing age is not a national security threat. Babies are not a national security threat."
"To suggest that our communities seek to deliver our children in this country only to groom them to harm Americans is not only baseless, but also dehumanizing," she said. "Pregnancy is never a reason to bar someone from entering a country. Pregnancy is only the concern of the person who is pregnant, and if they choose, their family and health care providers."
"The long line of attacks on immigrants has created a culture of fear and often keeps people from trying to access health care when they need it," Moayedi added. "I call for everyone, especially health care providers, to speak out against this rule."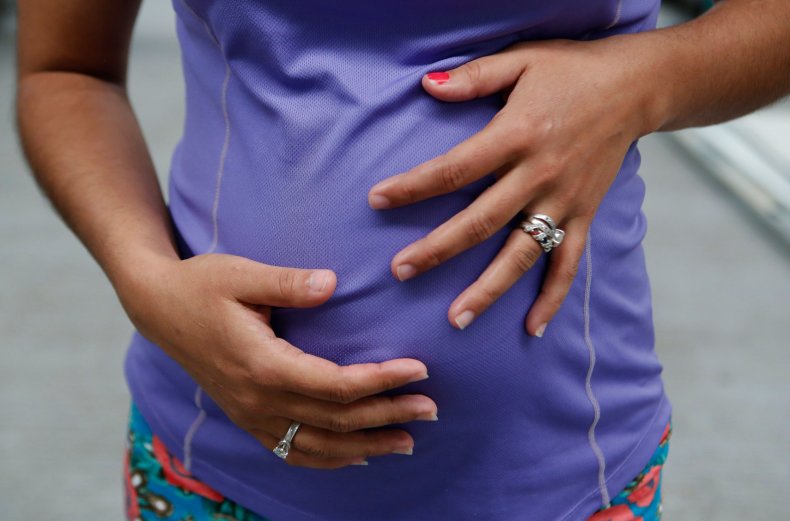 Director of Health Equity at the National Women's Law Center (NWLC) Dorianne Mason also accused the government of "doing nothing more than [penalizing] pregnancy and women."
"It is an invasion of women's privacy that creates potentially insurmountable barriers to life-saving care," Mason said. "As with many of this Administration's policies, its burden will fall most heavily on immigrant women of color; signaling yet again that if you are too brown, too black, or too poor, you are not welcome here."
"Women and girls have the right to dignity, autonomy and lives without discrimination," she said. "Pregnancy or potential pregnancy should not be weaponized to keep people out of this country. We condemn this repugnant regulation of women's bodies."
Agreeing with Mason, Kristin Rowe-Finkbeiner, the executive director and CEO of MomsRising.org, said: "Pregnant women already face an unconscionable level of discrimination in our workplaces and our society. Trump's new rule would codify pregnancy discrimination by turning our government into reproductive police who invade the privacy and assault the dignity of women seeking to enter the United States."