Trump's Truth Social at Top of Apple's Free Downloads, Despite Bumpy Launch
Truth Social, the new social media platform spearheaded by former President Donald Trump, is currently the number one free app on Apple's App Store.
The app is also ranked first on its Social Networking chart with a 4.3 star rating against 4.9K reviews. This initial success comes after an initially problematic soft launch that involved crashes, long waitlists and accusations of copyright infringement.
Truth Social is described on the App Store as taking a "Big Tent" approach when it comes to free speech and censorship.
"Think of a giant outdoor event tent at your best friend's wedding," the description reads. "Who's there? The combination of multiple families from all over the United States, and the world. Although we don't always agree with each other, we welcome these varied opinions and the robust conversation they bring."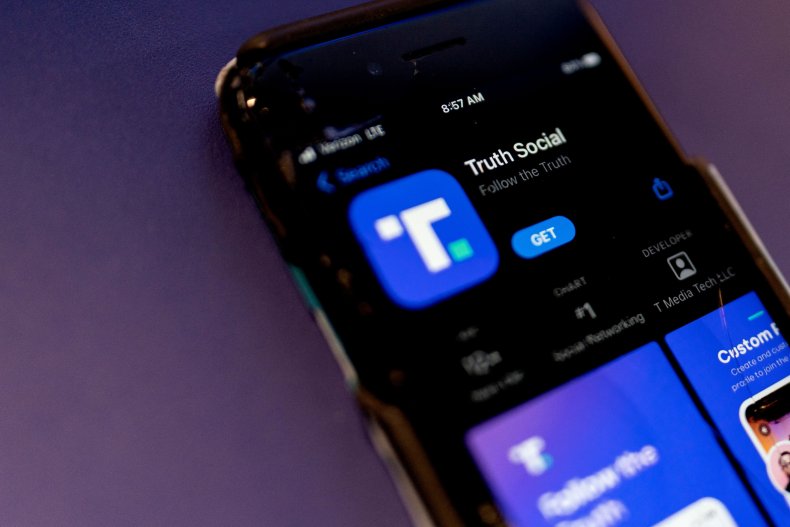 While these conversations might be critical to Truth Social's message, it could be a while before many people actually get the chance to participate in them. According to a pending Truth Social account created by Newsweek, 172,668 people are currently waitlisted to join the app. Newsweek also reported that the launch of Truth Social resulted in thousands of people getting error messages as they made accounts.
Among the notable people that have already signed up for Truth Social are Republican Representatives Marjorie Taylor Greene and Madison Cawthorn. Kyle Rittenhouse has also reportedly signed up for the platform, despite still maintaining an active social media presence on other platforms like Twitter.
The platform could already be facing its first legal battle. British solar power company Trailar told Newsweek that it was planning on "seeking legal advice" to deal with accusations that Truth Social deliberately ripped off its logo. One of the key driving factors behind this step is that both logos have the left side of their "T's" cut off in the same way.
"Based on recent news brought to our attention by various media outlets, showcasing the similarities between our own Trailar logo and the Truth Social logo, we are now seeking legal advice to understand next steps and options available to protect our brand," said Trailar head of marketing Matthew Summers in a statement. "Trailar has no affiliation or connection with the Truth Social network site, with our business firmly focused on decarbonising global transport through the use of solar and data driven technologies."
Update 02/22/2022, 1:24 p.m. ET: This story has been updated with background information.