Trump's Tulsa Rally Is 'Personal Risk' Attendees Can Take, White House Says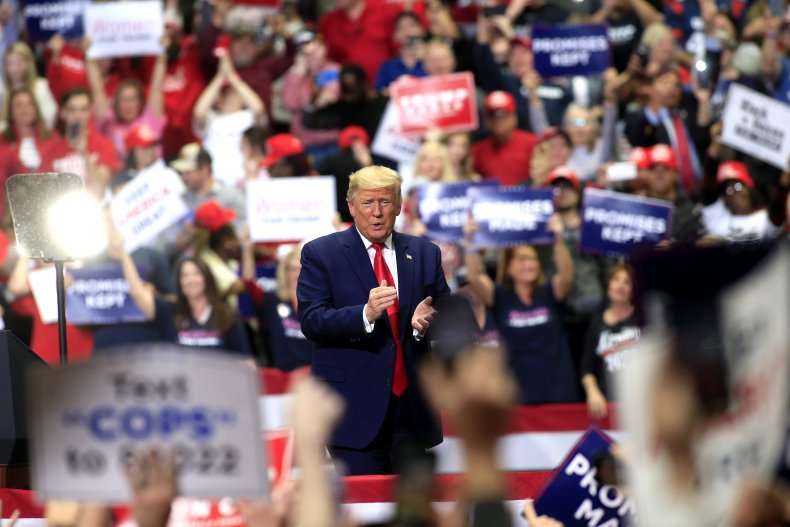 The White House is waving off concerns about the health risks of holding a mass campaign rally in Oklahoma this weekend while coronavirus cases continue to rise there.
"As in any event, you assume a personal risk. That is just what you do," White House press secretary Kayleigh McEnany told reporters Wednesday. "When you go to a baseball game, you assume a risk. That's part of life."
McEnany compared the rally to protests that have drawn thousands of people to the streets following the killing of George Floyd in Minneapolis, saying the news media does not question protestors who gather in large crowds the same way.
"It's a personal decision of Americans as to whether to go to the rally or whether not to go to the rally," she said.
Health officials in Tulsa have suggested that the event should be postponed after the city saw its highest daily increase of COVID-19 cases on Friday.
Trump's mega rallies often resemble sporting events, with loud cheers and chants. His last one was held in March.
McEnany wouldn't say which health advisers were consulted for the planning of the event.
The Trump campaign released a fundraising email Wednesday accusing Democrats of trying to "COVID-SHAME us for holding rallies at only a fraction of the people" as those who have been gathering in the anti-police brutality protests.
Trump has said he expects a packed crowd Saturday. His campaign manager Brad Parscale tweeted that more than a million tickets have been requested. Requesting a free ticket doesn't guarantee that someone will attend.
The campaign plans to distribute masks and hand sanitizer to attendees, but McEnany said face coverings won't be required to be worn at the BOK Center, which seats more than 19,000 people. The arena has postponed other events throughout the summer.
The rally's sign up website includes a disclaimer that attendees are at risk of catching coronavirus.
"President Trump is fired up and ready to rebuild, restore and renew the American Dream. There's no doubt that the Great American Comeback is here, and we are looking forward to the tremendous crowds and enthusiasm behind President Trump," Michael Glassner, chief operating officer of Trump's campaign team said in a statement announcing the plans.
A few days after the Trump rally, Vice President Mike Pence is set to launch what the campaign is calling a "Faith in America" tour with an event at a hotel in Wisconsin.