Trump's Tweet Slamming Obama For Appointing Ebola Czar With 'Zero Experience' Resurfaces After Pence Appointed to Lead Coronavirus Response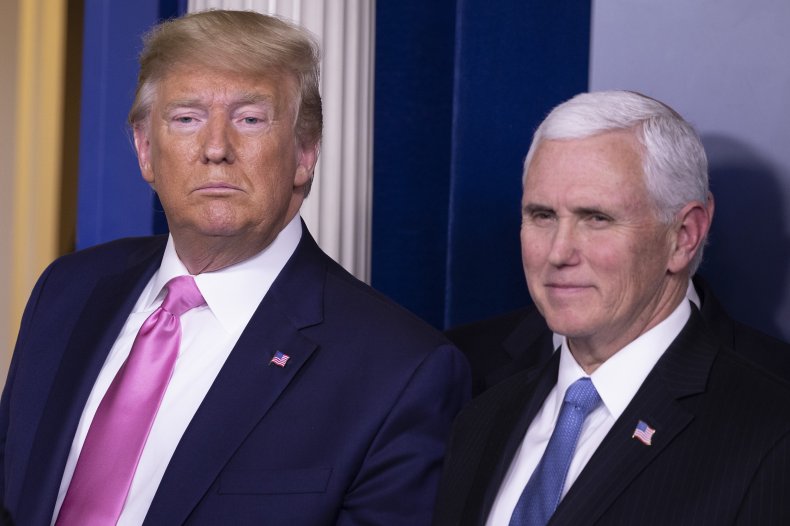 A 2014 tweet from President Donald Trump criticizing then-President Barack Obama for his selection of an Ebola czar with "zero experience" has resurfaced after Trump appointed Vice President Mike Pence to lead the United States' response to the novel coronavirus.
CNN's Jake Tapper retweeted Trump, writing: "Flashback to 2014."
"Obama just appointed an Ebola Czar with zero experience in the medical area and zero experience in infectious disease control. A TOTAL JOKE!," Trump's tweet, posted on October 17, 2014, read. At the time, Obama had appointed Ron Klain as the administration's Ebola response coordinator. Klain had previously worked for the Obama administration as chief of staff for Vice President Joe Biden and had no experience in the health care industry or medical field.
On Wednesday, Trump announced Pence's involvement with the government's response and preparations for COVID-19 in a press conference, telling reporters that he believes the government has responded appropriately to the threat thus far.
"Because of all we've done, the risk to the American people remains very low," Trump said during the press conference.
COVID-19 is the official name of the disease caused by the new coronavirus, which has infected over 82,000 people on six continents. Over 2,700 people have died from the disease, the majority of them in China where the virus was first discovered in December 2019.
The president also defended his criticism of Obama and the former president's handling of the Ebola outbreak, saying, "This is a much different problem than Ebola. With Ebola you disintegrated. You got Ebola, that was it. This one is much different. This is like a flu."
A reporter followed up by asking why Trump appointed Pence to lead the federal response if he thought Alex Azar, the Secretary of Health and Human Services, was doing a great job. "I think the secretary is doing a fantastic job, but he also has many other things," the president responded, saying he wanted Azar to focus on what Trump called "perhaps the most complicated job we have in government."
"Mike is really good at it, they're going to work very closely together and are both in the administration. I see them all the time so it really works. This isn't a 'czar'. This isn't going out and getting somebody that's never been in the administration. I have two people that are very talented and it's something I feel good about," Trump said.
The president highlighted Pence's experience as governor of Indiana when he dealt with an HIV outbreak in 2015, saying, "Anybody that knows anything about health care, they look at the Indiana model and it's been a very great success. It's been a tremendous model in terms of health care."
In 2015, 81 new HIV cases were contracted in a three-month period in Austin, Indiana, up from 5 cases in a typical year. Pence declared a state of emergency in Scott County, where the city is located, and started a needle exchange program after health officials found HIV was spreading due to intravenous drug use. Pence had been morally opposed to the program and was criticized for waiting to implement it.
Klain's appointment as the Ebola 'czar' lasted five months, ending in February 2015. However, his appointment was the subject of criticism from many. In a statement shortly after Klain took the position, then-White House press secretary Josh Earnest said that the appointment was due to Klain's "extensive experience in federal government," and cited his "success in implementing the Recovery Act," the Obama stimulus package created in response to the 2008 recession.
"What we were looking for is not an Ebola expert but rather an implementation expert, and that's exactly what Ron Klain is," Earnest said at the time. "He is somebody who has extensive experience in the federal government. He's somebody that has extensive management experience when it comes to the private sector."
The White House did not respond to Newsweek's request for comment by publication time.