Trump's U.K. Visit Protests: In Pictures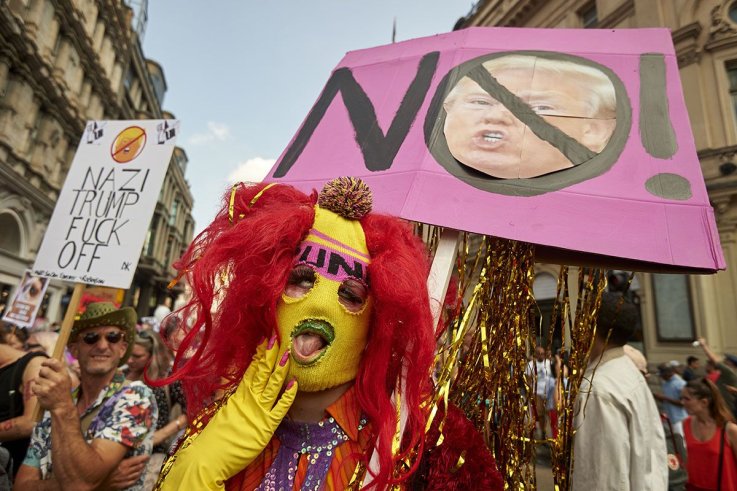 President Donald Trump said on Friday the U.S. and the U.K. could secure a "great" post-Brexit trade deal, lavishing praise on Prime Minister Theresa May and contradicting his own withering assessment of her strategy publicized hours earlier.
Fresh from sending NATO into crisis talks and ahead of a summit with Kremlin chief Vladimir Putin, Trump shocked Britain's political establishment by criticizing May's plans for ties with the European Union after Britain leaves in March.
In a newspaper interview published just hours before holding talks with May, Trump said her Brexit strategy would "kill" any chance of a trade deal and said she had not listened to his advice on how to negotiate with the EU.
But, as the two leaders stood together for a press conference in the garden of May's grand 16th-Century official residence Chequers, Trump said the British leader was doing a "fantastic job", added it was up to her how to conduct Brexit, and that a free trade deal was very much on the table.
Relations had never been more special, he said, and any criticism was "fake news."
However, while Trump and May exchanged warm words, tens of thousands of protesters marched against the U.S. president through Central London, bringing much of the British capital to a standstill. It was one of the more than 100 demonstrations planned across the country during his four-day stay.
"The message we came here to give today is that Trump is not welcome in Britain," said shopkeeper Grish Gregoran, 58, who took the day off to attend. "We wanted to embarrass him and I think we have done that today."
Photos from the day show hoards of protesters thronging in the streets, from London to Belfast. Creative homemade signs blast Trump's record on everything from immigration to women's rights.
We've collected the best images of the protests so far, on what is only the second day of his four-day visit.
—Reuters contributed to this report.