After House Speaker Nancy Pelosi announced an impeachment inquiry, former Trump adviser J.W. Verret on Monday compared the president's Ukraine controversy to former President Richard Nixon's Watergate scandal and concluded that Trump's is "a lot worse."
Verret, a George Mason University law professor who advised Trump in the pre-transition phase of his presidency, has become a vocal critic of the president in recent months and staunch supporter of impeachment in light of the allegations set out in former special counsel Robert Mueller's Russia report.
During an appearance on CNN Monday, Verret said he believed that there was enough evidence in the Mueller report "to begin impeachment proceedings," before then asserting that the newly emerged Ukraine scandal "is much worse."
"People have made the analogy to the Nixon-era scandals and Nixon's resignation, but this is a lot worse than that," Verret said. "Nixon was a patriot. Of all the crazy things he did, he never would have accepted help from a foreign power for his own personal interest in an election, particularly one that would compromise the U.S.' strategic interests. This is much worse and I think momentum continues toward impeachment."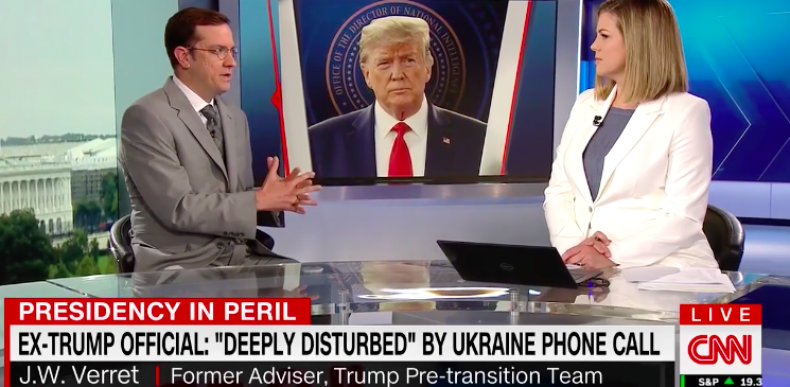 A whistleblower filed a formal complaint that accused the Trump administration of covering up a phone call made between the president and his Ukrainian counterpart, Volodymyr Zelensky, in July, during which he asked the foreign president to investigate the family of his political rival former Vice President Joe Biden. A partial transcript of the conversation, released by the White House last week, proved that Trump did make the request and that he even offered his own Attorney General to help in the probe.
Verret said lawmakers in Congress now have enough to begin "proceedings into election-based fraud and even to bring in [Trump's personal attorney Rudy] Giuliani as a facilitator of accepting foreign help in an election, which is a felony."
"There was potentially a cover-up but a bumbling cover-up, that was quickly revealed by a courageous whistleblower," he continued. "So we're in a very position to move quickly, I think. I'm glad the house is moving on impeachment. I think it's unfortunate that Speaker Pelosi took this long. I think she frankly empowered Trump to do this second major violation."
Verret also urged Democrats to focus on both the Ukraine scandal and the findings in the Mueller report when dealing with the impeachment inquiry "because they're interrelated."
"They're both instances of a president blatantly seeking foreign support to help in his own election. In fact, it's the same playbook. He got away with it. He immediately pulled the same playbook off the shelf," he explained. "I've seen this in white collar criminal work that I've done, where someone starts to plan the next Ponzi scheme while they're in prison serving for the last one. This is the same sort of deal."
Since Pelosi announced the formal impeachment inquiry last week, Trump and Giuliani have crafted numerous narratives about their innocence. During an appearance on Fox News on Saturday night, Giuliani told host Jeanine Pirro that it could have been unlawful if they didn't contact Ukraine about Biden's family.