After he was named as one of the intended targets of a series of bombs that were sent to prominent Democrats this week, former CIA Director John Brennan took aim at President Donald Trump, accusing the U.S. leader of helping to incite "feelings of anger, if not violence" with his "un-American" rhetoric.
A package addressed to Brennan containing a pipe bomb had been delivered to CNN's New York headquarters, amid reports of similar packages addressed to former President Barack Obama, former Secretary of State Hillary Clinton, Democratic Representative Maxine Waters of California, former Attorney General Eric Holder and investor and philanthropist George Soros.
All the recipients had been frequent targets of Trump's criticisms, including Brennan, who saw his security clearance revoked by the president earlier this year.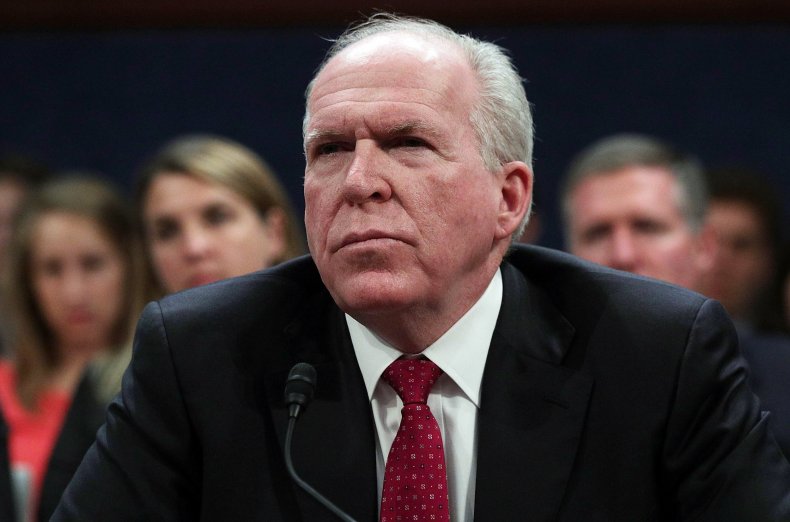 Speaking at an event at the Lyndon Baines Johnson Auditorium in Austin, Texas, on Wednesday, shortly after the bomb scare, Brennan said that he hoped that the incident would mark a "turning point" in the political landscape in the U.S.
Asked to respond to Trump's comments on the incident, in which the president called for the country's leaders to "come together" to condemn threats of political violence, and "unify," Brennan initially joked: "Well, I'm tempted to say, that was said by Donald who?" as an audience laughed and applauded.
Taking a more serious tone, Brennan said: "Well, I think it's very important for an individual who is in the Oval Office today to say exactly that. That we need to come together as a country, we need to unite. We may have differences but this should be no reason whatsoever to resort to these types of acts of intimidation and potential violence.
"I sincerely wish that Donald Trump, though, would have said these things previously and regularly," Brennan said. "I wish he would have encouraged people from all different backgrounds and political affiliations to come together and to try to resolve differences in a very positive manner.
"Unfortunately, I think Donald Trump too often has helped to incite some of these feelings of anger, if not violence, when he points to acts of violence or also talks about, you know, swinging at somebody from the press or the media," the former CIA director said.
Brennan, who said that he was "neither a Republican or a Democrat," then accused Trump of failing to "live up to what I think should be all of our expectations about what an American president should be doing, especially in times like this.
"His rhetoric too frequently, I think, fuels these feelings and sentiments that now are bleeding over into potential acts of violence," he said.
The former CIA director said he hoped that the bomb scare incident would "make clear" to the president that "what he has done heretofore, as far as a lot of this rhetoric [goes], really is counterproductive. It is un-American. It is what a president should not be doing."
Brennan said that Trump's remarks earlier on Wednesday "is what the president should be doing." But, he said the U.S. leader must "follow up on those words with actions and with his future comments. I'm hoping that maybe this is a turning point."
Read more: Trump supporters chant 'lock her up' after Hillary Clinton receives explosive device at home
On Wednesday evening, Trump told supporters at a rally in Mosinee, Wisconsin, that he believed the country must "unify" in "these times."
"We have to come together and send one very clear, strong, unmistakable message that threats or acts of political violence have no place in the United States of America," the president said.
However, he also was quick to lay some of the blame at the media's feet, after CNN was forced to evacuate its New York office over the bomb scare, demanding that the media "stop the endless hostility and oftentimes false attacks."
"As part of a larger national effort to bridge our divides and bring people together, the media also has a responsibility to set a civil tone and to stop the endless hostility and constant negative and oftentimes false attacks and stories. Have to do it," the president said.
On Thursday morning, the president continued to rail against the media, tweeting: "A very big part of the Anger we see today in our society is caused by the purposely false and inaccurate reporting of the Mainstream Media that I refer to as Fake News."
"It has gotten so bad and hateful that it is beyond description. Mainstream Media must clean up its act, FAST!" the president wrote.
The FBI has said it is working with several other bodies, including the U.S. Secret Service and U.S. Postal Inspection Service to identify and arrest the person or persons responsible for sending out the explosive packages.
It also warned that it was possible that additional packages were mailed to other locations and advised members of the public to "remain vigilant" and not touch, move or handle any suspicious or unknown packages.