Trump's Urging for 'Retribution' in Response to Protesters Is Wrong and Dangerous, Religious Leaders Say
Religious leaders in New Jersey have called President Donald Trump's response to George Floyd protesters "poorly considered, wrong and dangerous."
Trump earlier told some of the states' governors in a leaked private call, "you have to do retribution." He also told them they would have to "dominate" protesters, who he labelled "terrorists," and advocated "jail for long periods of time" for those arrested during the protests.
In an op-ed published on NJ.com Thursday and penned by Rabbi Matthew Gewirtz, Iman W. Deen Shareef and Right Reverend William Stokes said Trump's guidance "violates the fundamental tenets of justice and compassion that undergird the faith traditions each of us represents."
"We do not condone the violence and vandalism occurring in the cities and communities of our nation and our state. We do, however, recognize that this eruption is, in part, a consequence of long-simmering frustration at the centuries of violence and injustice done to Black Americans over our history," the op-ed read.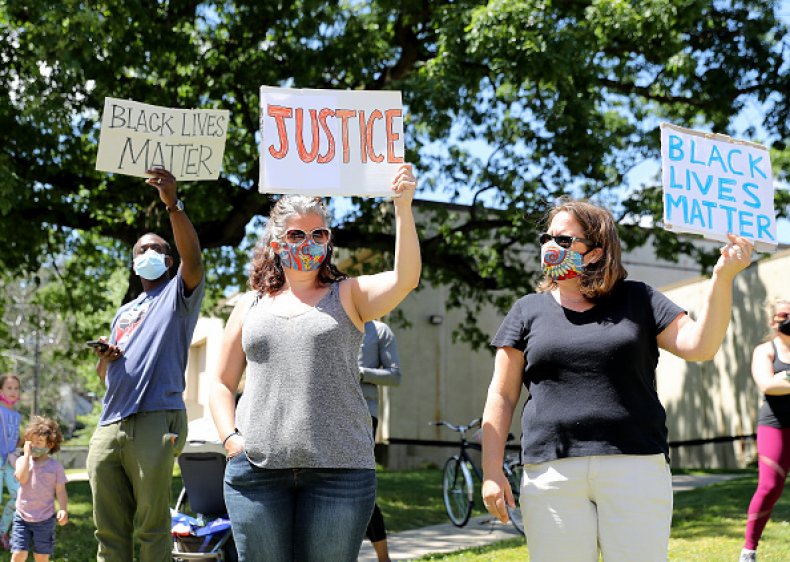 Representing the New Jersey Coalition of Religious Leaders, Council of Imams in New Jersey and the Episcopal Diocese of New Jersey, the three leaders urged New Jersey Governor Phil Murphy and all other state governors not to follow Trump's advice to use force.
"We invite Governor Murphy to create and support such a process within his government and to encourage such processes across the State of New Jersey in all institutions, public and private," they wrote.
The leaders said Trump's dominance rhetoric ignores the country's history of slavery, segregation and systemic racism, which has manifested into the recent national unrest.
Newsweek reached out to the White House for comment but did not hear back before publication.
Gewirtz, Shareef and Stokes proposed an oppositional response to confronting the nation's current state of anger and frustration.
"It would help to begin with white Americans honestly reckoning with the truth of our national illness, listening with compassion to Black Americans and other people of color who have suffered and who continue to suffer from its deadly effects and then working on concrete and specific ways to dismantle our inherently racist structures," they said.
The National Council of Churches (NCC) also released a statement on the recent death of George Floyd, which sparked protests across the country after Floyd died in police custody.
"This incident adds to a string of occurrences in the last few weeks and too many incidents to count in the U.S. over hundreds of years, where racism and bias coupled with policing are a lethal combination for Black people," the statement read.
Chair of the NNC and president and general minister of the United Church of Christ, Reverend Doctor John Dorhauer said: "In a moment like this, as Dr. Martin Luther King Jr. once said, 'silence is betrayal.'"