Trump's USPS Chief DeJoy Under Pressure Over Employee Straw Donor Claims
Postmaster General Louis DeJoy was under pressure on Monday following a report that he and his company allegedly pressured employees to make political donations to Republican candidates.
Former employees of DeJoy's company, New Breed Logistics in North Carolina, said they were reimbursed using bonuses after making the donations, according to a report by The Washington Post. This practice is illegal under campaign finance laws.
"Louis DeJoy's rise as GOP fundraiser was powered by contributions from co. workers who were later reimbursed, former employees say," said North Carolina Attorney General Josh Stein.
"It is against the law to directly or indirectly reimburse someone for a political contribution.
"Any credible allegations of such actions merit investigation by the appropriate state and federal authorities. Beyond this, it would be inappropriate for me as Attorney General to comment on any specific matter at this time."
Senate Minority Leader Chuck Schumer also called for DeJoy to be investigated. The New York Democrat said Stein was ideally placed to launch that investigation and took a swipe at the Department of Justice.
"These are very serious allegations that must be investigated immediately, independent of the Trump Justice Department," Schumer tweeted.
"North Carolina's Attorney General—an elected official who is independent of Donald Trump—is the right person to start this investigation."
The co-chairs of Democratic AGs, an organization that works to elected Democratic attorneys general, called for DeJoy to step down from his role on 6 September, going further than Schumer.
Massachusetts Attorney General Maura Healey and Oregon Attorney General Ellen Rosenblum issued a joint statement saying the allegations against DeJoy amounted to "an extensive scheme to violate federal and state campaign finance laws."
"If true, they call into question DeJoy's leadership and compliance with the law yet again, this time revealing a pattern of potential criminal misconduct," Democratic AGs said.
"This matter will require time to resolve - time that DeJoy does not have with the election just 60 days away. Postmaster DeJoy should immediately step aside, pending an independent investigation."
Monty Hagler, a spokesman for DeJoy, told The Post DeJoy "believes that he has always followed campaign fundraising laws and regulations."
"Mr. DeJoy was never notified by the New Breed employees referenced by the Washington Post of any pressure they might have felt to make a political contribution, and he regrets if any employee felt uncomfortable for any reason," Hagler told Newsweek in a statement.
DeJoy has already faced strong criticism for his leadership of the U.S. Postal Service. His critics have accused him of deliberately slowing down mail delivery and undermining Americans' ability to vote by mail in November's elections.
NBC News White House Correspondent Geoff Bennett reported on Sunday that a sign had gone up in one USPS facility Portland, Oregon telling employees they cannot hold mail trucks anymore. This was a common practice and some USPS workers claim the new rules have seen trucks leaving with little to no mail in them.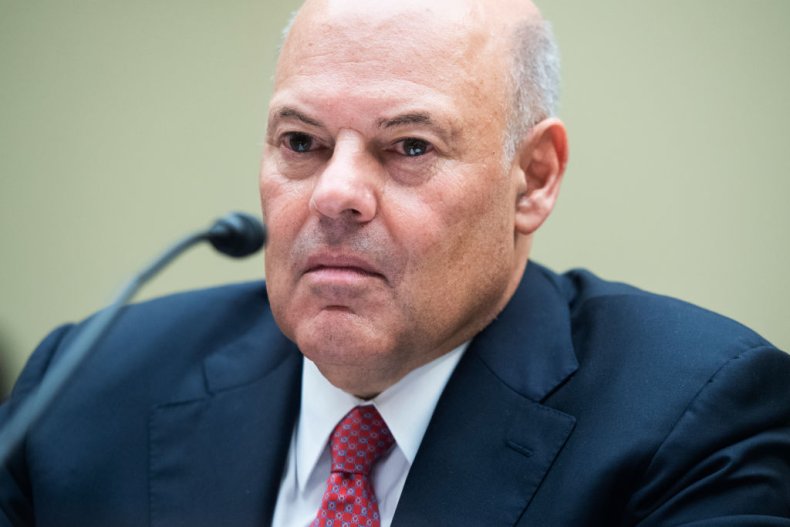 This article was updated with a statement from Monty Hagler.