'Trump's Virus': Lincoln Project Releases Video Mourning American Lives Lost to Coronavirus
A new political advertisement holds President Donald Trump responsible for the severity of the United States' COVID-19 outbreak, as states continue to report rising case counts and the nation's death toll nears 150,000.
The video ad, released Tuesday by anti-Trump political action committee The Lincoln Project, refers to the novel coronavirus as "Trump's virus" and warns against his reelection this November.
"These are the memories COVID took from us," says a narrator at the beginning of The Lincoln Project's new video, which goes on mourn individuals and experiences lost as a result of the pandemic.
"COVID has robbed America of so much," the narrator continues. "We have suffered needlessly because Trump is a fool a liar and a failure. Most countries stopped it. Trump refused. It's Trump's virus now."
The ad highlights the nation's elevated fatality toll before finishing with a nod to the upcoming general election. "What we've lost reminds us of the stakes this November. It is truly a choice, America or Trump," the narrator adds.
Keith Edwards, communications director at The Lincoln Project, referenced U.S. virus statistics in comments to Newsweek on Tuesday. With close to 4.3 million confirmed cases and 148,000 deaths, according to Johns Hopkins University, the U.S. has reported more diagnoses and deaths than all other countries.
"It didn't have to be this way," Edwards said. "Every other leading nation has the virus under control, but in the richest country in the world, it is still ravaging."
Newsweek reached out to the White House and Trump campaign for comments but did not receive replies in time for publication.
Many have criticized Trump's handling of the nation's COVID-19 outbreak. The president, who referred to the pandemic as a "hoax" near its onset, went on to promote anti-malaria drug hydroxychloroquine as a virus treatment method despite an absence of scientific evidence to back the claim. He advocated for businesses to reopen promptly after closures ordered by stay-at-home directives. A number of health experts, including top infectious disease specialist Dr. Anthony Fauci, now relate outbreak resurgences to early economic recovery plans implemented in several states.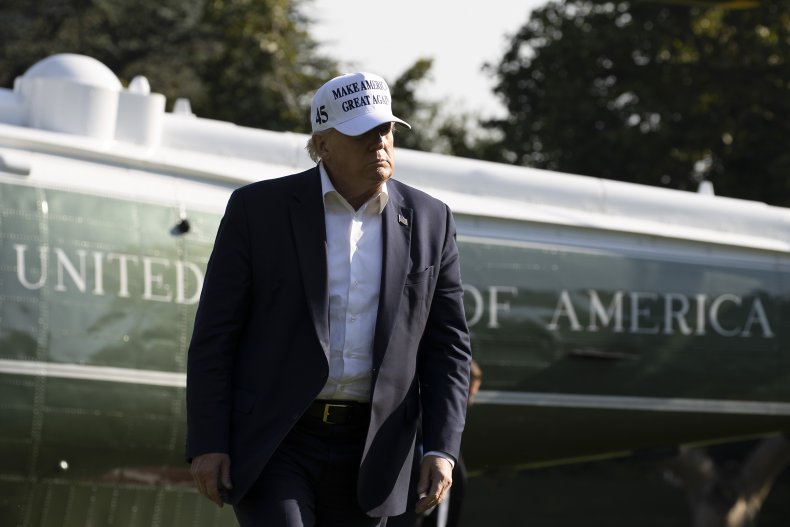 Trump received similar backlash from politicians, lawmakers and U.S. residents for his reluctance to wear face masks in public until recently. The Centers for Disease Control and Prevention pinpointed use of masks as a tool to reduce transmission of COVID-19, particularly when maintaining six feet of distance from others is not feasible, months ago.
Results of a July poll, conducted by Associated Press-NORC Center for Public Affairs Research, indicated the president's personal use of masks may have influenced his supporters. It found almost 60 percent of Republican respondents supported use of face coverings shortly after Trump wore a mask in public for the first time on July 11. The percentage was notably higher than those reflected in polling data released earlier.