Donald Trump's Voter Fraud Commission Vice Chair Questions Legitimacy of 2016 Election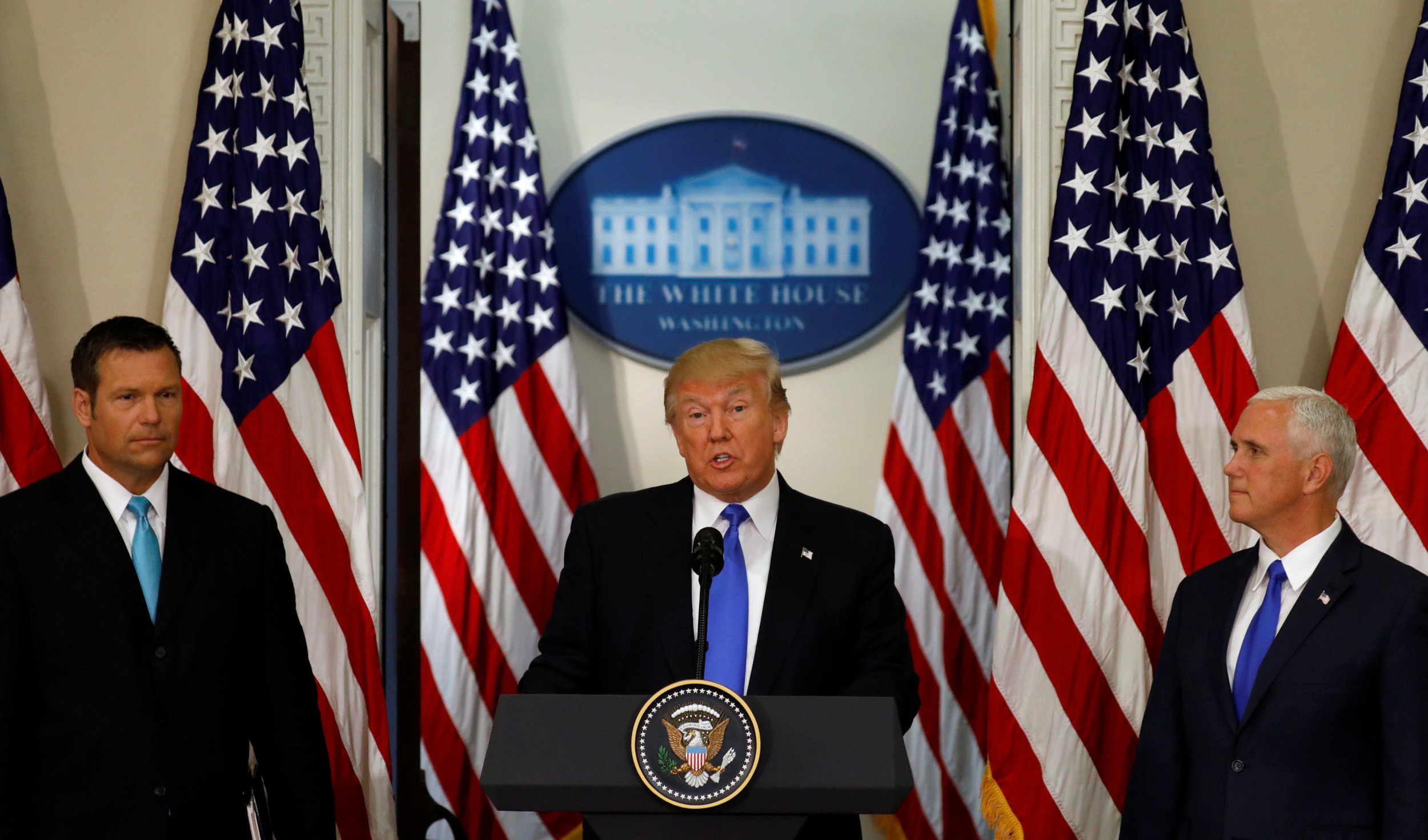 Kansas Secretary of State Kris Kobach, vice-chair of the Election Integrity Commission, questioned the legitimacy of Donald Trump's victory in the 2016 presidential election on Wednesday.
The commission, created by the administration to investigate Trump's now-debunked claims of widespread voter fraud in the 2016 election, has been scrutinized following its request of states for personal voter data and criticized by some as an attempt to restrict voting rights.
During an interview with NBC's Katy Tur Wednesday, Kobach was asked if the votes for Trump that led him to win the election were in doubt. "Absolutely," Kobach said.
When Tur asked Kobach if he believed Clinton won the popular vote following the commission's initial meeting Wednesday, Kobach said that "we may never know the answer to that question."
"Let's suppose that the commission determined there was a certain number of votes cast by ineligible voters, you still won't know whether those people who are ineligible voted for Trump or Clinton or somebody else," he said. "It's impossible to know exactly, if you took out all the ineligible votes, what the final tally would be in that election."
White House Deputy Press Secretary Sarah Huckabee Sanders did not immediately respond to a request for comment.
"In addition to winning the Electoral College in a landslide, I won the popular vote if you deduct the millions of people who voted illegally," Trump tweeted in November, without providing any evidence.
While Clinton won the popular vote by nearly 3 million votes, Trump carried the electoral college after winning Midwestern states such as Michigan, Wisconsin and Pennsylvania that have typically voted for Democratic presidential nominees in recent elections.
Democrat Matthew Dunlap, Maine's Secretary of State and a member of the commission, told Newsweek he remained committed to the commission's mission.
"I think we have to be focused on our work and not distracted by what any one of us may say off-the-cuff in an interview setting," Dunlap said. "Unless you confront these charges that there is mass voter fraud, and show that there isn't anything under the bed, those questions will continue to linger in people's minds and have legitimacy in people's minds."
During the commission's first meeting Wednesday, Vice President Mike Pence and other commission members repeatedly noted that the commission would follow wherever the facts led.
But critics eye the selection of Kobach, who defended Trump's claims that there is widespread voter fraud in the country without providing any evidence, as a sign the commission would be used to make it more difficult to vote, especially in minority communities.
Following Kobach's comments, Dunlap said he believed Clinton won the popular vote and the results of the election were not in question.
"We do an awful lot of things right," he said. "No one is calling into question the legitimacy of the election in 2016... you had an outcome to the election that was certified across the country."
The commission's request for personal voter data from states was met with bi-partisan blowback for election officials across the country. It also led to wave of voters in Colorado cancelling their registration, a trend seemingly not yet replicated in other states.
Dunlap compared those who believe in wide-scale voter fraud to a sole citizen with strongly held views repeatedly criticizing the public works budget for snow removal at town meetings in his home state of Maine. He said even if the concerns didn't pan out, it would be re-assuring for all to examine them.
When asked if he would put that concerned citizen in charge of a commission looking into the snow removal budget, Dunlap stressed that the administration's election commission was a group effort.
"You have a process built in, no one person is going to define the work," he said. "If you put the guy complaining about public works in charge of the commission and it has the same result, doesn't that increase the confidence in it?"