Under Trump, U.S. Military Has Allegedly Killed Over 1,000 Civilians in Iraq, Syria in March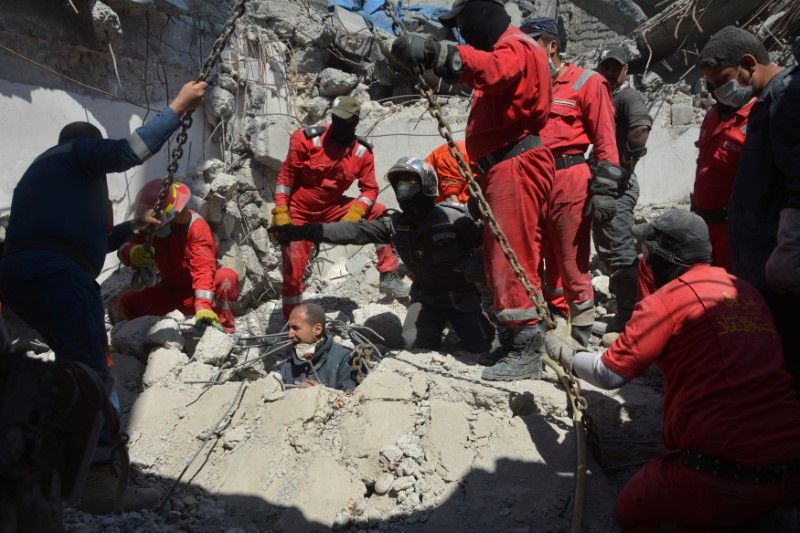 On the campaign trail, Donald Trump vowed that as president he would "bomb the hell out of ISIS." Two months into his time as president, the evidence suggests he is doing just that, with increasing airstrikes in Iraq and Syria and stepped-up raids targeting Al-Qaeda in Yemen. But as the airstrikes have soared, so, too, according to reports, has the civilian death toll.
U.S.-led coalition airstrikes in Iraq and Syria may have already killed 1,484 civilians in just Iraq and Syria this month alone, more than three times the number killed in President Barack Obama's final full month in office, according to British monitoring group Airwars. For the first time, the number of alleged civilian casualties in events carried out by the U.S.-led coalition has exceeded the death toll of attacks launched by Russia.
The U.S. military said Saturday that a U.S.-led coalition strike hit an area in the Islamic-State-held Iraqi city of Mosul where officials on the ground said around 200 civilians may have been killed. Those figures would make it one of the deadliest-to-citizens U.S.-led bombings in 25 years.
Amnesty International has asserted that hundreds of civilians have been killed in the city and questioned the legality of the attacks.
"Evidence gathered on the ground in East Mosul points to an alarming pattern of U.S.-led coalition airstrikes which have destroyed whole houses with entire families inside," said Donatella Rovera, Senior Crisis Response Adviser at Amnesty International, who carried out field investigations in Mosul.
"The high civilian toll suggests that coalition forces leading the offensive in Mosul have failed to take adequate precautions to prevent civilian deaths, in flagrant violation of international humanitarian law."
Secretary of Defense Jim Mattis responded Monday by insisting that coalition troops "always do everything humanly possible to reduce the loss of life or injury among innocent people. The same cannot be said for our adversaries."
Reports of high civilian death tolls under Trump's command have persisted since his first days in office. A week after entering the White House, Trump green-lighted a raid in Yemen that cost the life of a U.S. Navy Seal and reportedly killed at least 25 civilians. The Pentagon's insistence that significant intelligence had been obtained has been widely disputed.
A U.S.-led airstrike was similarly said to be responsible for the deaths of 30 civilians in Syria's Raqqa Province last week. A few days earlier, the U.S. military confirmed it had conducted airstrikes in an area of northern Syria where local reports say a mosque was struck, killing more than 40 people. The military denied bombing a mosque.
Airwars divides its reports on civilian casualties into several categories of certainty. Of the 1,484 reported to have been killed in March, 363 are considered "fair" (at least two credible sources, possibly along with visual evidence), with 238 labeled "weak" and 883 "contested." But even the number of deaths based only on reports regarded as "fair" is still the highest since prior to the group beginning to collect data in August 2014.
The total number reportedly killed in February was 455, while January, in which Trump took office, saw the number reach 613.
The non-profit organization has said it has been overwhelmed with reports of civilian casualties since Trump took office.
"Almost 1,000 civilian non-combatant deaths have already been alleged from coalition actions across Iraq and Syria in March—a record claim," Airwars said in a statement. "These reported casualty levels are comparable with some of the worst periods of Russian activity in Syria."