Trump's Warning of Antifa Violence After Midterms Was About 'Scary Black People' Says CNN's Toobin
President Donald Trump's warning to evangelical leaders about a "violent" backlash if Republicans lose November's midterm elections has been slammed as racist, with one pundit commenting Trump's words were about "scary black people."
The president made the comment in a private conversation with religious leaders, with a recording of the conversation obtained by CNN, specifically suggesting that the anti-fascist collective Antifa would be responsible for such violence.
"This November 6 election is very much a referendum on not only me, it's a referendum on your religion, it's a referendum on free speech and the First Amendment. It's a referendum on so much," Trump said, according to the recording.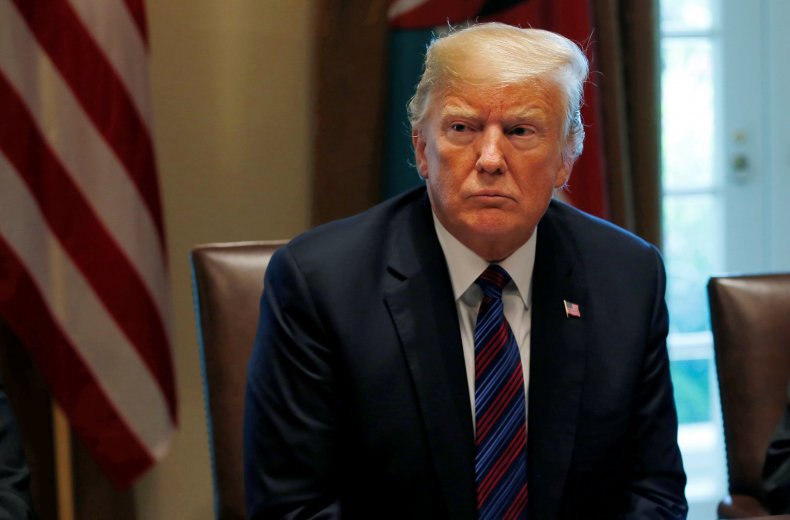 "It's not a question of like or dislike, it's a question that they will overturn everything that we've done and they will do it quickly and violently. And violently. There is violence. When you look at Antifa—these are violent people," he continued.
"You have tremendous power," the president told the pastors, who were gathered in the White House for a meal honoring evangelicals. "You were saying, in this room, you have people who preach to almost 200 million people. Depending on which Sunday we're talking about."
But the president's comments were branded racist, with CNN's Jeffrey Toobincommenting on Tuesday night that Trump's decision to suggest Antifa would react violently smacked of discrimination.
"Let's be clear also about what's going on here," Toobin said in a panel discussion with Wolf Blitzer. "The theme here is, 'I'm Donald Trump and I'll protect you from the scary black people.' Antifa is widely perceived as an African-American organization, and this is just part of the same story of LeBron James and Don Lemonand Maxine Waters and the NFL players and the UCLA basketball players.
"This is about black versus white. This is about Donald Trump's appeal to racism and it just happens all the time. And we never say it—we don't say it enough for what it is, but that's what's going on here," he added.
Trump has previously slammed Antifa, referencing his much-criticized comment that there was violence on both sides during the white supremacist rally in Charlottesville.
Although he dialled back on his comments at the time, the president later told reporters: "I think, especially in light of the advent of antifa, if you look at what's going on there, you have some pretty bad dudes on the other side also, and essentially that's what I said."
"Because of what's happened since then with antifa, when you look at really what's happened since Charlottesville, a lot of people are saying, and people have actually written, 'Gee, Trump may have a point.' I said there's some very bad people on the other side also," he added, The Washington Post reported at the time.