Trump's White House Calls a Snow Day as Senate Intel Committee Hears Few Officials Prepped on Election Security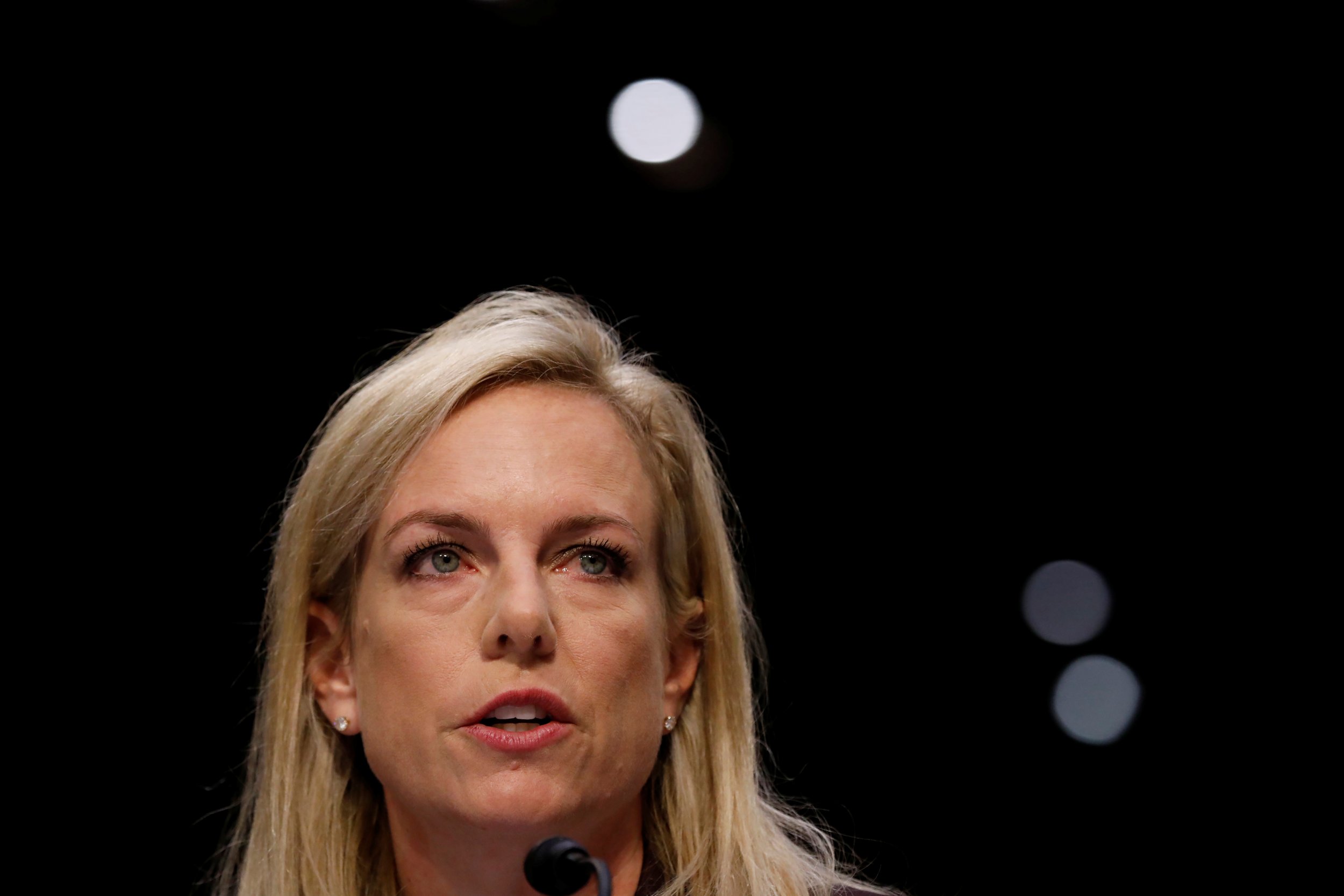 The White House called a snow day, wiping all events from its schedule, including a Cabinet meeting, as a powerful snowstorm hit Washington on Wednesday. However, lawmakers working on the Senate Intelligence Committee's Russia investigation weren't daunted by the expected 4 to 8 inches of snow and continued to forge ahead with a hearing on election security.
Early in the hearing, Secretary of Homeland Security, Kirstjen Nielsen, said just 20 state officials out of 150 have received security clearance to view classified information about vulnerabilities in their systems during the 2018 midterm elections.
The "threat of interference remains" Nielsen said when asked if Russia would work to interfere in the midterm election process as American intelligence found Moscow did during the 2016 presidential election.
Nielsen said that while many state officials have yet to be cleared to see classified intelligence, "if we have something to share, we will share it that day. We've worked out a process with the interagency such that if we have intel, we will read in the appropriate election officials that day, so we're not waiting for clearances."
Republican Senator Susan Collins, told her: "I hear no sense of urgency to really get on top of this issue. We are already in an election year."
Several of President Donald Trump's top intelligence officials have said Russia will continue to work to meddle in this year's election process. In February, Director of National Intelligence Dan Coats, told the Associated Press "the United States is under attack—now."
Last month special counsel Robert Mueller indicted 13 Russians for mounting a misinformation campaign against the U.S. in 2016.
In February, the Department of Homeland Security (DHS) disputed an NBC News report that voter registration systems and state websites were compromised by Russian hackers in seven states before the 2016 election. The department says that Russian intelligence-backed hackers targeted 21 different states, but that there is no evidence of a breach or that votes were changed.
Related: Which Republicans are begging Trump not to fire Robert Mueller?
Early Wednesday, Trump tweeted a message about how special counsel Mueller should have never been appointed to conduct an independent criminal investigation into Russian interference alongside the probes by Congress. Trump did not comment on Russian election interference.
Republican Senator Marco Rubio hypothesized that voters could be confused by misinformation spread by a malicious actor and also potentially removed from voter rolls, sowing confusion when they show up at the polls.
Neither Nielsen nor Jeh Johnson, a former Obama administration DHS secretary, whom Nielsen testified alongside, explained to Rubio how the U.S. is poised to fight misinformation.
The hearing followed the panel's release Tuesday of recommendations that the government needs to follow to protect state election systems. These recommendations focused on securing the information technology infrastructure that state voting systems run on from cyberattacks and creating better lines of communication between the states and intelligence agencies.
During a hearing before the committee in February, Trump's top intelligence officials said there is no interagency strategy to combat Russian interference right now.
In an upcoming spending bill, Congress is considering $380 billion in grants to states to help beef up their election security along with $307 million for the FBI to combat cyberattacks.