Trump's Wisconsin Rally Relocating to Another City After Governor Urges Campaign to Do So Amid Rising COVID Cases
President Donald Trump's campaign has decided to move a Saturday afternoon campaign rally from one Wisconsin county to another after the state's governor asked the president to consider canceling the event altogether due to rising numbers of new coronavirus cases.
The event was initially scheduled to take place at La Crosse Regional Airport in western Wisconsin's La Crosse County. On Thursday, Trump's campaign website listed Janesville Regional Airport in Janesville, a city in southern Wisconsin's Rock County, as the new location.
Ian Turner, the director of the La Crosse Regional Airport, told Newsweek that the event posed a legal issue—not because of the state's rising infection rates, but because of a lease agreement with one of the airport's tenants who was serving as the rally's host.
Turner said that he informed the tenant, whom he did not identify, that holding a political activity was a violation of the lease. Though Turner said the tenant disagreed with his interpretation, he said they decided against moving forward with the rally.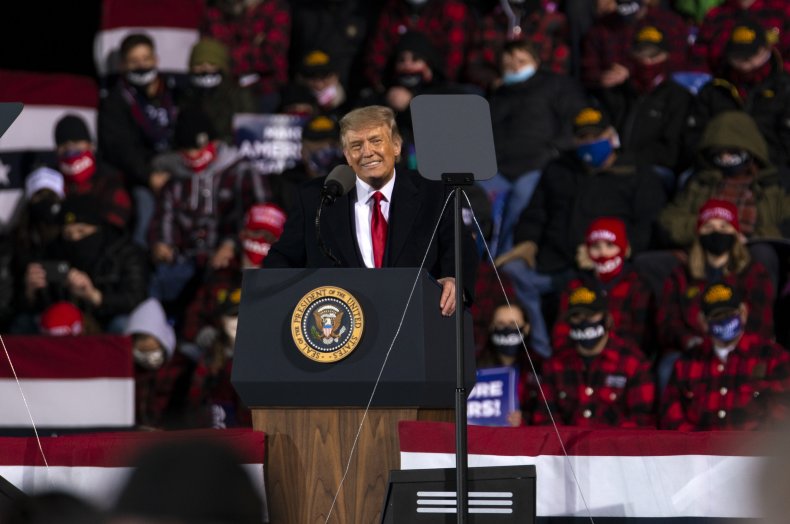 A spokesperson for La Crosse County Mayor Tim Kabat told the Minneapolis-based television station WCCO that his office was notified Trump would not be arriving at the local airport on Saturday. "We have received word that Air Force One is not coming to La Crosse on Saturday, so we are assuming the Trump campaign has changed its plan and is not coming to La Crosse," Kabat's spokesperson, Caley Cavadini, told the station.
Both Kabat and Wisconsin Governor Tony Evers had previously called upon Trump to consider canceling the event altogether as the state's COVID-19 infection rates climbed in recent weeks. During a news conference on Tuesday, Evers encouraged Trump to reconsider his rally's location as case numbers continued surging.
"He could not come," the governor said. "The second thing that could be done is for him to insist that if people are there, they wear a mask."
Evers gave voice to the concern he had about the event as he added, "Those are the two things that he could do to make sure that it doesn't become a super spreader event."
The state health department's chief medical officer on Tuesday said that the state was "in a crisis"and could continue to face spikes in new cases if resident attitudes toward pandemic restrictions did not improve. By Thursday, October 1, the Wisconsin Department of Health Services reported a total of 125,161 COVID-19 cases and said its seven-day rolling average of new cases was 2,405. According to researchers at Johns Hopkins University, the state's seven-day average infection rate was 21.1 percent at the beginning of October.
Newsweek reached out to the Trump campaign for additional comment, including a confirmation of why the rally was relocated, but did not receive a reply before publication.
This article has been updated to include additional information, background and a response from La Crosse Regional Airport Director Ian Turner.