'Trumpy Bear' Is the Snuggly Pal Getting Trump Supporters Through This Week
When Trumpy Bears first surfaced in 2017, people didn't know whether or not they actually a real thing. In fact, Snopes, the fact-checking website devoted to debunking myth and rumors, even investigated their existence. As it turns out, they are indeed real, and given the combative climate of the 2020 presidential election, people on both sides of the aisle are talking about him once more with ads for the Cuddler-in-Chief still running on Fox News.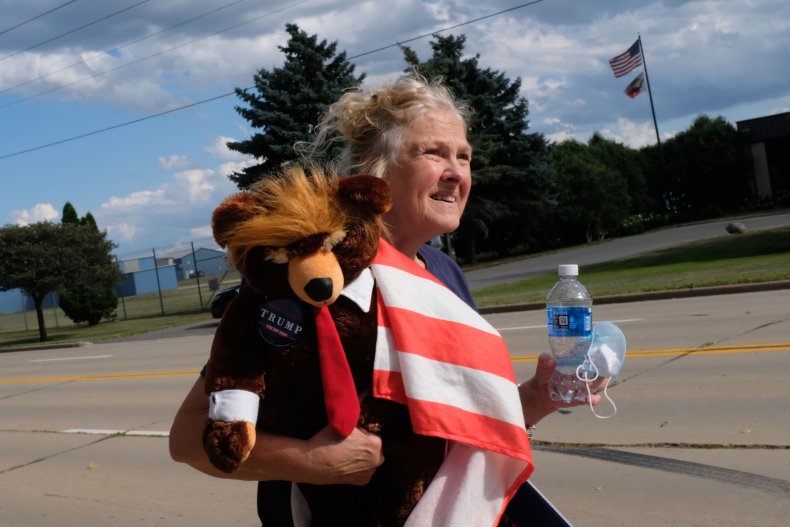 Trumpy bears (sorry) a strong resemblance to the 45th president, what with the red tie, furrowed brow, pursed lips and, of course, the large swoop of inexplicably styled golden hair. You can still order Trumpy Bear online for two payments of $19.95, plus $6.95 for shipping and handling. Trumpy even comes with a special certificate of authenticity.
And believe it or not, Exceptional Products, the Texas-based company behind Trumpy, may be capitalizing on the the nail-biting anxiety caused by the slow results of the election to make a big sales push. At least one Twitter user captured an ad on Fox News, during a break from its election coverage on early Friday afternoon:
While conservative voters may be seeking solace in Trumpy's little fuzzy arms, liberals are delightfully using the stuffed animal for memes mocking the president.
One user made a set of photos of Trumpy which might capture the mood of many right-wing Americans this week. It shows the little bear sadly watching the news as reports come in of Joe Biden gaining leads on Trump in the remaining uncalled key battleground states.
While the item and its marketing seem to be firmly pro-Trump, the most recent commercial for Trumpy does have a little fun at the president's expense. It shows a young woman cuddling with the bear before parking him on his favorite spot in the house (a leather chair in front of a TV). Then, two different military veterans—one of whom, being a motorcycle enthusiast, rides his chopper with Trumpy on his lap—proudly exclaim their love for the the stuffed toy. Also, a golfer is seen bringing Trumpy along with him while he hits the links. He explains to the camera that Trumpy helps his golf game.
Since Trumpy's introduction, the ad seen below and others have run on several networks in addition to Fox, including Animal Planet and the Discovery Channel, in what may be an effort to appeal to bear-lovers.
At the end of the commercial, a deep voice resounds, "Don't miss out on owning a piece of American history... Trumpy, the most fearless bear anywhere."
The commercial also features a disclaimer that emphasizes President Donald Trump has not endorsed Trumpy Bear.