Swimwear Brand Vilebrequin Made Waves Safe For All Men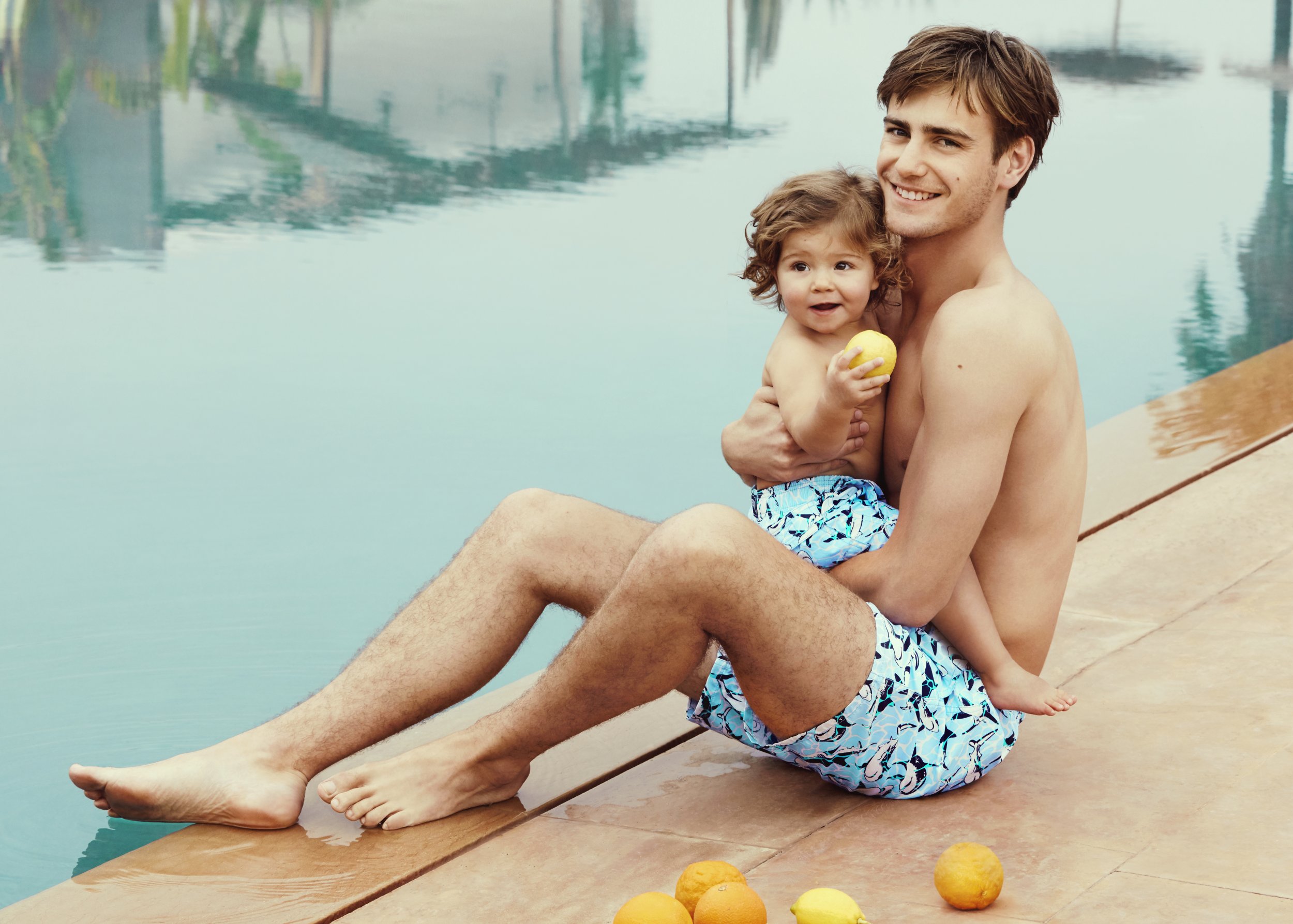 Hard to believe it now, but not so long ago, St.-Tropez in the south of France was a little enclave of bohemia. If you arrive in your super-yacht today, however, prepare to be upstaged by the owners of mega- and giga-yachts. The place has become a synonym for the sort of boisterous good times that usually end with someone spraying another person with the contents of a magnum—or better still, a methuselah—of Louis Roederer Cristal.
And yet well within living memory, St.-Tropez was a place where real men did not prove their virility with the size of their boats or champagne bottles but instead spent their time sewing their own swimming trunks. One such man was Fred Prysquel, a motor sports reporter and photographer in the 1970s who filled his spare hours thinking about how he could improve on the swimwear of the day, which he found unflatteringly tight.
I'm sure a pair of those clingy, scanty little scraps of cloth that only just about protect one's modesty are all very well for shaving valuable hundredths of a second off a swimmer's race time. But it's only on their annual summer vacation or beach trip that most men tend to get into their swimming trunks. And while they may be called swimming costumes, it would be more accurate to name them lolling-about-on-a-sun-lounger costumes, since that's how they will be worn most of the time. One may spend 30 minutes or even an hour slicing through the waves, but out of the water—unless you've been working out—it's hard to look good in swimming briefs.
So Prysquel set about making himself a bathing costume in the manner of the board shorts worn by surfers. The difference was that instead of using solid colors he worked with some brightly patterned fabrics he had come across in Africa. Prysquel wanted to impress a woman and thought standing out on the beach would help; the first shorts he made were so unusual in color and design that his friends asked him to make more. And so in 1971, Vilebrequin was launched.
Prysquel was an unlikely fashion leader; he was a motor enthusiast most at home mucking around with car engines, and Vilebrequin, the name he chose for this Tropezien swimming trouser, translates as crankshaft.
But in fashion terms he did for men's beachwear what Yves Saint Laurent was doing at the same time for haute couture. Such is the brand's lasting success that I would imagine that the Académie Française, the institution whose mission is to protect the French language, would need to think of a new word for crankshaft, because everyone elsewhere thinks vilebrequin is French for swimming trunks.
The original style of Vilebrequin, the Moorea, is still its best—a summer classic, a go-anywhere garment, provided you are going anywhere near sand, sun loungers, a large body of water or strange-looking beverages served in hollowed-out pineapples. There are solid-colored Vilebrequins, but that rather misses the point. Vilebrequin is about patterns, colors and designs: The chief mascot is the turtle, reproduced in numerous colors and sizes, but there are many other aquatic, nautical and marine motifs. Vilebrequin has, it seems, elevated the swimming short to a status halfway between the Hermès tie and the Hawaiian shirt.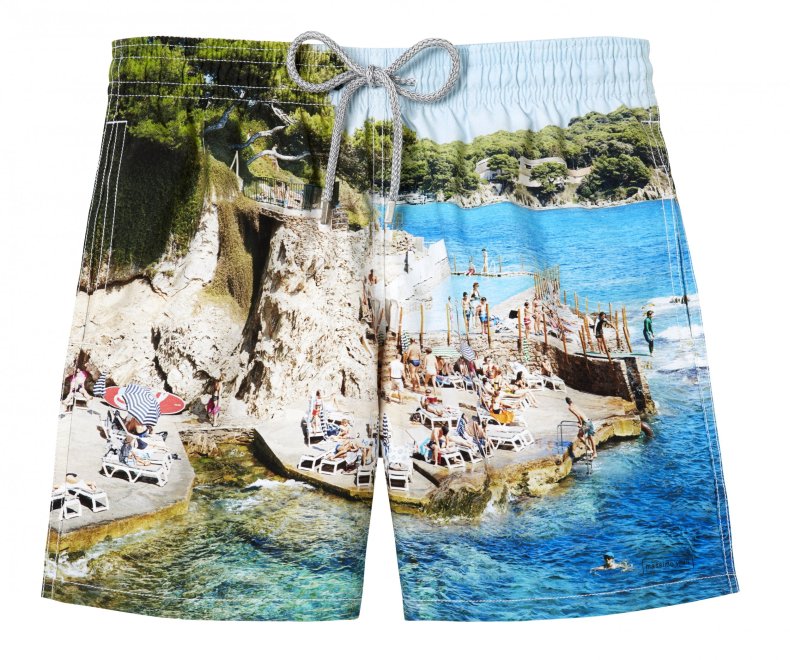 But rather like St.-Tropez, things have moved upmarket over the years. The company is now under American ownership but is still run by a stylish Frenchman, Roland Herlory, who takes his work so seriously that instead of taking it home with him, he moved to St. Barts, to better live the Vilebrequin dream. The results have been impressive.
There are now topography-specific designs, with the line of shorts carrying Massimo Vitali photographs of Italians at the seaside—both sandy and rocky, so whether you're summering in Italy's Forte dei Marmi (sand) or Capri (rock), you can adjust your swimming-short choice according to the terrain.
Innovations in material are another way in which the brand is consistently redefining the limits of luxury swimwear. For instance, an aqua reactive line works along the lines of invisible ink: When dry it looks like a solid color, but wet it reveals a hidden design.
Vilebrequin has even taken the swim short into evening wear with the launch of tuxedo trunks, black with a satin stripe down the side just like regular dining suit trousers. It seemed a natural progression, Herlory explains. "At Vilebrequin, you should be able to find a bathing suit for every occasion," he says. "So why not have your wedding around a swimming pool and transform the idea of black tie into a bathing suit?"
Of course, given the birthplace of the brand, there is a certain bathing suit to wear when mixing with the billionaires of St. Tropez. "When I joined the company four years ago, I went to the factory which embroiders our bathing suits," he says. Each year a small number of embroidered shorts are made; when Herlory asked how they could push the boundaries, they said they would like to work with gold yarn. While shiny gold would be a little too "bling bling"—perish the thought—a more discreet matte gold thread was chosen to create the signature motif.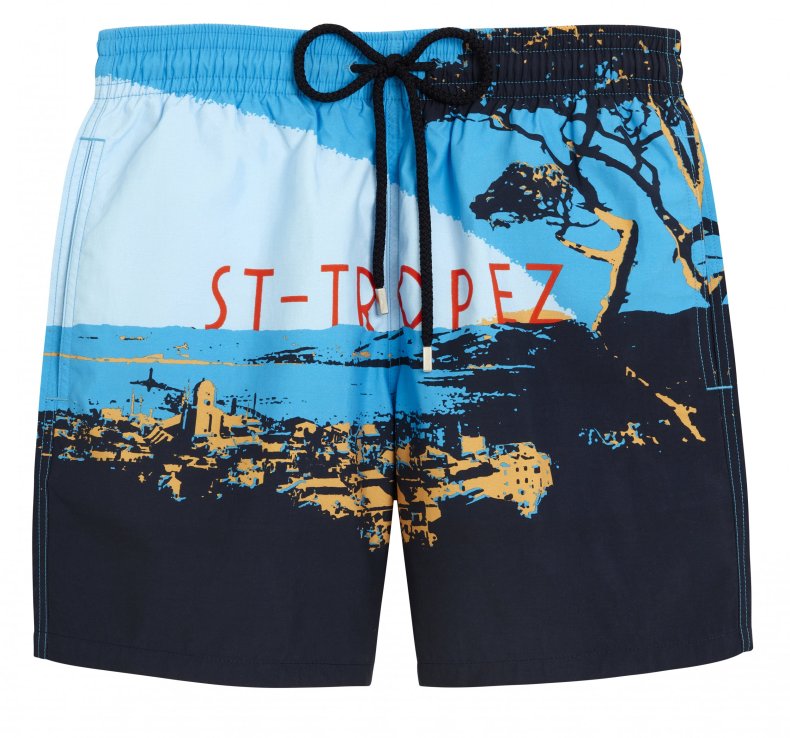 "Every scale of the turtle is embroidered in a different direction so that the reflection of the sun is different on each scale," Herlory says.
Play of light over precious metal is usually the concern of jewelers rather than bathing suit manufacturers, but it is not the only jewelry skill you will find in use at Vilebrequin. For customers really wanting to push the boat—or rather, giga-yacht—out, Vilebrequin has a bespoke service that sets the toggles at the end of the drawstring with precious stones.
Vilebrequin might be moving forward, but there's no escaping its heritage. And perhaps nothing says St.-Tropez quite as much as gold-embroidered swim shorts with gem-set drawstrings.