Trust in Democrats on Key Issues Has Dropped 12 Points in 2021, Poll Shows
The Democratic Party had a significant advantage earlier this year on key issues such as the economy and health care, but a poll tracker has found that public trust in the party has fallen a dozen points.
According to Morning Consult, the amount of voters who trust Democrats on eight key issues has declined significantly over the past several months. The issues tracked by the organization are the economy, education, energy, the environment, health care, immigration, jobs and national security.
In March, Democrats had an average trust advantage on these issues of 14 points. By December, that advantage had fallen to just 2 points.
As Democrats lost trust on the issues, President Joe Biden has also experienced a steep drop in his net approval rating. Earlier this year, Biden had a net approval rating of plus 22 percentage points but now his average rating is negative 5 points.
Morning Consult found in December that just 46 percent of registered voters approve of the job Biden is doing compared with 51 percent of respondents who disapprove.
The findings come as one of Biden's key agenda items, the Build Back Better Act, stalls in Congress.
The sweeping social safety net and climate change package passed the House of Representatives in November but has yet to be taken up for a vote in the 50-50 divided Senate.
This weekend, Senator Joe Manchin appeared to doom the bill's future as he announced he couldn't support the legislation. Manchin, a West Virginia Democrat, is a critical vote as Democrats need every member of their caucus to back the bill in order for it to pass via reconciliation.
The White House and Democratic leaders criticized Manchin, and vowed to press forward with Build Back Better despite his opposition.
Senate Majority Leader Chuck Schumer told colleagues Monday that the package will be brought to the floor for a vote in the new year and that they "will keep voting on it until we get something done."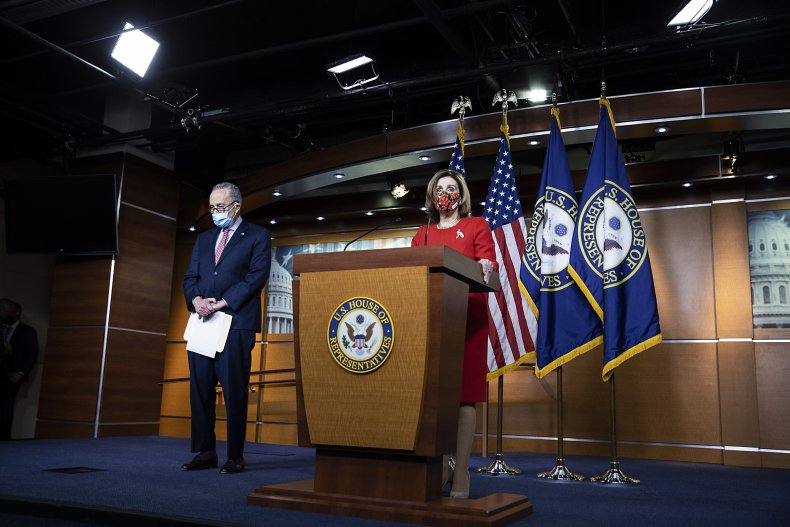 Amid the Democrats' decline in the polls, the Morning Consult survey showed the party in a near-tie with Republicans in a generic congressional poll. When asked who they would vote for if the election for Congress was held today, 43 percent of voters said they'd back the Democratic candidate compared with 42 percent who would support the Republican.
Republicans are aiming to regain control of Captiol Hill in next year's midterm elections as Democrats currently enjoy majority control of the House and a narrow advantage in the 50-50 divided Senate Historical precedent is on the Republican Party's side heading into next year's races, as midterm elections tend to be a referendum on the party in charge.
Morning Consult found that Biden and the Democrats' decline mirrors the decline experienced by Donald Trump and the GOP before they lost control of the House in the 2018 midterm elections.
Morning Consult's averages are from polls conducted on a biweekly basis among roughly 2,000 registered voters with a margin of error of plus or minus 2 percentage points.