Trust in Federal Government to Look Out for American Families Plummets 21% Since Pandemic Began: Poll
A new poll showed that only one in three Americans trust the federal government to look out for their family's interests, a new low since the coronavirus pandemic hit the U.S. in mid-March.
Just 32 percent of Americans have a "fair amount" or "great deal" of trust in the federal government's ability when it comes to protecting their families, according to an Axios-Ipsos poll released Tuesday.
The number has plummeted 21 percent since March, when more than half of Americans said they had trusted the federal government to have their family's interests in mind.
"Americans at this point, and parents more specifically, can't be force-fed policies that go against what they think," Cliff Young, president of Ipsos U.S. Public Affairs, told Axios.
Results from a May 19 Axios-Ipsos poll showed that employers and local health officials and healthcare workers were the most trusted figures.
The public's confidence in local and state governments is decreasing, but still higher than that of the federal government, Tuesday's poll suggested. Fifty-five percent of Americans trust their state government, down from 71 percent in mid-March.
In the current U.S. virus hotspots, including Arizona, Florida, Georgia and Texas, the public's trust in their state government is the lowest, the poll showed.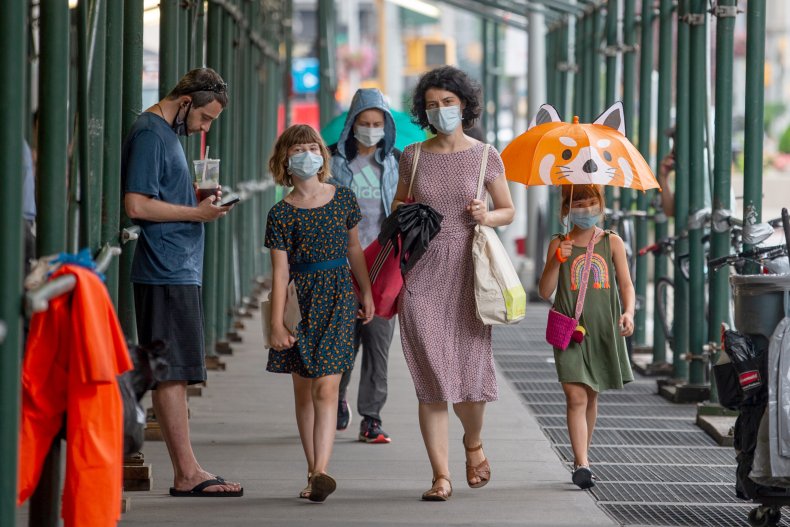 Perhaps the most contentious area of concern for American families is the government's decision to reopen schools this fall.
"You can't wish away or scare away a virus," Young told Axios. "And right now, they're not feeling safe in putting their children back in school."
According to Tuesday's poll, 7 in 10 American parents said there would be a large or moderate risk to their child's health and well-being.
President Donald Trump has repeatedly pushed for schools to reopen in the fall, despite coronavirus case numbers continuing to rise throughout the country. Trump has also criticized CDC guidelines laying out the best way for schools to reopen safely, arguing that the measures are too costly and unnecessary.
Last week, an ABC News/Ipsos poll showed that 67 percent of Americans disapprove of Trump's response to the coronavirus outbreak—his lowest approval rating concerning his virus response since the pandemic began.
Young warned that the Trump administration's efforts to keep schools open—including threatening to withhold federal funding if remote learning continues—could pose "serious political risks."
Even the Republican base sees a risk in sending kids to school in the fall, Young added, referencing the 53 percent of Republicans surveyed who said they believed there is a risk in resuming in-person classes.