Truth Social's Ban From Google Play Renews Calls for Apple to Remove App
Google's decision to decline offering former President Donald Trump's Truth Social app in its Play store due to worries over content moderation has renewed a push for Apple to also stop distributing the firebrand social media platform.
Google said Tuesday that it had reiterated to Truth Social that the platform needed better control of content, including physical threats and incitement to violence before it could be offered on Google Play. Google's move is a setback for the nascent platform, which has hosted violent and inflammatory content as it's presented as a "censorship-free" alternative to more restrictive social media.
"On August 19 we notified Truth Social of several violations of standard policies in their current app submission and reiterated that having effective systems for moderating user-generated content is a condition of our terms of service for any app to go live on Google Play," the tech giant told Newsweek in a statement. "Last week Truth Social wrote back acknowledging our feedback and saying that they are working on addressing these issues."
Trump Media and Technology Group, the platform's parent company, issued its own statement Tuesday, saying it had "worked in good faith with Google to ensure that the Truth Social Android App complies with Google's policies without compromising our promise to be a haven for free speech." The statement said it had responded to all inquiries from Google and criticized the company for allowing apps that violate its other standards.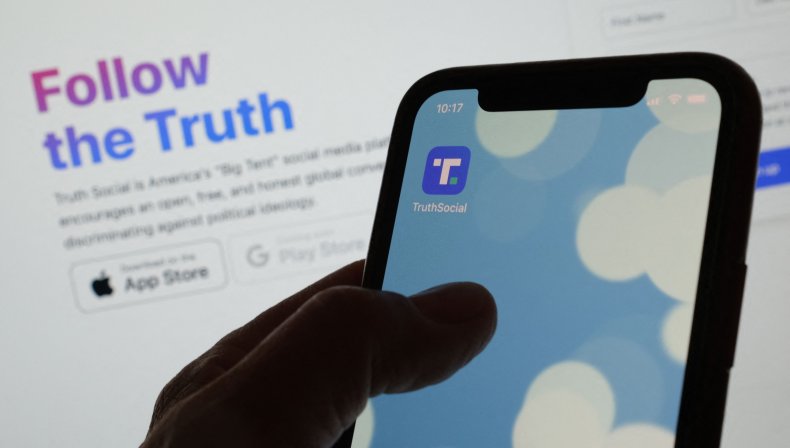 "As our users know, Truth Social is building a vibrant, family-friendly environment that works expeditiously to remove content that violates its Terms of Service - which independent observers have noted are among the most robust in the industry," read the statement.
Lawyer and writer Exavier Pope tweeted that "Apple shouldn't host Truth Social either."
"Dear Apple: Please remove Truth Social as a supported App on your platform," Pam Keith, CEO of Center for Employment Justice, wrote in a tweet.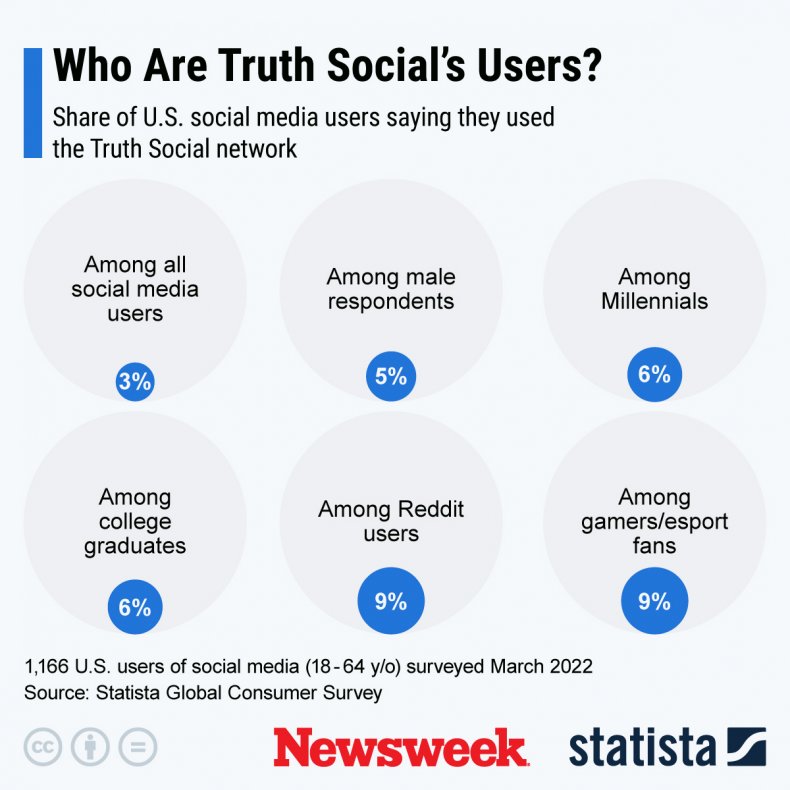 This chart, provided by Statista, shows the share of U.S. social media users saying they used the Truth Social network.
Advocacy group Citizens for Responsibility and Ethics in Washington wrote to Apple CEO Tim Cook in April, requesting the company remove Truth Social from its App Store, arguing it violated its content standards. The letter cited what it called Trump's "history of undermining democracy and promoting violent extremism, his prior abuse of social media platform."
"Every company that now enters into business with Trump must recognize that it is essentially endorsing this dangerous and anti-democratic conduct," reads the letter. "That alone should be enough reason to remove the Truth Social platform from the App Store."
Truth Social has allowed threatening posts against the FBI, which appeared to be from the gunman who carried out the attack on the agency's field office in Cincinnati, Ohio. The platform also promoted an article that included the redacted names of FBI agents involved in the search of Trump's Mar-a-Lago resort home this month.
After being banned from Twitter in January 2021 for breaching the platform's rules on inciting violence, Trump took action to offer a competing digital town hall platform. Truth Social launched in February 2022, with right-wing political and media figures quickly signing up. Only available in Apple's App Store, Truth Social was downloaded about 2 million times in its first two weeks, according to Statista.
Devin Nunes, CEO of Trump Media and Technology Group, told Real America's Voice last week that Truth Social had "great success working with Apple" but acknowledged there are two main operating systems.
"Look, everybody is beholden to them because they have a monopoly on those markets," said Nunes, referring to Apple and Google.
Newsweek has reached out to Apple for comment.