Try These 15 Products for a Calmer You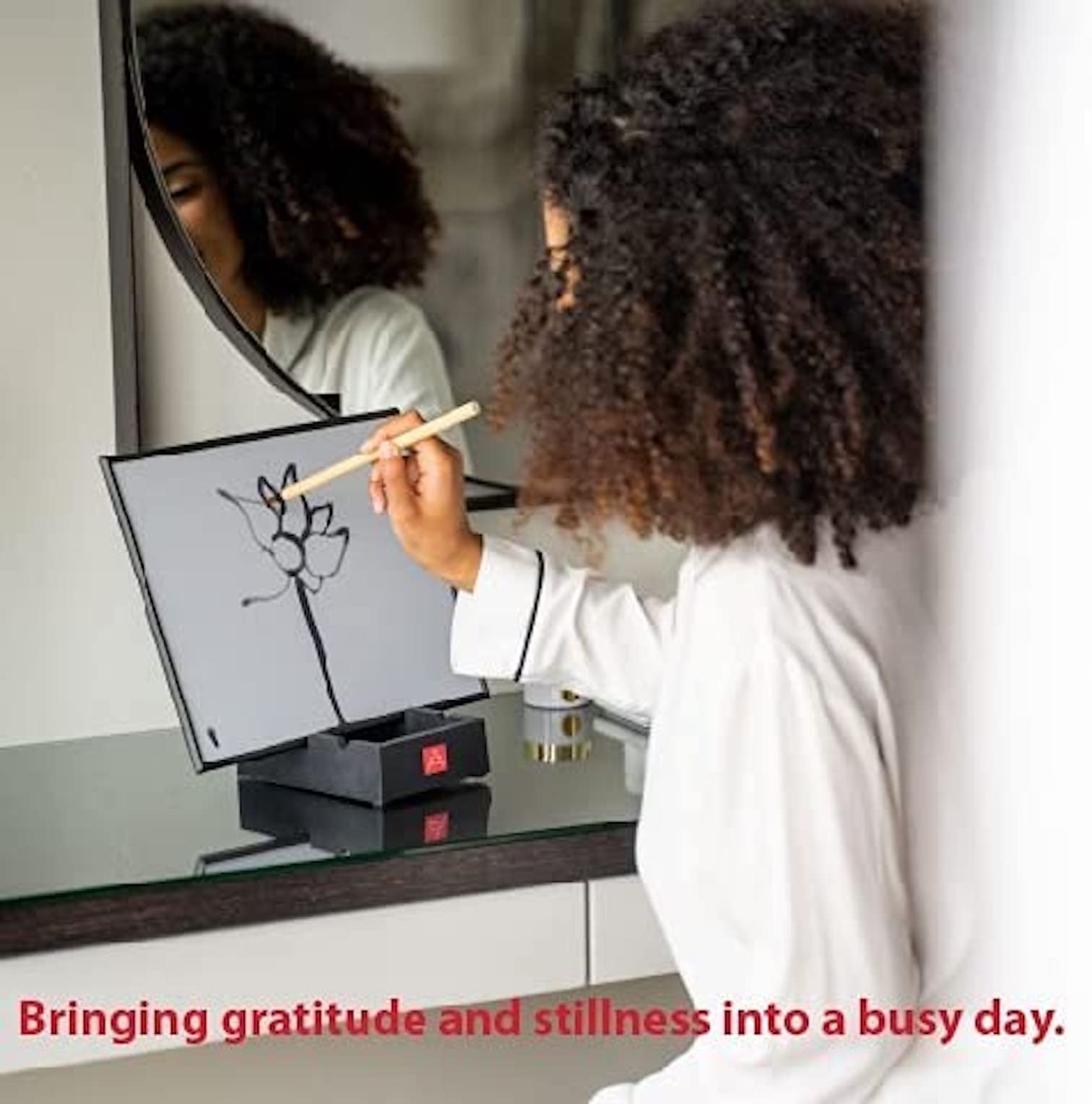 You don't need to suffer a traumatic event to feel stressed. Driving kids to activities, juggling the various personalities you encounter at work and maintaining a home are just a few of life's daily challenges that can send blood pressures soaring.
Now is the time to invest in some highly-rated products to bolster your serenity. Sure there are high-tech solutions, but some products cost only a few dollars and reportedly deliver major results. We've listed 15 highly-rated, budget-friendly products people found swept their stress away.
Yes, You Can Chill out by Tuning into Your Body
It seems that we are taking less time for ourselves as our schedules grow increasingly crowded. Some people may not realize that investing even a few minutes in themselves can pay off with less stress, higher productivity, and better health. Consider these 15 products to guide you toward calm. As always, the prices listed may fluctuate over time.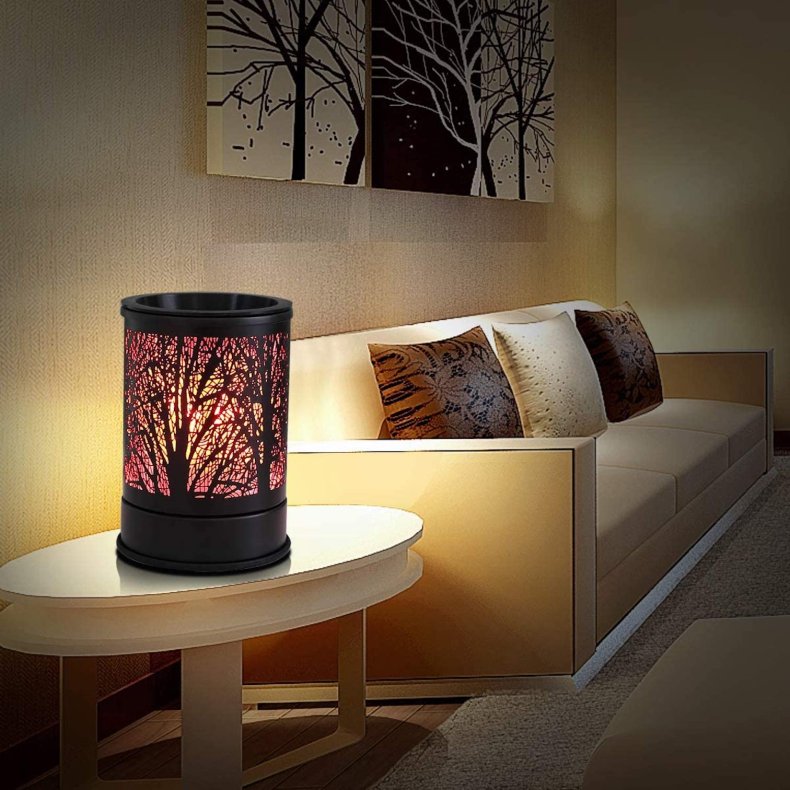 Honestly, I didn't give much thought to wax melts until I visited a good friend who swears by them. I loved walking into her home and enjoying whatever scent she had chosen for that day. The aroma immediately transported me to a more peaceful, less stressful place. The Enaroma Fragrance Wax Melts Warmer melts the wax I enjoy while it circles through a relaxing seven-light cycle. I can also set it for just one color. Just add a cube of wax or oil mixed with water into the Warmer, plug it in and enjoy. The 4.3-inch by 4-inch by 5.9-inch warmer is available in white or black.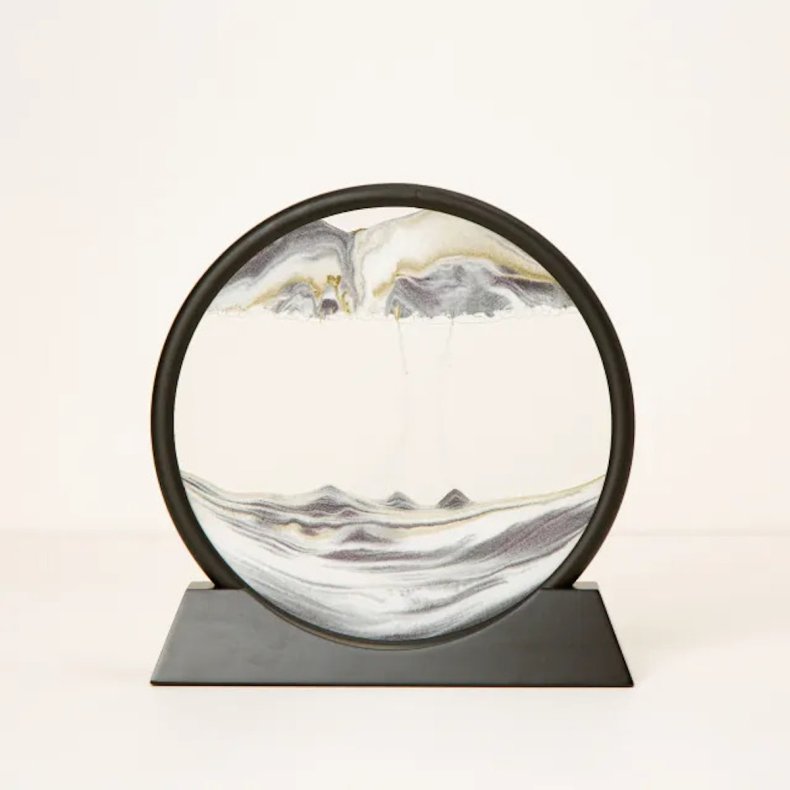 Lucky me, a dear friend gave me the Klaus Bosch Deep Sea Sand Art as a gift. When I first saw it, I knew it was a product built for relaxation. It wasn't until I had it for a week that I realized how it fulfills the mission. Turn it over and enjoy the light, dark and glitter inside as it filters to the bottom. It's mesmerizing. Sure, you can put it on your desk at the office, but you'll enjoy it at home, too. The glass, rubber, sand and beechwood piece with a black frame measures 10.5 inches by 10 inches so that you can place it almost anywhere.
Buy at Uncommon Goods for $100.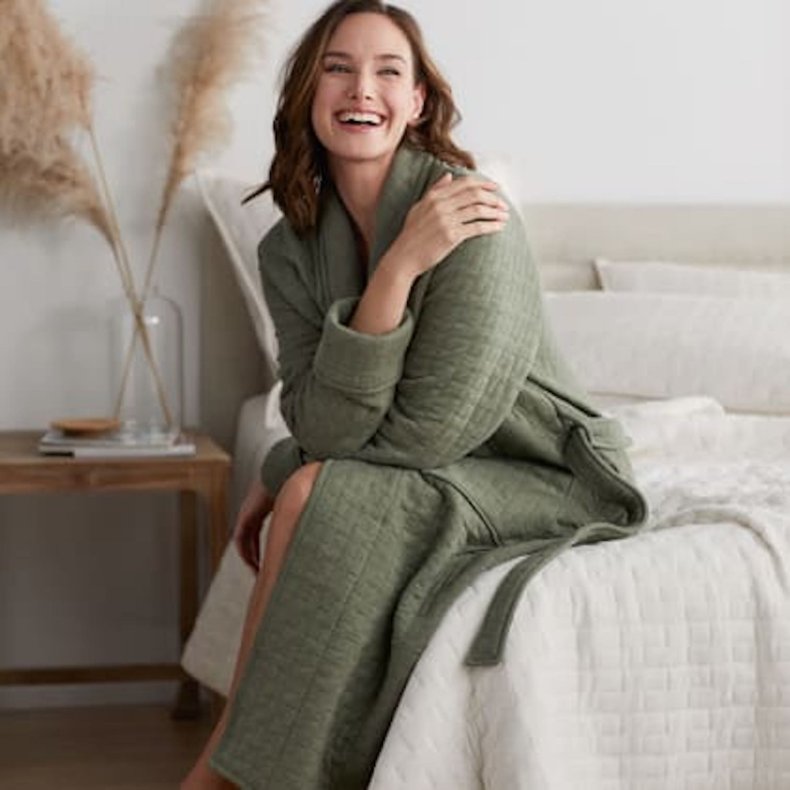 If you've been to a day spa, we bet you've felt stress slip away as you pulled on the soft cotton robe most provide. The Company Store Air Layer Robe brings that luxury to your home. The shell is 100 percent cotton jersey crafted with light polyfill. The slightly oversized silhouette (no one wants a tight robe when they relax), shawl collar, long sleeves with rolled cuffs, belt, inside ties and patch pockets combine to the comfy fit. Choose from among four colors and sizes from x-small to xx-large.
Buy at The Company Store for $119.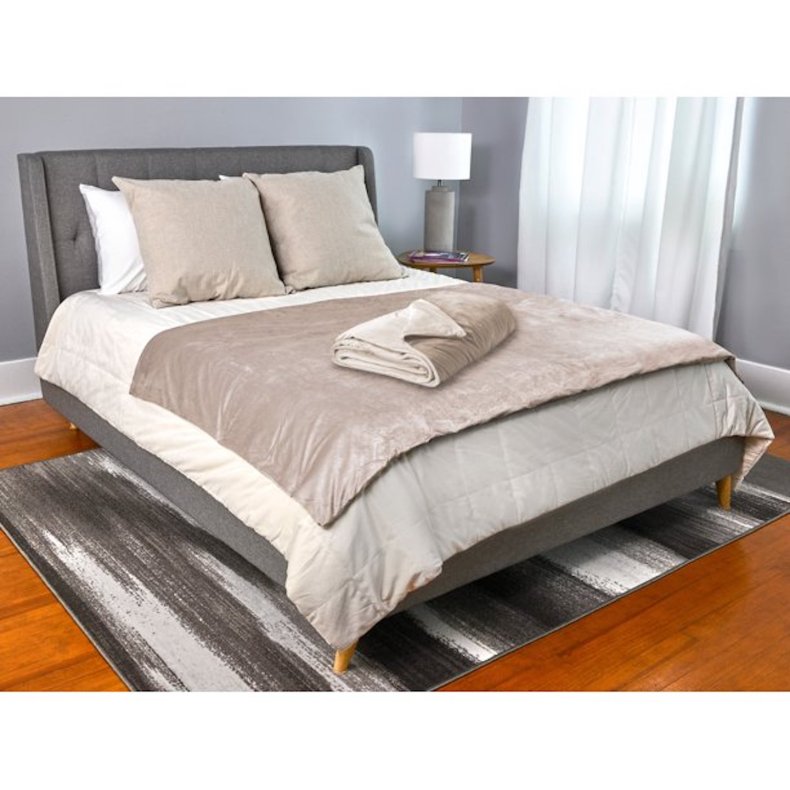 You know, weighted blankets provide even pressure across your body––something akin to a hug––designed to help you relax. Now's the time to buy one, specifically American Textile Company Tranquility Cooling Weighted Blanket. Use the cool touch side during warmer weather and the soft plush during cooler weather. Both the 15-pound (for adults that weigh more than 125 pounds) and 20-pound (for adults that weigh more than 175 pounds) blankets have machine-washable, removable covers that attach securely to the blanket to prevent shifts and heavy-duty stitching. The blankets, which are available in gray or tan, measure 72 inches by 48 inches by 2 inches (full-size).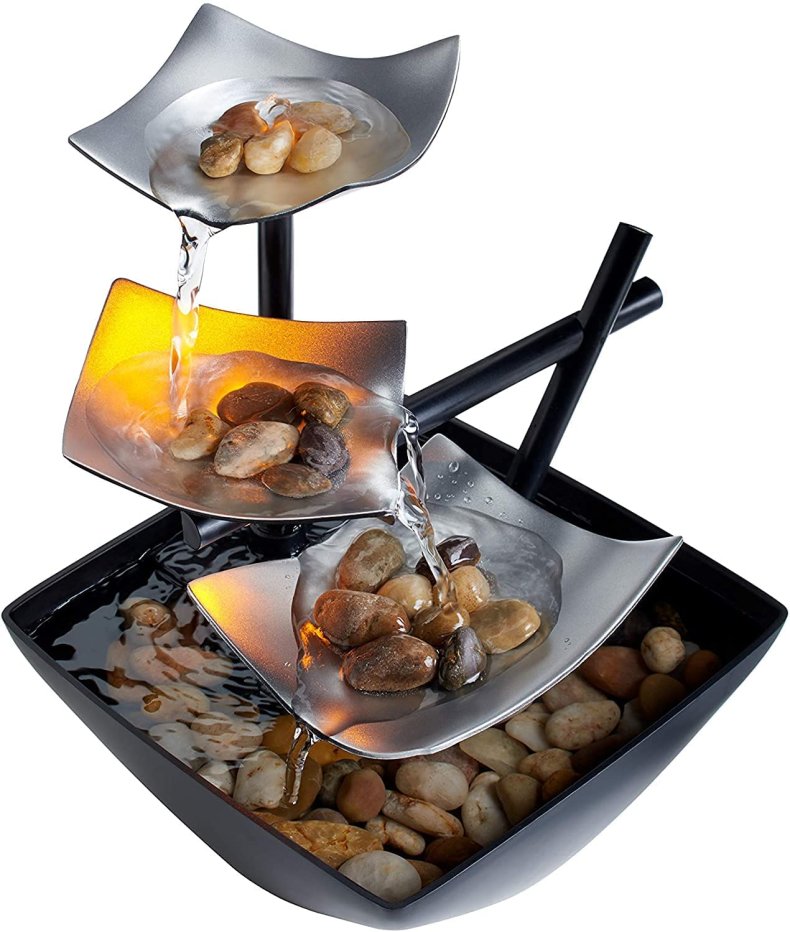 Those that want to relax often find peace in areas with waterfalls and fountains. The gentle sound of water relieves tension in many. The 8.1-inch by 7.25-inch by 8.25-inch HoMedics EnviraScape Silver Springs Relaxation Fountain brings the mellow sound of a gentle spring combined with soft lighting into your home, patio, workplace or wherever else you'd like it. The Asian-inspired, three-tier design can accommodate natural river rocks to add even more style.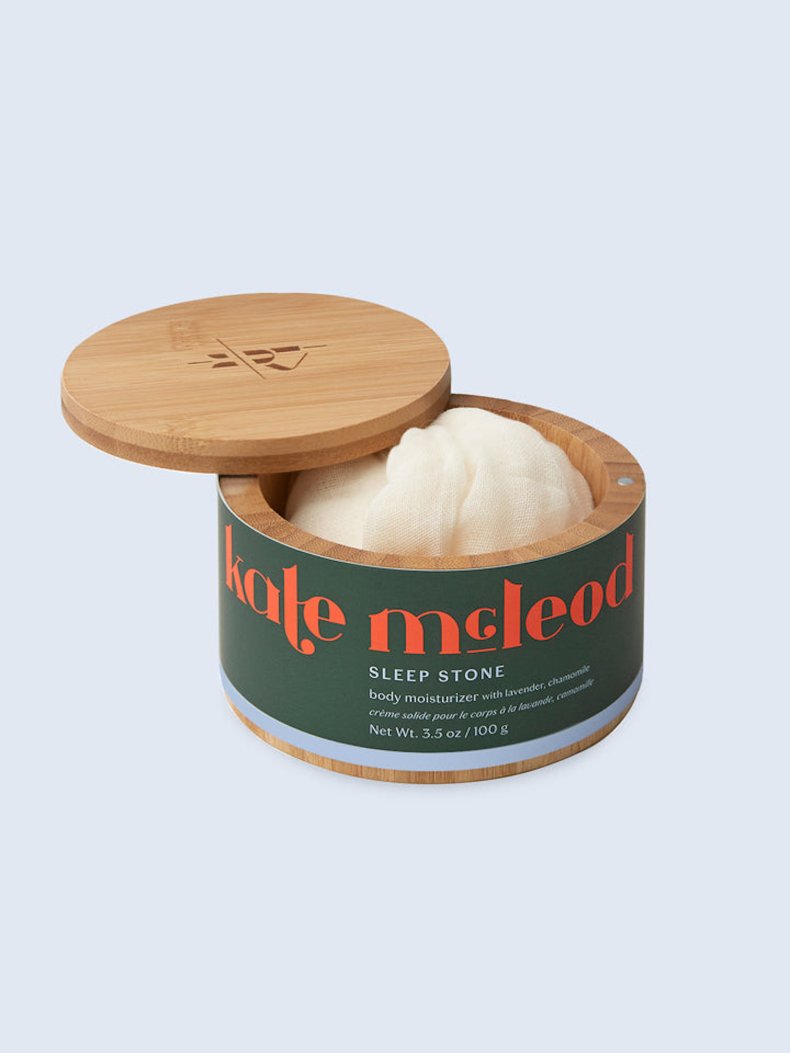 We can't offer you a masseuse for your home, but Kate McLeod Sleep Stone might be the next best thing. Rub the stone across warm, dry skin, and it will add essential oils, making the skin soft and your body relaxed. This waterless moisturizer is easy to carry with you, so apply it anytime you need it.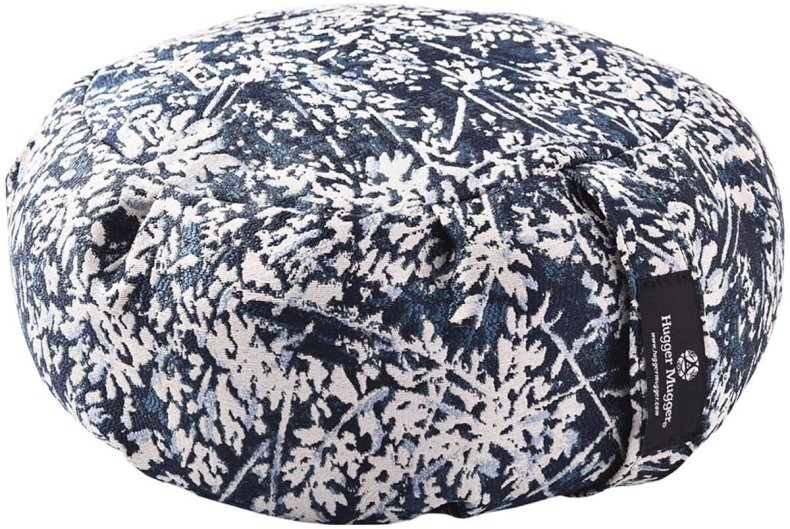 Those that meditate often tout the practice as one of the best ways to relax. The Hugger Mugger Zafu Cushion helps practitioners sit comfortably by providing height under their pelvis areas. A zipper on the cushion allows you to shift the buckwheat hull filling to conform to your body. It measures 5 inches by 15 inches, is available in multiple colors and has a carrying handle.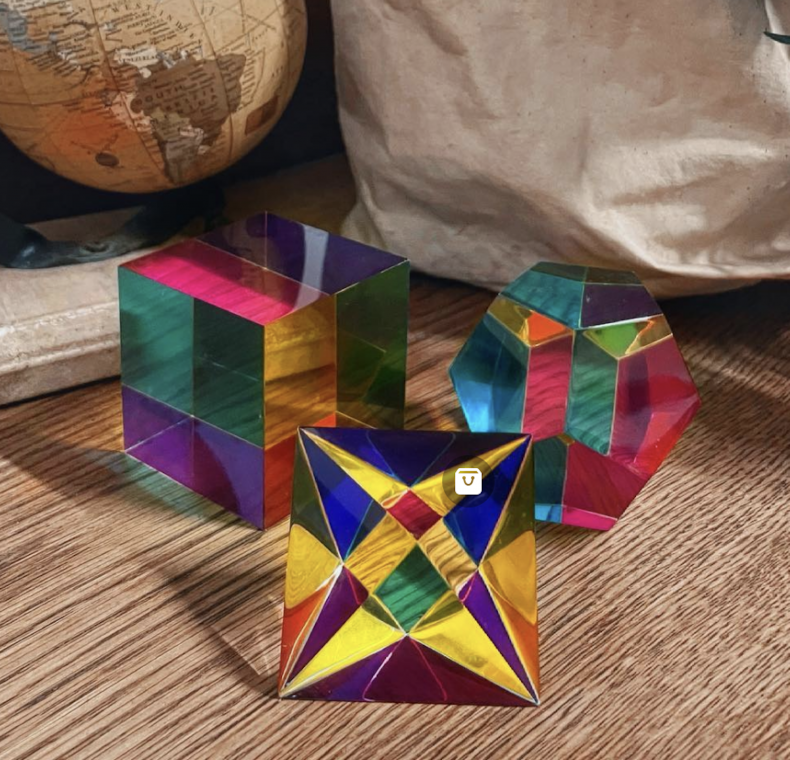 At first glance, some people might wonder why they'd want The Original CMY Cubes. I know I was skeptical. But once I held one of the acrylic cubes in my hand, I saw what all the hoopla was about. The cube appears to have cyan, magenta and yellow (CMY), but when I spun it, I suddenly saw a rainbow of colors. When I held it to sunlight or even the light in my office, I was mesmerized. And yes, that led to relaxation. It's available in various sizes and shapes.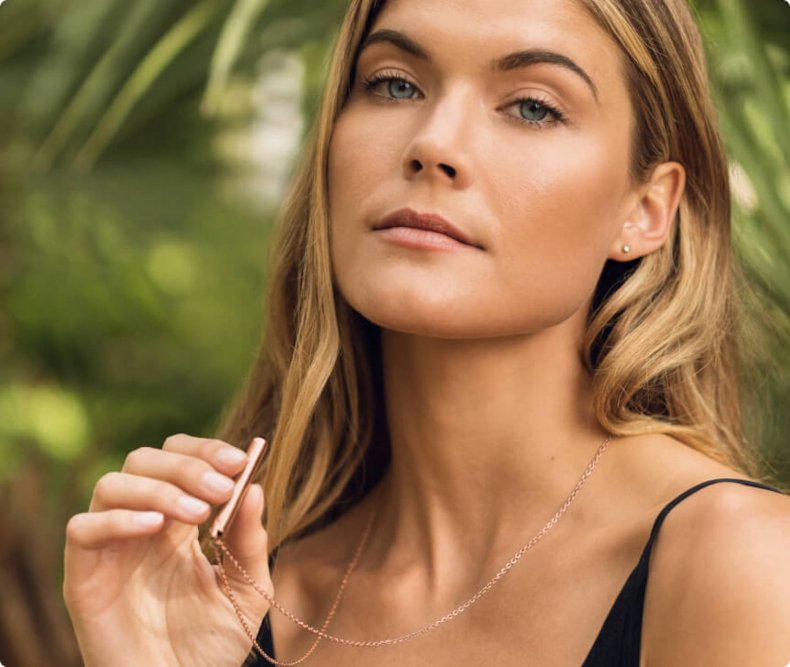 Just breathe. That's the advice many people give, including to themselves, when stressed. Those that made the Komuso The Shift report looking at the practice of Komuso Monks of 17th Century Japan that used bamboo flutes as a tool to deepen their breaths and slow the heartbeat, reduce stress and otherwise elicit calm. The result is the 2-inch long pendant that supports 10 seconds of whisper-quiet exhalation. It's available in 316 high-polish stainless steel in various colors. Chains are also available.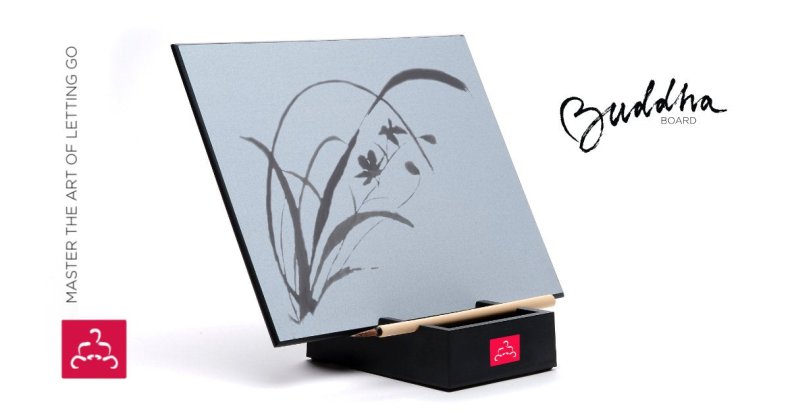 I like to paint to relax, but there are only so many pieces of artwork I can hang around my house. Enter The Original Buddha Board Art Set. It's a water-based painting set combined with a drawing board. You use the enclosed brush to "paint" artwork, but here's the trick––the picture gradually fades away so you can use it again and again. It comes in an array of sizes, and each set includes all you need except water!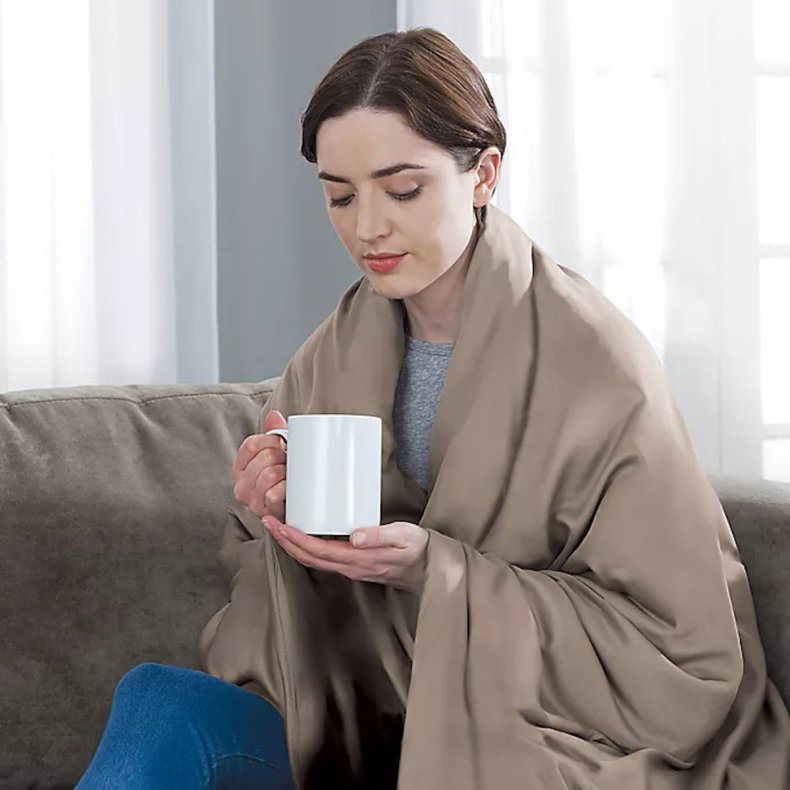 Warm weather doesn't mean you have to forego sleeping with a weighted blanket. The Therapedic Medium Weighted Cooling Blanket is crafted to help you relax and stay calm, and it's filled with pellets to provide cool, comfy weight. Choose a blanket about 10 percent of your body weight for maximum pleasure. The blanket is crafted from cotton and rayon and comes in a variety of sizes and colors.
Buy at Bed Bath & Beyond for $111.99.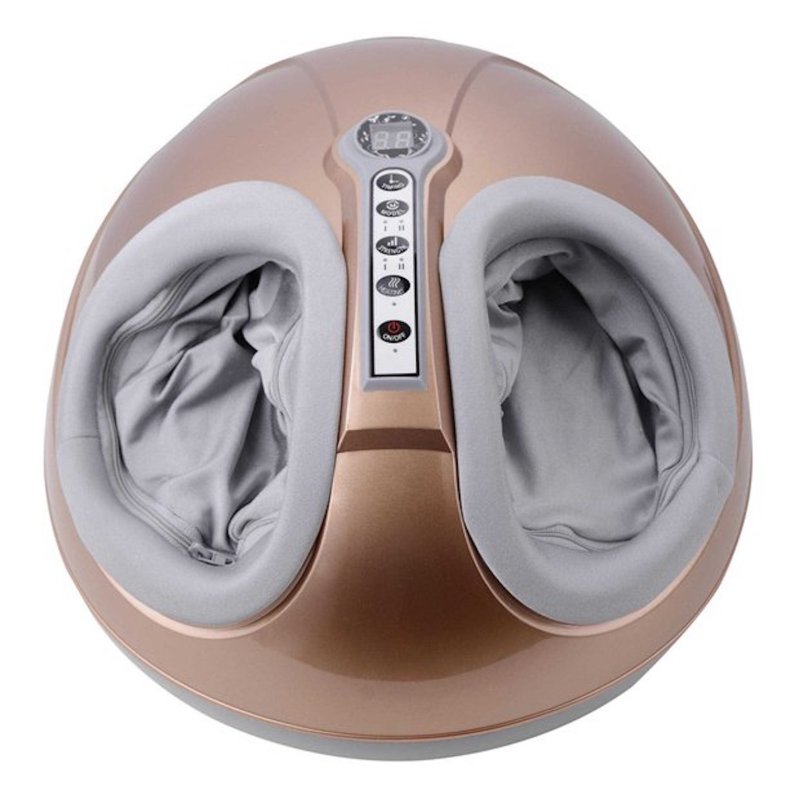 If you're like me, there are few things more relaxing than a foot massage. Your foot massages are on-demand when you have the Yescom Shiatsu Rolling Foot Massager. The massager uses air pressure to relax muscles and improve blood flow. Choose a weak or strong massage, heat and time. It measures 16 9/16 inches by 13 3/8 inches by 9 1/16 inches and is powered by a standard household outlet, so it is easy to use during your RV vacation, too. Choose white or golden.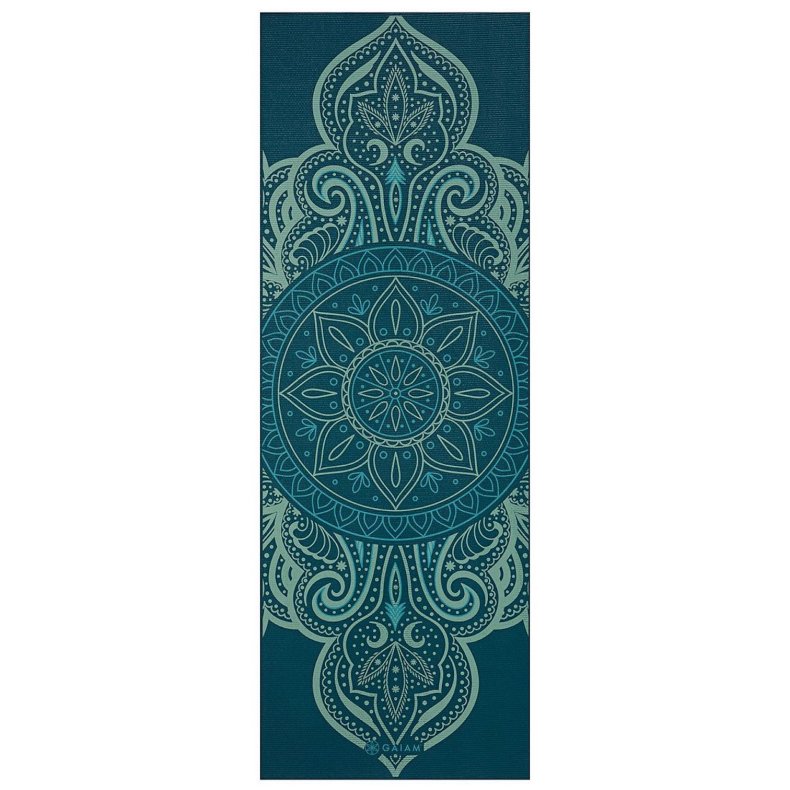 Many fans of yoga and meditation report that practicing either can aid relaxation. I find using a stylish yoga mat adds to that calm. The Gaiam Premium Reversible Yoga Mat is thick enough to cushion your joints, made of latex-free PVC materials and includes a stylish pattern to fill your visual field with beauty. Reverse it for a different look. It measures 24 inches by 68 inches, so you'll have plenty of space to spread out.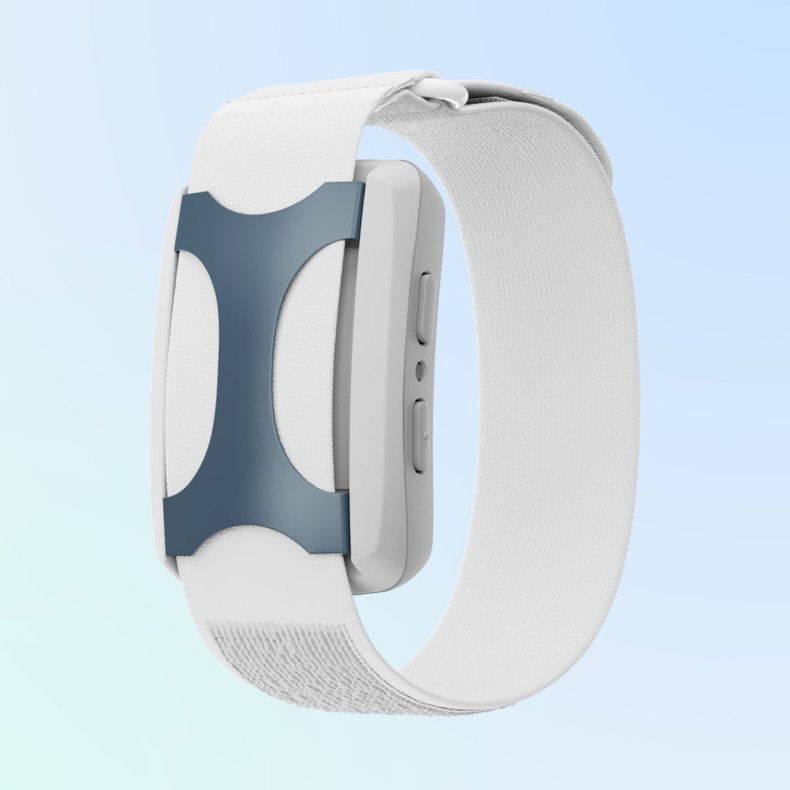 A sense of calm comes over many of us when we hold someone's hand or otherwise feel their touch. The Apollo Neuro is based on the idea that touch helps alleviate stress and promote calm. Slip the Apollo Neuro on your wrist or ankle and use your smartphone to select the mode (such as sleep or recharge) that's best for you. The Apollo Neuro uses vibrations to create a "hug for your nervous system." You can use the modes to energize or for relaxation. It's available in different color combinations.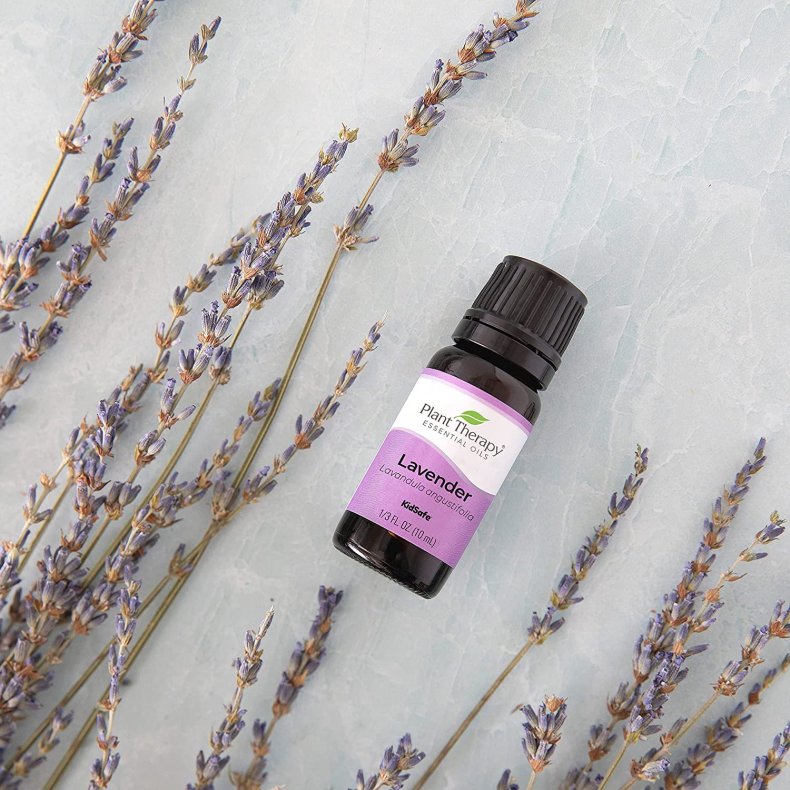 Many people swear by aromatherapy to reduce stress and elicit calm. Once such oil, the Plant Therapy Lavender Essential Oil, receives high ratings on Amazon. Buyers praise the pure scent for helping them relax, sleep and recover from stress. Use it in a diffuser to fill your room with a soothing fragrance.
Newsweek may earn a commission from links on this page, but we only recommend products we back. We participate in various affiliate marketing programs, which means we may get paid commissions on editorially chosen products purchased through our links to retailer sites.