The Transportation Security Administration (TSA) has issued new guidelines for the airport security screening process in a bid to reduce the risk of infection amid the ongoing novel coronavirus outbreak. Additional measures are expected to be introduced at airports nationwide by mid-June.
The latest regulations aim to reduce cross-contamination at airport security checkpoints by minimizing contact between passengers and TSA officers "whenever possible without compromising security," the TSA confirmed in a statement on Thursday.
Some of the ramped up social distancing measures include increased distance between individuals as they enter the security checkpoint, visual floor markers to indicate appropriate spacing and the staggered use of lanes where possible. "No two airports are alike, so this could look a little different at each airport," TSA notes.
Passengers are also expected to place their boarding passes (paper or electronic) on the boarding pass reader themselves and hold it toward the TSA worker for it to be visually inspected. "This change reduces the TSA officer's need to touch a passenger's boarding pass thus reducing potential for cross-contamination," TSA notes.
TSA officers all wear face coverings at security checkpoints. Passengers are encouraged to do the same. Travelers should also place their belts and any items from their pockets, including wallets, keys and phones, into their carry-on bags instead of the bins to further reduce contact points during the screening process.
Food items from your carry-on bag will need to be placed into a separate clear plastic bag.
"Food items often trigger an alarm during the screening process; separating the food from the carry-on bag lessens the likelihood that a TSA officer will need to open the carry-on bag and remove the food items for a closer inspection," the TSA said. "This requirement allows social distancing, reduces the TSA officer's need to touch a person's container of food and reduces potential for cross-contamination."
Travelers will only be allowed one bottle of liquid hand sanitizer (up to 12 ounces per passenger) in their carry-on bag. The hand sanitizer will need to be removed from your bag before it is sent through for X-ray screening.
To reduce any delays, passengers are also advised to be sure not to pack any prohibited items, including liquids, gels or aerosols, in quantities greater than 3.4 ounces, in their carry-on bags.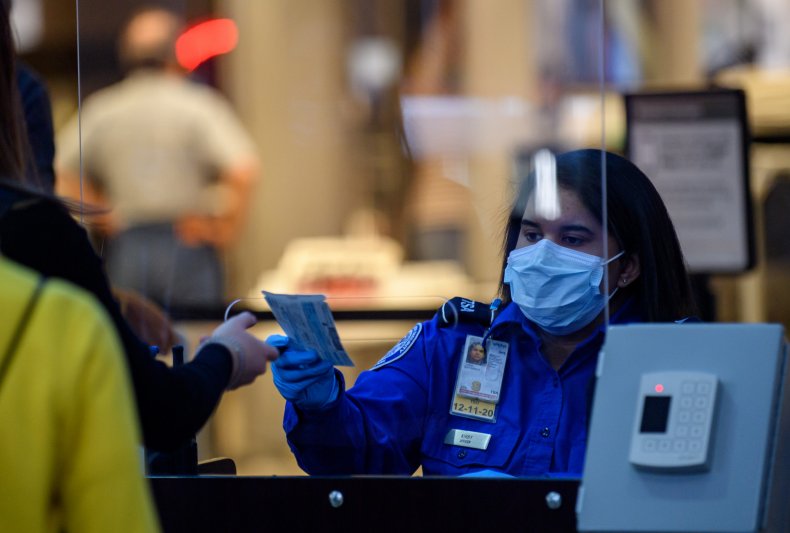 "If a bag is found to contain a prohibited item, passengers may be directed to return to the divestiture table outside of security with their carry-on bags to remove the item and dispose of the item," TSA notes.
The passenger in question could also be sent back outside of security to remove any other items that weren't removed previously and be required to resubmit their belongings for X-ray screening.
"By resolving alarms in this manner, TSA officers will need to touch the contents inside a carry-on bag much less frequently, reducing the potential for cross-contamination," TSA said.
In view of the latest measures and reduced staff numbers across airports since the outbreak, passengers are advised to arrive at the airport early to allow sufficient time for the screening process. Before arriving at the airport, travelers should check with their airline about any potential COVID-19 related guidance that may have been issued by the carrier.
"Individuals who were traveling in the early months of the pandemic became accustomed to arriving at the security checkpoint shortly before their flight departure time. TSA recommends that travelers no longer do so (or arrive well in advance of their flight) since more people are flying and new procedures such as social distancing have been implemented in airports, potentially adding time to the pre-flight experience," the TSA said.
See the TSA website for full details on the latest new guidelines for the security screening process.
Many airlines were forced to temporarily halt or reduce their services following the outbreak of the novel coronavirus.
Passenger traffic at U.S. airports have fallen significantly in the past few months, including this Tuesday, which saw 230,367 passengers. The drop was a nearly 90 percent reduction in passenger traffic on the same day last year which recorded 2,472,123 passengers, according to the TSA.
As the airline industry slowly reopens, several carriers are having to look at ways to implement precautionary measures amid the ongoing pandemic.
Earlier this week, the chairman of the House Committee on Transportation urged all U.S. airlines to keep middle seats empty on planes in a bid to encourage better social distancing on all flights.
The novel coronavirus, which was first reported in Wuhan, China, has infected more than five million across the globe, including more than 1.5 million in the U.S. Over 329,100 have died following infection, while more than 1.9 million have reportedly recovered, as of Thursday, according to the latest figures from Johns Hopkins University.
The graphic below, provided by Statista, illustrates the U.S. states with the most confirmed COVID-19 cases.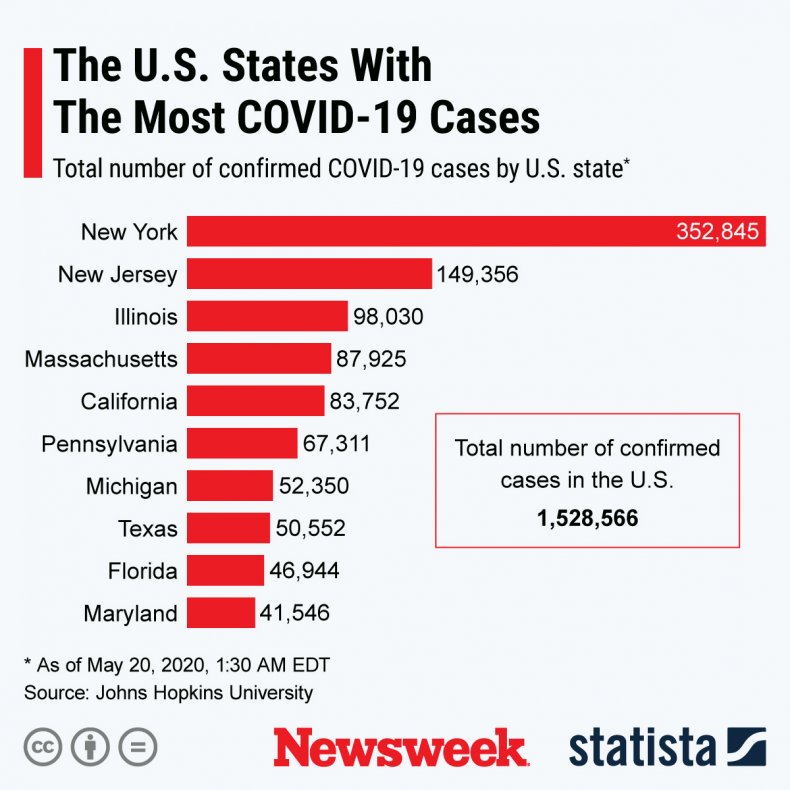 The graphic below, provided by Statista, illustrates the spread of the COVID-19 virus across the U.S.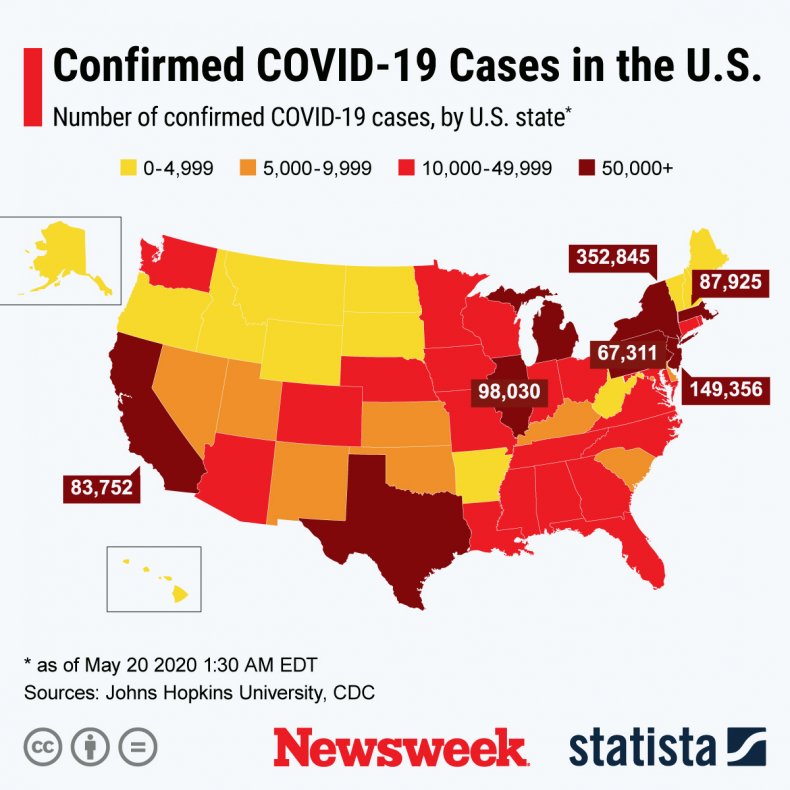 About the writer
Soo Kim is a Newsweek SEO Reporter is based in London, UK. She reports on various trends and lifestyle stories, from health, fitness and travel to psychology, relationships and family issues. She is also a South Korea expert who regularly covers Korean culture/entertainment for Newsweek, including the latest K-dramas, films and K-pop news, and is the author of the book How to Live Korean, which is available in eight languages. Soo also covered the COVID-19 pandemic extensively from 2020 through 2021 after joining the general news desk of Newsweek in 2019 from the Daily Telegraph (a U.K. national newspaper) where she was a travel reporter/editor from 2010. She is a graduate of Binghamton University in New York and the journalism school of City University in London, where she earned a Masters in international journalism. Languages spoken: English and Korean.
Follow her on Twitter at @MissSooKim or Instagram at @miss.soo.kim
You can get in touch with Soo by emailing s.kim@newsweek.com