U.S. Air Travel Delays Worsen as Air Traffic Control, TSA Crisis Looms Amid Government Shutdown
Unions representing Transportation Security Administration employees, air traffic controllers and airline pilots demanded that President Donald Trump and Congress end a 16-day partial government shutdown that has wreaked havoc on air travel.
Airport and airline employees across the country have urged air travelers to arrive hours earlier than usual for flights in light of increased security checkpoint wait times and backed-up lines. Employees at Seattle-Tacoma International Airport, for example, told KIRO-TV that several passengers had been left crying outside the gates after they'd waited hours to get through unstaffed security checkpoints—the situation got worse as several TSA employees, who have been working without pay during the shutdown, called in sick.
"It was a huge line, Sea-Tac employee Sarah Burgisser told KIRO-TV. "I think it was just one guy who came to work."
Pilots and air-traffic controllers are also affected, which has sparked concerns about safety. Controllers were expected to implement a new text messaging system that communicates directly with pilots in the cockpit, but the shutdown has stalled the initiative. If they can't use the system by January 15, expensive retraining sessions will be forced on workers.
The third week of the partial government shutdown prompted Joe DePete, president of Air Line Pilots Association International, to write a January 2 letter to Trump saying that the block on paychecks and services to pilots is threatening the "safety, security and efficiency of our national airspace system."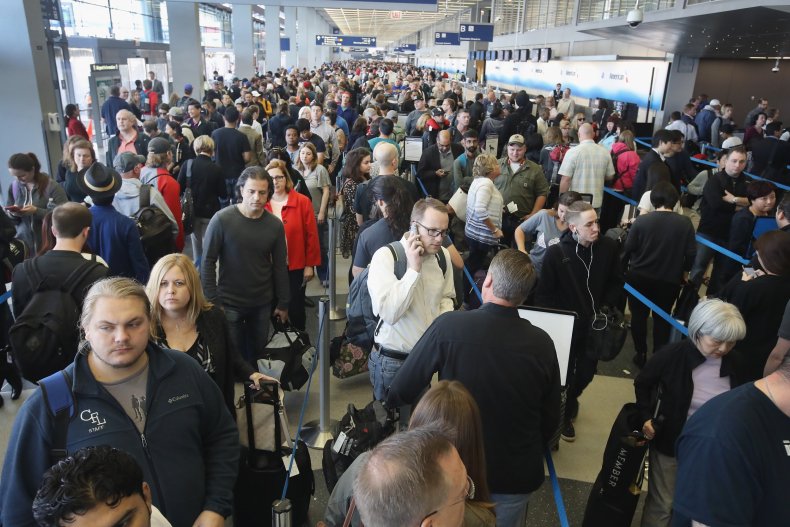 "The nation's airspace system is a complex transportation network that involves government and industry partnerships to function properly, and the disruptions being caused by the shutdown are threatening the safe operations of this network," DePete wrote to Trump last week.
The American Federation of Government Employees, which represents 30,000 workers in Ohio, Indiana and Kentucky, including TSA employees, told WCPO-TV it was filing a lawsuit against the federal government.
"We're saying it's against the law to work employees without paying them. These are not slaves. It's against the law," Arnold Scott, of the American Federation of Government Employees, told the Cincinnati news station. "The fair labor standards require federal employees be paid for the work that they perform."
The National Air Traffic Controller Association said the pain of the partial government shutdown was forcing its employees to work long hours without payment. "We are working six days a week. Some are working 10 hours a day, that's across the country," said Marc Schneider, president of the association, in an interview with WCPO-TV. "We are at a 30-year low in staffing for air traffic controllers nationwide. The school in Oklahoma City is shut down."
TSA administrators issued a statement Monday morning rejecting reports of longer-than-average security wait times. The agency reported increased efficiency despite a spike in travel and the government shutdown. TSA's statement said its employees had screened "approximately 2.22 million passengers Sunday, a historically busy day due to holiday travel; 99.8 percent of passengers waited less than 30 minutes; 90.1 percent of passengers less than 15 minutes."
But social media posts showed long lines, and passengers who spoke with KIRO-TV in Seattle said unstaffed TSA checkpoints caused passengers to miss flights. TSA spokesman Jim Gregory told The Washington Post "sick outs" or "call outs" had increased at airports, but had had "minimal impact" on the 30-minute average wait time.
But TSA employee union leaders tell a very different tale. "Fifty to 100 people are calling out at any particular airport," said Hydrick Thomas, president of the TSA union under the American Federation of Government Employees, in an interview with The Washington Post. "They are not coming to work because they don't have the money to get to work. They're not just taking off. They're not saying, 'We're going to shut things down.' They are the lowest-paid employees in the federal government, and they don't have the money to get to work."
One passenger at Minneapolis-Saint Paul International Airport, Anna Gedstad, in a Sunday tweet, which has since gone viral, that a TSA agent responded to her question about removing her laptop from its case by saying, "I don't care, I'm not getting paid."
Passengers and airline employees at Seattle-Tacoma International Airport said longer lines caused by fewer TSA checkpoint workers had caused hundreds to miss their flights Monday.
"Your ticket may say get here three hours early, [but] I say get here five hours early," said Valante Weems, an employee at Sea-Tac.
Even the TSA's website was forced to issue a statement acknowledging that the staffing shortage had affected their digital presence. "Due to the lapse in federal funding, this website will not be actively managed. This website was last updated on December 21, 2018, and will not be updated until after funding is enacted. As such, information on this website may not be up to date. Transactions submitted via this website might not be processed, and we will not be able to respond to inquiries until after appropriations are enacted."
National airline delay maps showed Dallas-Fort Worth, Chicago and New York airports experiencing mild Monday morning delays.