TSA Marks Fourth Straight Day of Over 1 Million Travelers as U.S. Sets COVID Deaths Record
The Transportation Security Administration (TSA) reported its fourth consecutive day of more than 1 million travelers, as the U.S. a new single-day record number of deaths from COVID-19.
"BREAKING: @TSA screened 1,019,347 people at checkpoints nationwide yesterday, Tuesday, Dec. 29, marking the 4th consecutive day of 1M+ checkpoint volume and 7 of the last 12 days that throughput has topped 1M," TSA spokesperson Lisa Farbstein tweeted. "If you must travel, wear a mask, wash hands and socially distance."
Farbstein published similar tweets over the past three days, reporting that more than 1.1 million were screened on Monday, over 1.2 million on Sunday and about 1,284,599 on Saturday. On Tuesday, the U.S. reported at least 201,555 new cases of the coronavirus.
Across the U.S., more than 19.5 million virus cases and at least 338,658 deaths have been recorded, according to Johns Hopkins University. Data from the COVID Tracking Project shows the U.S. recording more than 66,000 COVID-19 deaths in December, making it the deadliest month so far, surpassing the record set in April, when more than 55,000 deaths were recorded.
Farbstein's tweet came as the U.S. recorded more than 3,700 new deaths related to the virus, the most the nation has seen throughout the pandemic, according to Johns Hopkins.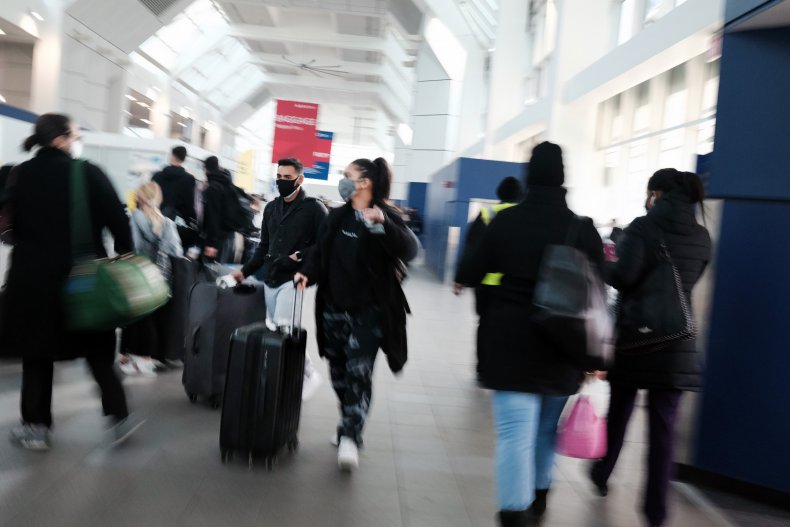 Newsweek reached out to the TSA for comment and was directed to Farbstein's tweet.
On December 16, the U.S. Centers for Disease Control and Prevention (CDC) issued guidance for Americans traveling during the holidays, warning that "travel may increase your change of spreading and getting COVID-19."
The guidance also recommended Americans to follow travel restrictions in different states and said those who decide to travel should continue to follow mitigation efforts, such as wearing a mask and maintaining social distancing.
The CDC previously announced that all travelers on flights from the U.K. will need a negative PCR or antigen test for the virus 72 hours before boarding the plane. The order went into effect Monday after a new variant of the virus was discovered in the U.K.
Many public health officials had previously warned that traveling during the holidays could lead to increased spread of the virus.
Speaking with CNN's State of the Union on Sunday, Dr. Anthony Fauci, the nation's top infectious diseases expert, said, "The reason I'm concerned, and my colleagues in public health are concerned also, is that we very well might see a post-seasonal—in the sense of Christmas, New Year's—surge."
He went on, "As I have described it, as a surge upon a surge, because if you look at the slope, the incline of cases that we have experienced as we have gone into the late fall and soon to be early winter, it is really quite troubling."
Fauci also expressed agreement with President-elect Joe Biden's remark that the "darkest days" of the nation's virus outbreak were still ahead.
"We are really at a very critical point.... So I share the concern of President-elect Biden that as we get into the next few weeks, it might actually get worse," Fauci said.