TSA Official Says Agency Errors 'Absolutely' Contributed to Virus's Spread
A whistleblower with the Transportation Security Administration (TSA) accused the agency of failing to act in a way that would have sufficiently protected its staff and members of the public in responding to the coronavirus pandemic earlier this year.
Jay Brainard, a TSA federal security director in Kansas, formally submitted his allegations through a whistleblower complaint, NPR and The Washington Post reported Friday. The Office of Special Counsel, an independent federal investigative agency, said Thursday it had asked the Department of Homeland Security to launch an investigation into some of the allegations, the two news outlets reported.
"We did not take adequate steps to make sure that we were not becoming carriers and spreaders of the virus ourselves," Brainard told NPR. "I believe absolutely that that contributed to the spread of the coronavirus."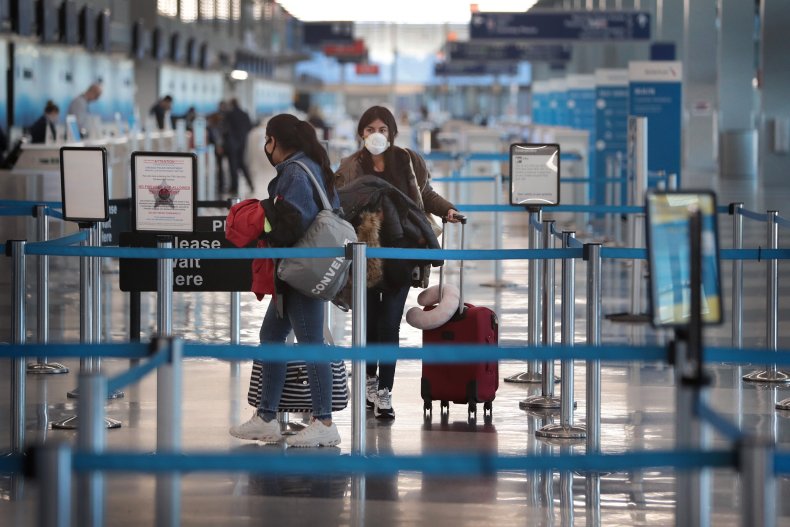 Brainard alleges, among other things, that TSA agents did not have access to enough personal protective equipment—including N95 masks, which he said were withheld from agents despite available stockpiles, NPR reported. In addition, local leaders within the agency were not allowed to require employees to wear masks, Brainard alleged.
Brainard's assertions about the withheld N95 masks came more than a month after a TSA attorney in Ohio filed an earlier whistleblower complaint with the Office of Special Counsel, which alleged the agency had more than 1 million masks available but not in use.
Additionally, Brainard told NPR that contact tracing among employees was not properly executed as some agents were contracting the virus in March, one of the travel industry's busiest times of year before most states implemented lockdown orders.
TSA data show that air traveler traffic began declining steadily in mid-March, with head counts falling to about 4 percent of the TSA's usual numbers by mid-April. As Americans were discouraged from traveling and many voiced concern about boarding planes with so little known about the virus, the TSA rolled out safety precautions that were updated last month to decrease physical contact between agents and passengers, increase social distancing measures and encourage the use of facial coverings by passengers and employees.
According to the TSA, the agency has complied with federal coronavirus guidelines set by the U.S. Centers for Disease Control and Prevention (CDC).
"At the start of the pandemic, TSA informed its workforce that wearing masks was optional," the TSA said in a statement provided to Newsweek. "The first week in May, TSA mandated that its officers wear face masks in the checkpoint. Eye protection remains optional. All guidance from TSA has been in accordance with CDC guidelines.
"TSA requires front-line personnel to wear nitrile gloves when conducting screening duties. They are to change their gloves after each pat-down. Travelers may request new gloves to be used at any time during the screening process," the statement continued.
"In addition, TSA developed plastic barriers for use at several locations within the checkpoint area in addition to checked baggage screening drop-off areas. TSA teams across the country were told that they could order the barriers to help prevent cross-contamination between passengers and TSA personnel," the statement said.
But Brainard said the updated policies came too little too late. "The bottom line is the new procedures in place do not adequately address the prevention of the spread of the coronavirus," he told NPR.
By Friday, the TSA said, 706 of its federal employees had tested positive for the virus. More than 200 of those employees worked at airports in New York and New Jersey, both of which were early virus hot spots in the U.S. Five TSA agents have died after contracting the virus, and one screening contractor also died from COVID-19, according to the agency's online coronavirus tally.