TSA Processing 'Hundreds' of Names That May Be Barred From Flights Ahead of Inauguration
A week after the riot at the Capitol, the Transportation Security Administration is working with law enforcement to process "hundreds of names" to determine if the individuals pose a risk and should be barred from boarding a flight.
Top-ranking Democrat, Senator Chuck Schumer, has been pushing for those involved in the riot at the Capitol to be put on a "no-fly" list and the FBI said it was a measure they were considering. Amid heightened safety concerns for President-elect Joe Biden's inauguration, the TSA is joining other law enforcement agencies in beefing up its security ahead of President-elect Joe Biden's inauguration.
Among the "significant increase" to TSA's security posture is the joint effort with law enforcement to put hundreds of names of people through a risk assessment, TSA Administrator David Pekoske, announced. Intelligence and vetting professionals at the TSA are working "around the clock" to ensure people who pose a threat are required to undergo enhanced screening or are prevented from boarding a flight altogether.
Newsweek reached out to the TSA for comment on if and how many names on the list were tied to the riot at the Capitol on January 6.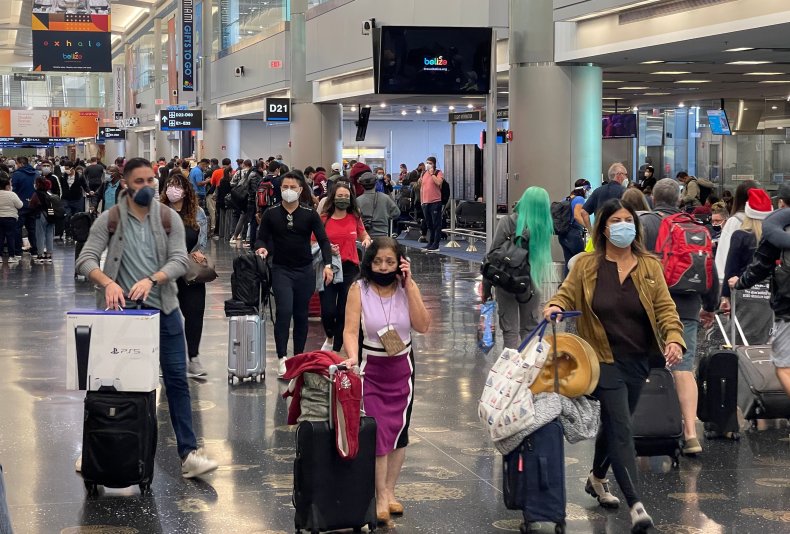 On Tuesday, Schumer said at a briefing that the U.S. cannot let the insurrectionists that breached Capitol security to "get on a plane and cause more violence and more damage." He brought up his concerns with FBI Director Christopher Wray and in a letter to the FBI and TSA, Schumer said "using domestic terrorism to assault our system of government" qualifies Capitol rioters for the no-fly list.
Steven D'Antuono, assistant director in charge of the FBI's Washington Field Office, said the agency was "actively looking at" the measure on Tuesday but hasn't offered an updated status on the measure since.
Implemented after the terrorist attacks on September 11, 2001, the no-fly list is part of the Terrorist Screening Database, which is also referred to as the terrorist watchlist. Individuals that are put on the no-fly list are prohibited from boarding international and domestic flights.
After the violence seen on January 6, officials ramped up security protocols surrounding the inauguration and the TSA is no different. Pekoske said the TSA will support the Secret Service in screening people authorized to attend the inauguration and added additional layers of security to the three Washington, D.C.-airports.
"TSA officers, Federal Air Marshals, canine teams and explosives experts will have a noticeable presence in all federalized airports around the country," Pekoske said. The TSA workforce stands ready to support those who stand watch across the Department of Homeland Security as well as law enforcement agencies at every level for as long as deemed necessary."