Armed Air Marshals Train First New Recruits in Years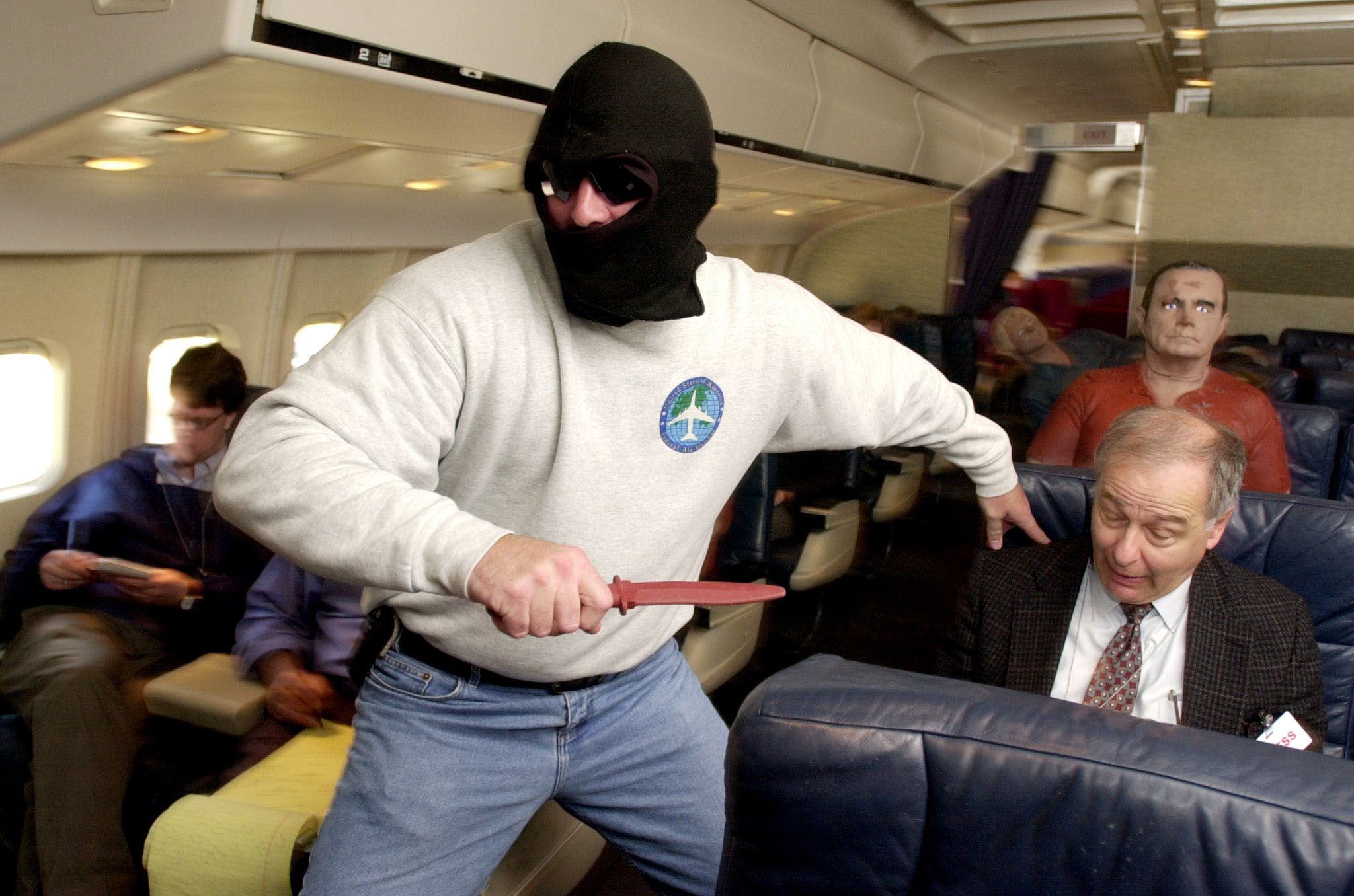 The Transportation Security Administration has begun training its first new class of federal air marshals since 2011 after avoiding budget cuts proposed by President Donald Trump.
The TSA has placed the future air marshals in a rigorous, 16-week training program across two federal law enforcement training facilities in Artesia, New Mexico, and Atlantic City, New Jersey, where the recruits would practice identifying and neutralizing suspected terrorists onboard airplanes. The Federal Air Marshal Service has begun hiring for the first time in six years, taking applications for what its recruitment poster described as "an elite team who are largely unseen and unheard in their tireless efforts to secure the homeland" and who would be placed on about 5 percent of U.S. flights with complete discretion.
The program, which was estimated to cost more than $1 billion a year, has so far managed to evade TSA budget cuts proposed by Trump, according to Wired.
Related: 10 Airports will ban travelers from carrying most electronics on U.S.-bound flights
The air marshal program was established by President John F. Kennedy in 1961 and was later expanded after 9/11. Because the TSA has not had the resources to cover the more than 76,000 flights arriving in and departing from the U.S. each day, the agency has placed air marshals on flights based on "known risk," according to a 2016 report by the Government Accountability Office, which urged the TSA to "better incorporate risk in its deployment strategy."
While the TSA has not released the total number of air marshals on duty, this year's class is approximately the same size as the last one in 2011, according to Thomas Kelly, the assistant supervisory air marshal in charge at the TSA's public affairs office. He told Newsweek that the program received clearance to start hiring again last fiscal year. The number of recruits reportedly increased from around 33 to the thousands after 9/11, when 19 militants associated with al-Qaeda were able to kill nearly 3,000 people by hijacking four domestic U.S. flights and crashing them in New York, Washington and Pennsylvania.
"Our focus in life is to make sure another 9/11 never happens," Michael LaFrance, the assistant supervisory air marshal in charge at the TSA's training center in Atlantic City, told The Washington Post in an article published Sunday.
The cost incurred by such a task has been the subject of criticism among politicians, especially as Trump pledged to reduce funding to government agencies his administration deemed ineffective or too costly. As part of his 2018 budget plan, Trump has proposed $80 million worth of cuts that include scrapping three post-9/11 security programs that put police in airports, allow authorities to sweep public facilities and train officers to detect suspect behavior, according to The Washington Post. The Department of State, under which the TSA was established, would enjoy a possible overall budget increase of about 6.78 percent.
The efficacy of the program also has been questioned. Federal air marshals, of which Bloomberg News estimated there were about 3,500 in 2015, only made around 4.2 arrests per year throughout the 2000's. A CNN investigation that same year found the majority of air marshals to be medicated and suffering from lack of sleep due to extensive travel and stressful working conditions. Due to the high level of risk associated with any scenario in which they would need to act, the agents have been described as among the most highly trained officers in the U.S., with special weapons and martial arts training designed for close-quarters combat.
The reason as to why the service has begun training again after years of reductions was unclear. Jeff Price, an aerospace science professor at Metropolitan State University of Denver and owner of Leading Edge Strategies, an airport management training company, said the recent decision to take in new recruits may very likely have been based on intelligence that suggested a credible inflight threat. He cited decisions taken last month to increase restrictions on electronics for passengers traveling from certain majority-Muslim nations deemed by the administration to present a greater risk to U.S. travelers.
"They might be seeing more evidence that there could be a threat on the flight," Price told Newsweek. "That seems to be the only rationale."