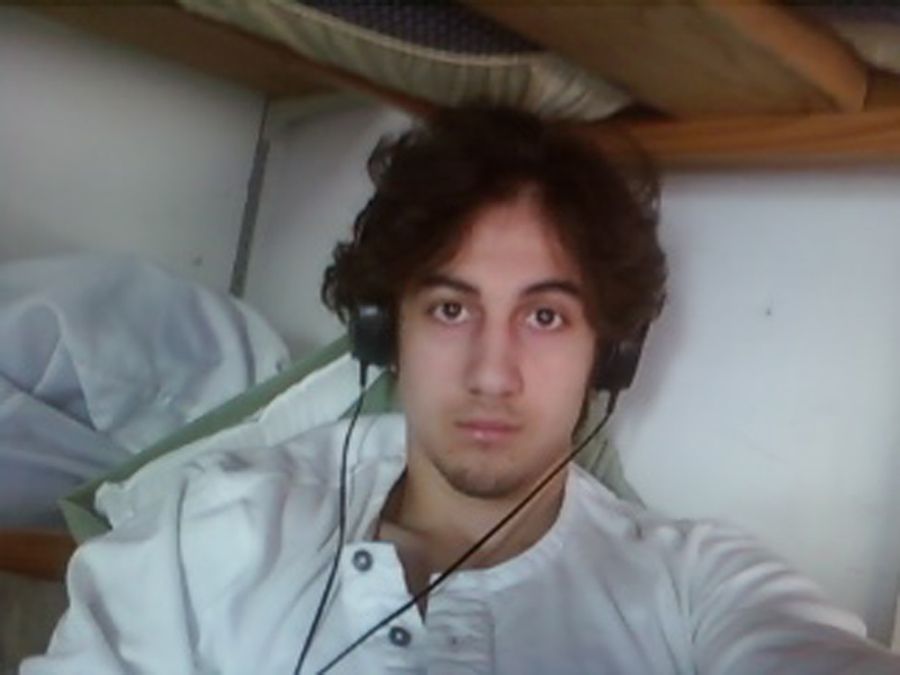 A court witness said convicted Boston Marathon bomber Dzhokhar Tsarnaev apologized to him after he showed his middle finger to a cell surveillance camera after his arrest in April 2013, according to Holly Bailey of Yahoo News.
Deputy U.S. Marshal Kevin Roche, who took the stand Wednesday afternoon, said he told Tsarnaev that raising his middle finger wouldn't be tolerated and asked him if he would make the gesture again.
"No, I'm sorry. I won't do it again," Tsarnaev told Roche, according to WBUR Live.
Tsarnaev showed a peace sign, then his middle finger, to the camera while standing in a holding cell at a Massachusetts courthouse in July 2013. The image, eventually shown to the jury, was taken from a longer video in which he is seen pacing the cell, finding the camera, climbing onto the bench and flashing the signs while grimacing.
Tsarnaev was found guilty last month of 30 counts related to his involvement in the marathon bombings on April 15, 2013. He is now in the trial's penalty phase to determine whether he will receive the death penalty for his capital crimes.
Roche said in court that he was part of the group of authorities who moved Tsarnaev from his cell to the courtroom for his arraignment on July 10, 2013.
The U.S. marshal said he first encountered Tsarnaev at Beth Israel Deaconess Medical Center in Boston two days after his April 19 arrest. He said he interacted with Tsarnaev six times between his arrest in April and his arraignment in July, and spoke to him after the incident involving his middle finger.
Roche also said that he escorted Tsarnaev to medical appointments on two occasions, and that the suspect was "pretty lethargic" the first time he went to the hospital, most likely because of medication, WBUR reported.
Roche told the courtroom that showing the middle finder doesn't always warrant a write-up on a prisoner, but it depends on the detainee. He added that he has seen all kinds of behavior from inmates, including attempted suicides and assaults as well as flooding toilets.