TSB Agrees to $2.5 Billion Takeover by Spain's Sabadell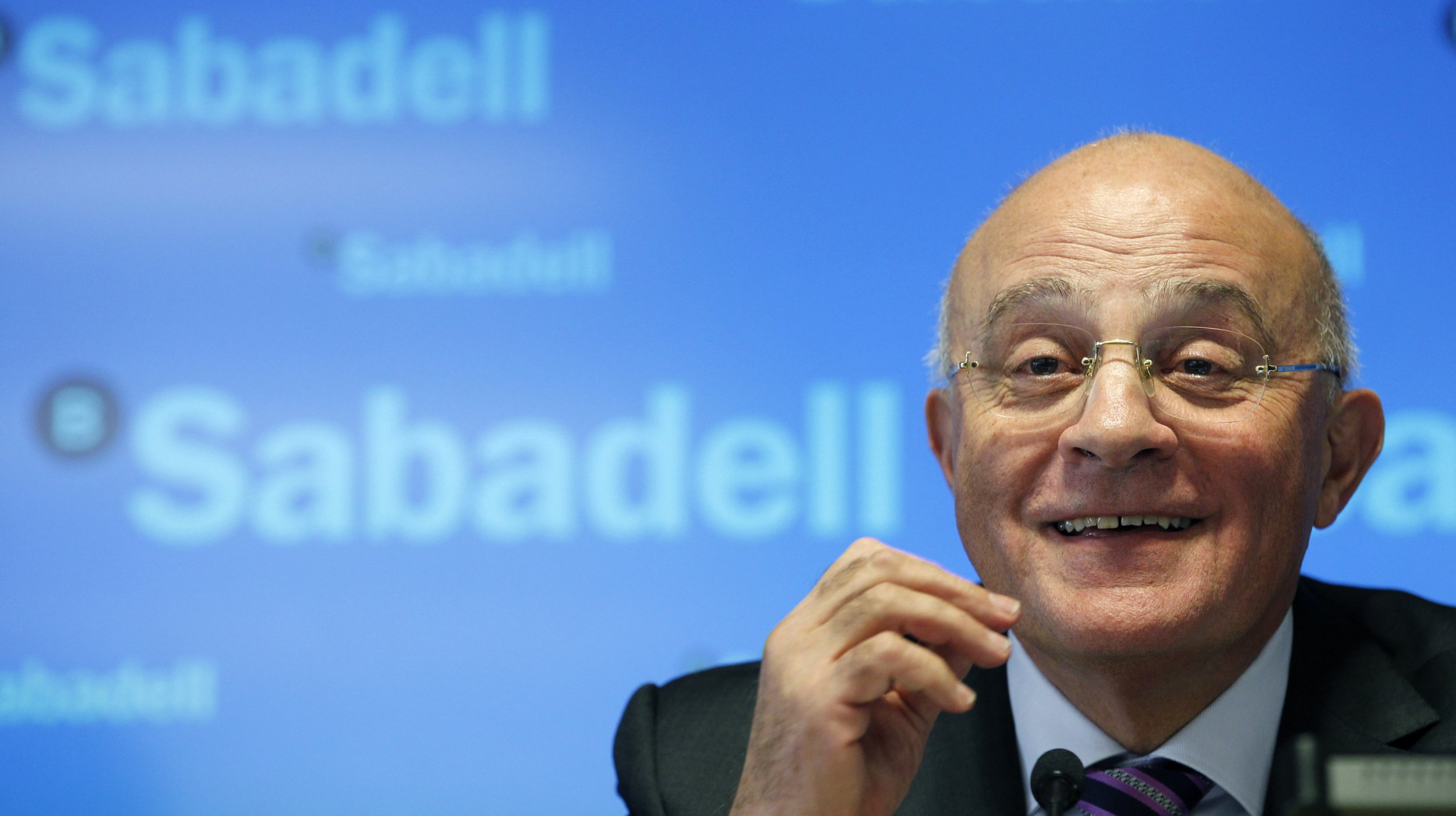 Spain's Banco Sabadell <sabe.mc> could look to expand further in Britain after agreeing a 1.7 billion pound ($2.5 billion) takeover of TSB <tsb.l>, one of the biggest cross-border banking deals since the financial crisis of 2007-09.
Sabadell, Spain's fifth-biggest bank, said it planned to grow TSB into a significant challenger to Britain's "Big Four" lenders -- Barclays <barc.l>, HSBA.L <hsba.l>, Royal Bank of Scotland <rbs.l> and Lloyds Banking Group <lloy.l>, from which TSB was spun off last year.
Sabadell's bigger domestic rival Santander <san.mc> is already the main challenger to those four after buying Abbey National a decade ago. Subdued markets at home are pushing mid-sized Spanish banks into foreign acquisitions.
Sabadell Chairman Josep Oliu said the bank was attracted to Britain by the strength of the national economy and healthy margins.
"The financial sector in the UK has margins that are acceptable, similar to the ones that we have in Spain and higher than the ones that we have in other European countries," he said.
Sabadell said TSB would be better able to grow under its ownership and the enlarged business could target more deals.
"The challenger bank market is relatively unconsolidated in the UK and Sabadell believes that this will create opportunities to further develop TSB's market position over time," it said.
The group will have a number of opportunities if it decides to accelerate growth through more acquisitions. Sabadell is having to raise 1.6 billion euros ($1.7 billion) to finance the TSB deal and the need for further funding could hold it back.
Clydesdale Bank has been put up for sale by its owner National Australia Bank <nab.ax>. New bank OneSavings <osbo.l> said this week it would listen to takeover offers while the government is selling $13 billion of home loans held by bailed out Northern Rock and Bradford & Bingley
Sabadell is offering 340 pence per TSB share, a 29 percent premium to their price the day before its approach was announced and compared with the 260p at which Lloyds sold a first tranche of shares in June last year.
TSB shares were up 2 percent at 333.6p by 1040 GMT and Sabadell was up 2.7 percent.
Rare Move
Lloyds, ordered to sell TSB by European regulators as a condition of its 20 billion pounds bailout during the crisis, said on Friday it had agreed to sell a 9.99 percent stake to Sabadell and entered into an irrevocable undertaking to sell its remaining 40.01 percent.
Cross-border takeovers have been rare in the banking sector since the crisis, with bigger banks focusing on slimming down to bolster their capital and meet tougher regulations.
Sabadell is funding the deal via a 1.6 billion euro capital increase, issuing new shares at 1.48 euros per share in a proportion of 3 new shares for each 11 old ones.
It said the deal is part of its strategy to become more international and would mean 22 percent of its assets are outside Spain, up from 5 percent at the end of 2014.
TSB's Pester and Finance Director Darren Pope will continue in their current roles, the banks said.
Sabadell said it will also provide a strong technology platform for TSB to use, which could provide cost savings of about 160 million pounds annually three years after the takeover.
Lloyds, which is providing TSB's technology platform under a 10 year deal, will pay 450 million pounds to support the migration of the IT platform to Sabadell.
TSB is currently Britain's seventh biggest lender with 631 branches and a 4.3 percent market share.
Sabadell, founded in 1881 in north-eastern Spain to serve local industry, has doubled its size over the past five years and now has 2,220 branches in Spain, serving around 6,500 customers.
In 2001, Chairman Oliu took the bank public, paving the way for takeovers that turned the bank from a regional financial institution to Spain's fifth-largest bank.