Who is New Greek Opposition Leader Kyriakos Mitsotakis?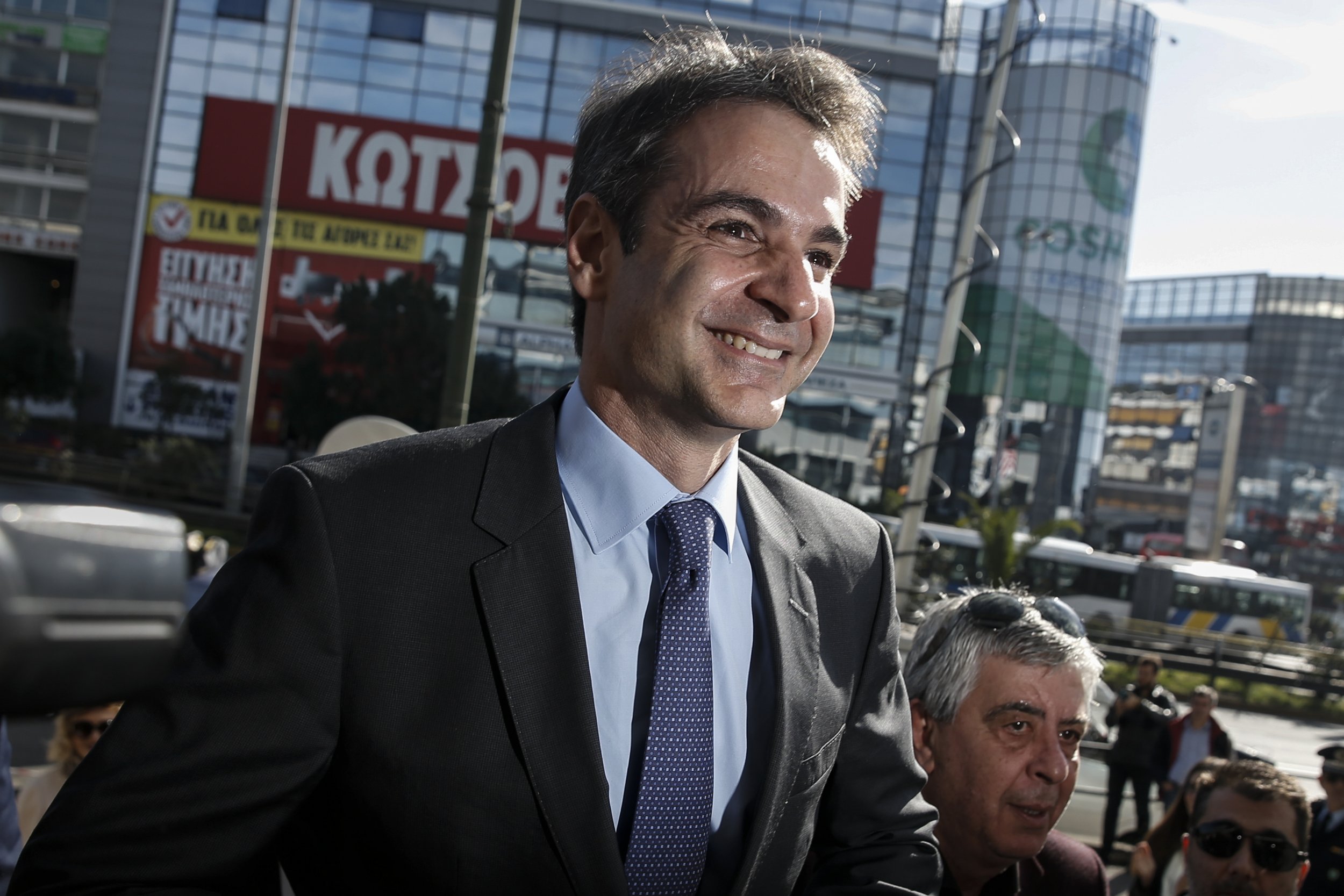 Greek politicos sometimes joke that Prime Minister Alexis Tsipras's only real opposition comes from his own unruly party, Syriza.
But after a shock victory on Sunday for outspoken centre-right politician Kyriakos Mitsotakis, who has won the leadership of Greece's right-wing second party New Democracy (ND), that could be set to change.
"Tsipras should be worried," Theofanis Exadaktylos , lecturer in European politics at the University of Surrey tells Newsweek. "[In Mitsotakis] we have someone who can seriously reorganise the opposition, present a credible alternative in parliament, or challenge some of those decisions that the government is taking forward."
But who is Mitsotakis? And can he really shake up Greek politics as his supporters hope?
A 47-year-old economist and son of a former prime minister, ND's new leader beat his nearest rival (for many the expected victor), interim party leader Evangelos Meimarakis by a margin of less than 5 per cent. Mitsotakis is young, but has experience of power. In the ND government, which left office last year following Syriza's first election victory, he served as an administrative reform minister, pushing through changes to the public sector as part of Greece's creditor-mandated reform programme. In so doing, he endeared himself to Berlin and Brussels, an affection which pro-EU Mitsotakis reciprocates.
Indeed, Mitsotakis's leadership could partly be a test of whether Greek voters are still interested in pro-European politics. "New Democracy has always been seen as the party that brought Greece into the European Union back in the late 1970s," says Exadaktylos, "so I think he will be piggybacking on that kind of tradition."
If he does, it could be a risky strategy. A 2014 Pew research survey found that only about a third of Greeks had a positive view of Europe. During his negotiations with Greece's creditors during the country's debt crisis last year, Tsipras often used Eurosceptic rhetoric to stir up public support.
The dynasty from which Mitsotakis emerges has been compared to America's Kennedy family. His father, Konstantinos, was Prime Minister of Greece from 1990 to 1993. The younger Mitsotakis's sister, Dora Bakoyanni , is a former mayor of Athens and Greek foreign minister.
Despite this, Mitsotakis has said he wants to break with New Democracy's old, "feudal" politics. In the party, he told the Financial Times last year, "you have the big political families…  the big players, the old prime ministers, and everyone is sort of bargaining for power. This is rubbish." He said he thought voters would recognize that he is his "own man" despite his family ties.
Mitsotakis's domestic priorities are likely to include a pitch to moderate, center-ground voters. Following his victory, he cast himself as a modernizer for his party and an antidote to Tsipras's brand of populist politics. In a statement he said: "We have a common purpose—to express all those forces that are opposed to the populism of an incompetent government," Kathimerini reports.
" The mandate is clear: Creative renewal and expansion so we can provide an alternative governing solution for the country."