Tsipras Presses for Early Greek Debt Deal but Flags Referendum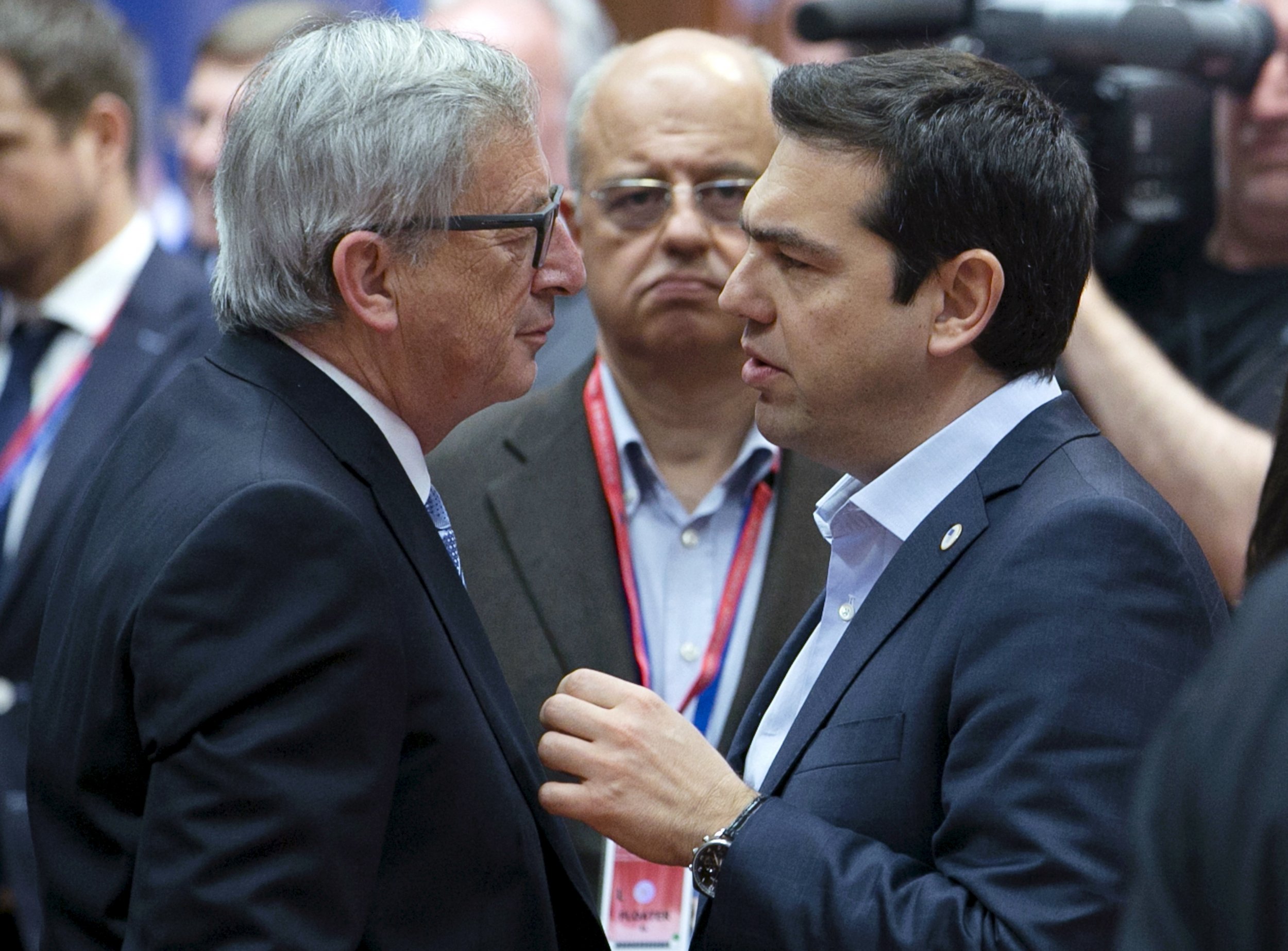 Greek Prime Minister Alexis Tsipras said on Tuesday he was confident of an early deal with international creditors, after shaking up his negotiating team and sidelining his outspoken finance minister who has infuriated euro zone partners.
But Tsipras also said he would have to resort to a referendum if lenders insisted on demands deemed unacceptable by his leftist government, elected to scrap austerity.
Athens is weeks away from running out of cash, and talks with EU and IMF lenders on more aid have been deadlocked over their demands for Greece to implement reform measures, including pension cuts and labor market liberalization.
In his first major television interview since being elected in January, Tsipras said he expected a deal with creditors by May 9, three days before a debt payment to the IMF of about 750 million euros ($815.5 million) falls due. He ruled out a default but stressed the priority was to pay wages and pensions.
Greek financial markets and the euro rallied on Monday on hopes that the relegation of Finance Minister Yanis Varoufakis, a Marxist academic prone to lecturing his euro zone peers, would improve prospects for an early deal to avoid a default that might lead to a Greek exit from the currency area.
Pressed on the options if no deal were found, Tsipras ruled out snap elections but said the government did not have the right to accept demands that fell outside the limits of its mandate and would have to ask Greeks to decide.
"If the solution falls outside our mandate, I will not have the right to violate it, so the solution to which we will come to will have to be approved by the Greek people," he told Star television in the interview.
"But I am certain we will not reach that point. Despite the difficulties, the possibilities to win in the negotiations are large. We should not give in to panic moves. Whoever gets scared in this game loses."
Tsipras said Greece was in the final stretch of negotiations despite differences on key issues like labor reform, pension cuts and a proposed value-added tax hike on popular tourist islands.
He said he expected an initial deal on reforms this week or next and that asset sales would be part of the concessions offered, including two major items - the sale of Piraeus port and the lease of 14 regional airports.
He also said Greece was hoping for a 3 billion to 5 billion euro pre-payment of future profits if it struck a deal with Russia on Turkish Stream, a pipeline project.
"FINANCIAL ASPHYXIATION"
On Monday, Tsipras appointed Deputy Foreign Minister Euclid Tsakalotos - one of his close allies and a soft-spoken economist liked by officials representing creditors - to head a new group handling negotiations with Greece's lenders.
He also put economist George Chouliarakis, a close aide to Deputy Prime Minister Yannis Dragasakis, in charge of talks with the so-called Brussels group - representatives of the European Commission, the European Central Bank and the International Monetary Fund - in a bid to break the logjam.
In an effort to show that Athens is serious about giving lenders access to data, a new team was also set up to support EU and IMF officials gathering information in the Greek capital.
The moves effectively took the talks out of the hands of Varoufakis, although Tsipras defended the flamboyant intellectual, while acknowledging that the mood towards Greece among euro zone finance ministers was sour.
"There is a negative climate but I believe that this part of the negotiating game," Tsipras said. "Part of the negotiating game is to deconstruct the person who sits opposite you at the negotiation table."
A senior European Central Bank policymaker, Bank of France governor Christian Noyer, said sidelining Varoufakis from the talks could be productive, but Athens still faced hard choices.
"He's creating a number of tensions so that can certainly help the negotiations - but it doesn't change the substance at all. The Greek government ... must finally decide on serious reforms to put the economy back on track," Noyer told France's Europe 1radio.
Tsipras accused the previous conservative-led Greek government and unnamed forces in Europe of laying a "trap" for his government when it took power.
"They derive pleasure from the prospect of a failure in the talks," Tsipras said, saying his government had walked into a "minefield" when it took office. "We received a country that was in a situation of financial asphyxiation."
He called the ECB's limit on the amount of Treasury bills Greek banks can purchase - preventing them from financing the government - a "politically and ethically unorthodox" decision.
The ECB barred banks from posting Greek government bonds as collateral to obtain funds in its regular monetary tenders in February, since Tsipras' government had vowed not to complete its international bailout program. The banks are kept afloat on emergency lending assistance from the Greek central bank, but the ECB caps the amount weekly and limits its use for T-bill purchases to avoid indirect monetary funding of the state.
In another jibe against European partners, Tsipras said his government made a mistake by accepting a verbal rather than written commitment that the ECB decision would be reversed once Greece got a deal to extend its bailout.
He offered praise for German Chancellor Angela Merkel - a frequent target of his criticism before he was elected - saying she was diligent and organized.
"She has the German culture of wanting - and I think this is good in our relationship - the other person to tell the truth, to not lie," he said. "And that's what I try to do; I don't lie."
Merkel said last week that "everything must be done to prevent" Greece running out of money, and Germany was willing to give its full support provided Athens carried out reforms.