Disney 'Tsum Tsum' May 2019 Event: Kingdom Hearts & Return of Jedi Luke are Next On The Calendar
The "Disney Tsum Tsum" May 2019 calendar event is just days away. Find out everything to expect from the upcoming Kingdom Hearts event including Star Wars Jedi Luke lucky times, here.
Leaks for the upcoming May 2019 Disney Tsum Tsum events have begun cropping up on Reddit. It appears the main event will be a Kingdom Hearts event which is expected to introduce four new Disney Tsum — Sora KH3ver, Ansem, and Xemnas along with a shrouded King Mickey. These new Tsum will give players special advantages during missions. The second event at the end of the month with be a Score Challenge which utilizes three groups of Kingdom Hearts characters introduced in the game so far. Besides the new Kingdom Hearts 3 Tsum, May will also bring the Return of the Jedi — Luke that is! During a special Select Box time, 12 different Star Wars Tsum Tsum will be available to purchase, including the fan favorite, Jedi Luke. You won't want to miss May's events, so we've put together a complete guide of everything to expect along with dates for pick-up capsules, lucky times and more. Check it out below.
Disney Tsum Tsum Kingdom Hearts Event: Everything To Know About The May 2019 Calendar Event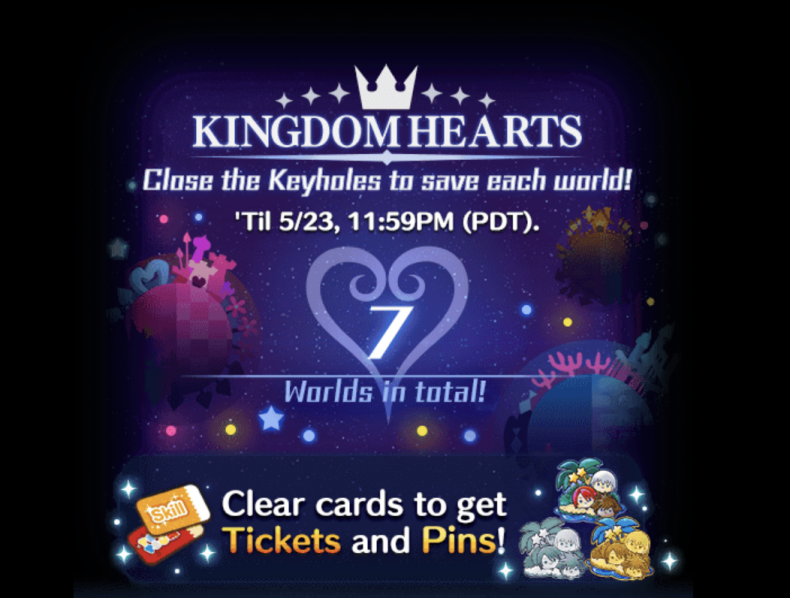 So far no official international calendars have leaked, but we've pieced together a rough estimate of when events will take place based on leaked photos and past event timing. The previous event end on April 28 and there are typically a few days between monthly events. Our guess is that the first Lucky Time will kick off May 1 with the Kingdom Hearts event beginning May 4. As event dates are confirmed, we'll continue to update this post.
All leaked dates for Lucky Times, Pick-up Capsules and Select Boxes can be found at the bottom of the article.
How Does The Kingdom Hearts Event Work?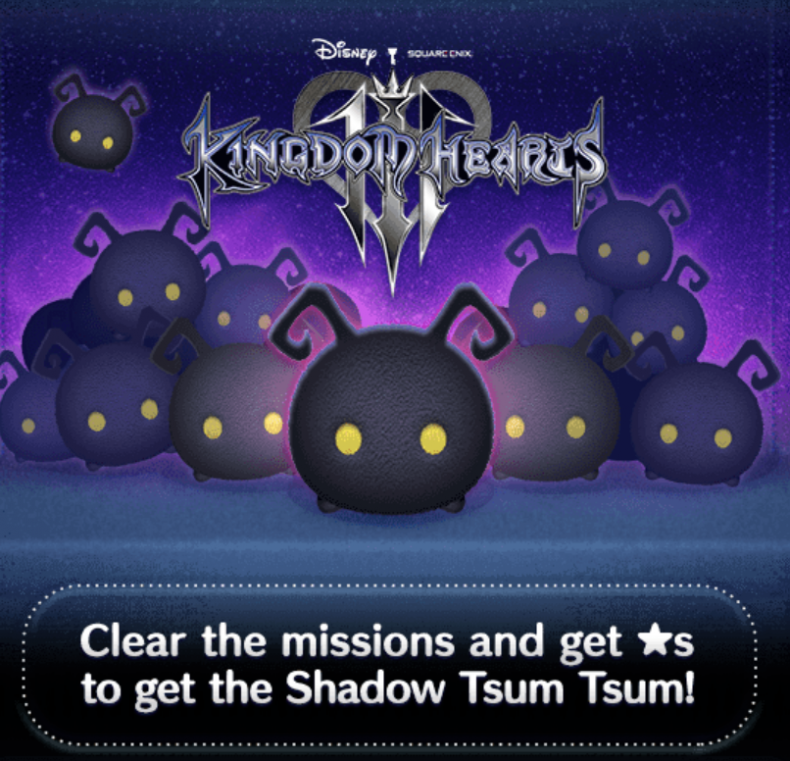 This May Kingdom Hearts event is all based around completing different missions in seven worlds. Here is how each mission type works:
Normal Missions - a normal mission will require players to complete three similar requirements to clear it. When players meet a mission requirement, they'll earn a star. Once all three requirements are met, the next mission launches. Players can play missions as many times as needed until all requirements are met.
Shadow Missions - Sometimes a mission will require clearing a specific number of shadows that appear in the game space. These missions are similar to capsule missions in that players must use skills or bombs to clear the shadows.
Villain Missions - These missions involve a Disney Villain like Ursula or Jafar. In these missions, players will use bombs or skills to hit a villain a specific number of times in order to defeat him or her.
Keyhole Missions - In this kind of mission, players are tasked with using Bombs — which have been transformed into keys — to hit the keyhole in the gamespace. With each bomb you explode, the keyhole will shrink until it disappears. Players must close the keyhole before the time runs out in order to move on to the next world.
How the Scoring Challenge Event Works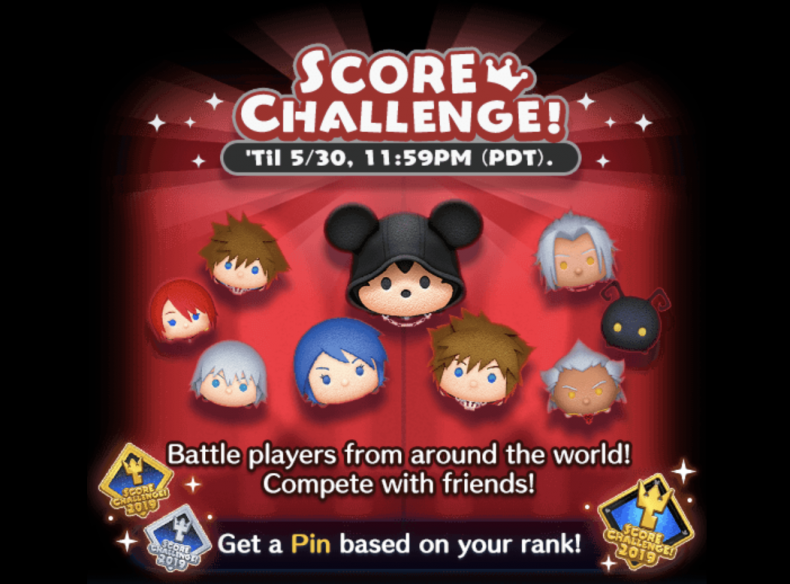 The second monthly event requires using one of the nine Kingdom Hearts characters. Characters are broken into three specific ranking groups which are as follows:
Players will try to achieve the highest score they can with one of the above Tsum. Rank is determined by your end score. Rank tiers are divided into 7 colors. At the end of the event players who receive a ranking score of S through C will receive a pin. Pins are as follows:
S Rank will receive a Platinum Pin
A Rank will receive a Gold Pin
B and C Rank will receive a Silver Pin
Which New Tsum Tsum Are Coming To The Game In May?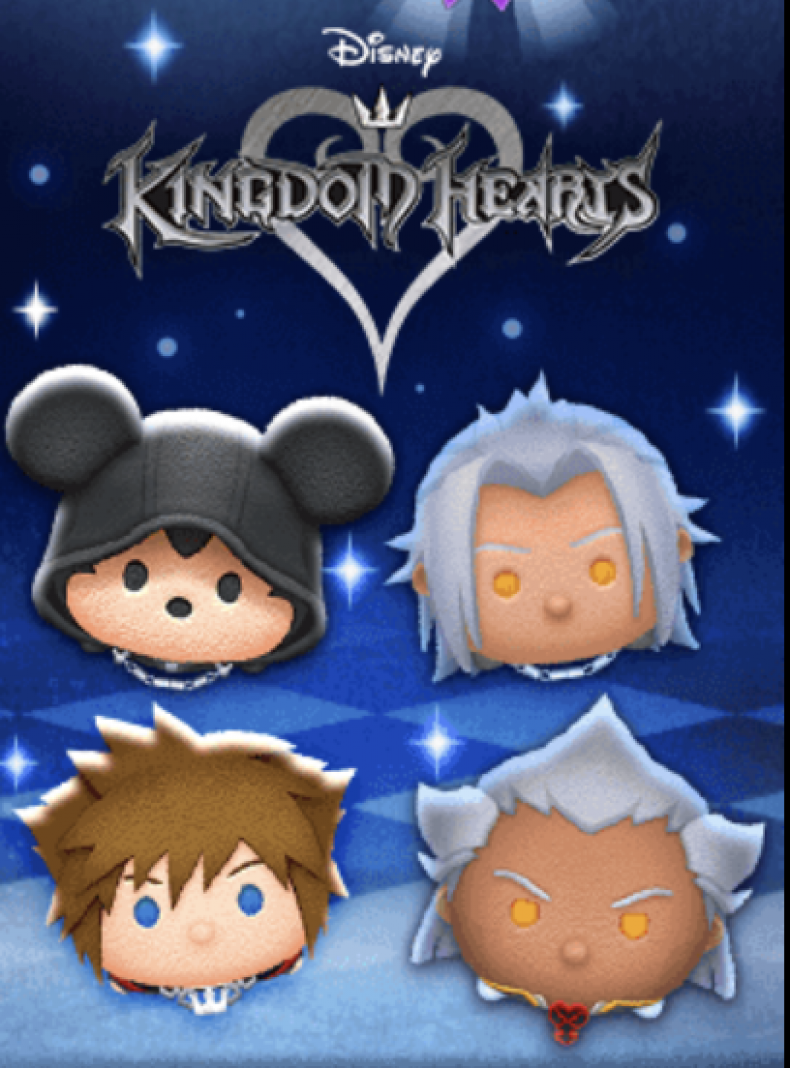 New Tsum Tsum coming in May are not yet confirmed. Leaks seem to suggest the following four Tsum will be new in the May event:
Sora KH3ver (Kingdom Hearts) - Clears horizontal and diagonal lines plus the center Tsums.
Ansem (Kingdom Hearts) - Clears 4 vertical lines of Tsum Tsum.
Xenmas (Kingdom Hearts) - Clears center Tsums
King Mickey (Kingdom Hearts) - Creates Mickey Marks when you tap the screen. They will clear surrounding Tsums. He will also clear the center of Tsums.
May 2019 Capsules, Select Boxes and Lucky Times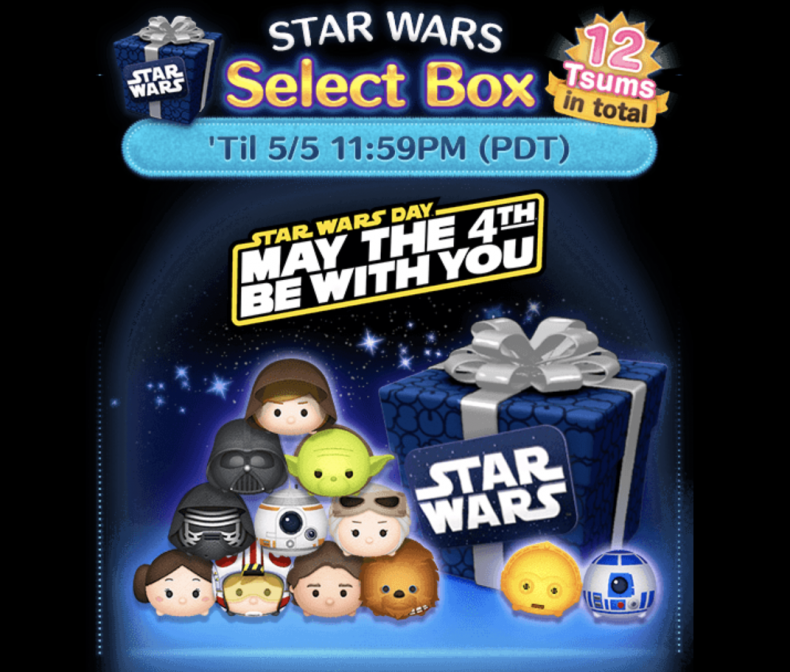 The dates below are estimates based off Reddit leaks. We'll continue to update this section as information is confirmed.
Premium Box Lucky Time #1 (May 1 - 3)
Darth Maul
Emperor Palpatine
Star Wars Select Box #1 (May 4 - 5)
Jedi Luke
Darth Vader
Yoda
Kylo Ren
BB-8
Rey
Princess Leia
Luke
Han Solo
Chewbacca
C-3PO
R2-D2
Premium Box Lucky Time #2 (May 6 - 9)
Premium Box Lucky Time #3 (May 10 - 13)
Pick-Up Capsule (May 14 - 16)
Baymax 2.0 (2)
Jack Sparrow (2)
Princess Aurora (1)
Queen of Hearts (2)
Rapunzel (2)
Stitch (3)
Tinker Bell (3)
Get all 15 and earn a Skill Ticket
Premium Box Lucky Time #4 (May 17 - 20)
Darth Maul
Emperor Palpatine
King Mickey
Sora KH3ever
Ansem
Xemnas
Select Box (May 23 - 26)
Maleficent
Davy Jones
Hades
Peter Pan
Steamboat Pete
Mowgli
Prince
Randall
Cruella De Vil
Captain Hook
Alice
Mulan
Pick-Up Capsule (May 27 - 30)
Sora (3)
Riku (3)
Aqua (3)
Kairi (3)
Jiminy Cricket (1)
Hercules (1)
Pete (1)
Get all 15 to unlock a Skill Ticket
Premium Box Lucky Time #5 (May 27 - 30)
Darth Maul
Emperor Palpatine
King Mickey
Sora KH3ever
Ansem
Xemnas
What do you think of the May event? Which new Tsum Tsum is your favorite? Share your thoughts in the comments below!
​