'Tsum Tsum' Pirate Treasure Hunt Help: Pointy Hair, Burst, Rosy-Cheeked and More Card Challenge Tips
The Disney Tsum Tsum Pirate Treasure Hunt has begun. If you need help with a tricky card challenge, check out our tips on best characters for beating pointy hair, burst, rosy-cheeked, time bubbles and more difficult quests, here.
Disney Tsum Tsum's March Pirate Treasure Hunt Challenge kicked off earlier this month and with two weeks left in the challenge, you might find yourself struggling to finish the challenges on those final and bonus cards. If you need some help with choosing the right Tsum Tsum to use in tricky challenges like using a pointy haired Tsum to burst four time bubbles in one round, we've put together a complete list of event card challenges and Tsum Tsum we successfully used to complete those challenges. We've posted from the most difficult challenges (final bonus card) to the easiest.
Disney Tsum Tsum Pirate Treasure Hunt Help: Character Tips For Beating Every Card Challenge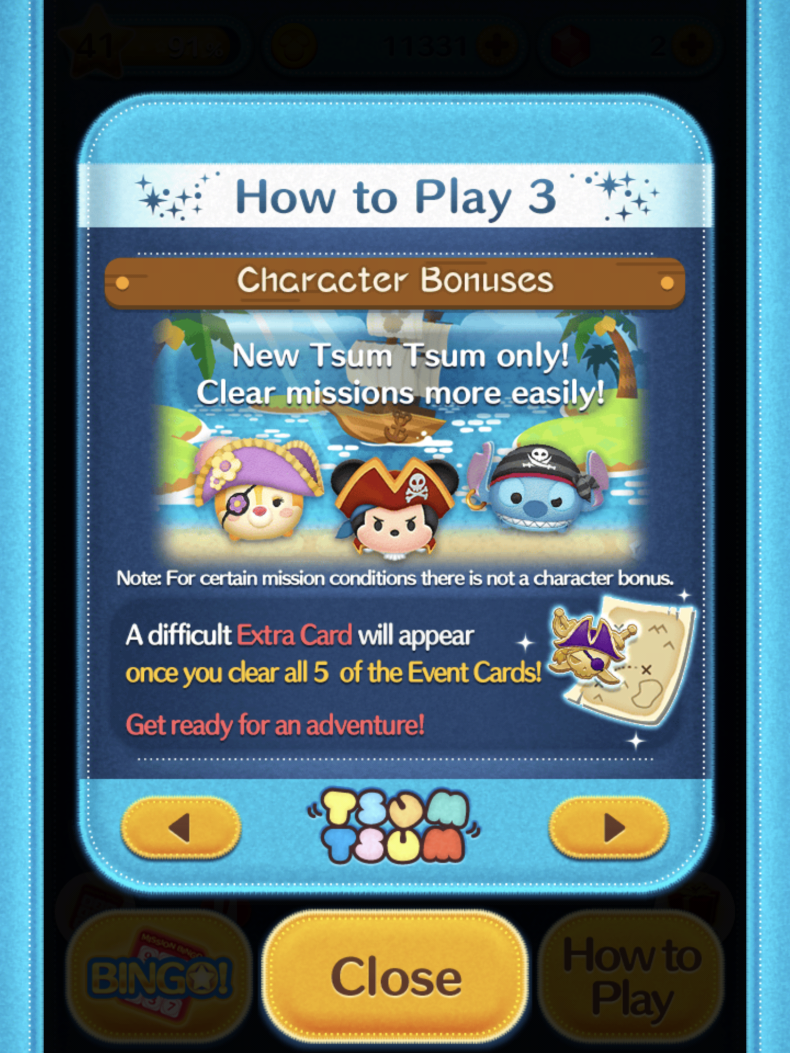 Bonus Card Challenges
Burst four Time Bombs/Bubbles using a Tsum with pointy hair in one play

Best Pointy Hair Tsum Tsum: You can see a list of Tsum Tsum with pointy hair, here. Our favorite Tsum Tsum for completing the challenge are:

Eeyore (Happiness)
Genie (Premium)
Surprise Elsa (Premium)

Enter Fever Mode eight times using a Tsum with rosy cheeksin one play.

Best Rosy Cheeked Tsum Tsum: You can see a list of Tsum Tsum with rosy cheeks, here. Here are a few Tsum Tsum redditorshave found work well, along with strategies for using them.

Miss Bunny - save all the magical bubbles. Once fever ends, pop all bubbles till you go back into fever. Repeat.
Parade Tink - Every time you activate her it counts as fever, even if you're already in it.
Cinderella
Peter Pan - save his skill. Don't use skill till a fever is over. His skill and the bubble will put you back in fever.

Clear 1,020 Tsumsin 1 play.

Best Burst Tsum Tsum - use your highest level Burst Tsum Tsum. You can see a list of Burst Tsum Tsum, here. Some of the best we tried are:

Rex
Pirate Mickey - the event themed Tsum Tsum will earn you extra bonus Tsum Tsums cleared at the end of the round.

Earn 6,500,000 Pointsin 1 play.

Best High Score Tsum Tsum : There are a lot of factors that play into getting a high score. You can take a look at score-calculating factors, here. Using a Boost like 5>4 Tsum helps because you'll get longer chains and combos. Tsums with more experience and higher skills help too. Here are a few favorites for high scores.

Pirate Tsums (Mickey, Stitch and Clarice) - these themed Tsums provide bonuses at the end of the round.
Cinderella
Jedi Luke
Surprise Elsa
Maleficent Dragon
Piglet
Salazar (Japanese Version Only)

Earn 4,500,000 Points in 1 play - use same Tsum as listed for the above challenge.
Get a 165 Combo using a yellow Tsumin 1 play.

Best Yellow Tsum Tsum - you can see a complete list of yellow Tsum, here. Some characters that have brought the most luck in this quest are as follows:

Cinderella - you can make 10 or more swipes per skill use, resulting in 10 or more bubbles, so for every skill use, your combo increases by 20.
Flounder - freezes time while he goes across the screen. If you add a bubble boost before the game, he'll create bombs too.

Clear 190 Tsums with a Tsum with a mouth in 1 play - a list of Tsum Tsum with a mouth can be found here.
Use your Skill 13 times using a Tsum with the initial "S"in 1 play.

Best "S" Initial Tsum Tsum- you may need to add a 5>4 boost to complete this task. Here are some helpful Tsums we used:

Scrooge
Jack Sparrow
Simba
Pirate Stitch
Surprise Elsa
Sully

Clear 230 Tsums wearing a hatin 1 play.

Best Hat Wearing Tsum Tsum - Pirate Stitch or Jedi Luke

Clear 24 large Tsums in total - Baymax and Sulley are great for this.
Burst 240 Magical Bombs in total.
More Tsum Tsum Pirate Treasure Hunt Challenge card hints will be added soon….