Tua to the Dallas Cowboys? Former Alabama QB Calls Dallas His Favorite Team, Wouldn't Mind Playing Backup
Tua Tagovailoa once played backup quarterback at one of the top dynasties in college football, and he recently said he wouldn't mind being No. 2 on the roster for an iconic NFL team. Tagovailoa, who played at the University of Alabama the last three seasons, said the Dallas Cowboys have always been his favorite team.
Tagovailoa is rehabbing a season-ending hip injury and getting ready for the upcoming NFL Draft, and he told NBC Sports' Pro Football Talk he understands his draft status can fluctuate from potentially being the top pick to sliding down to teams that pick later in the round.
"We've looked at teams," Tagovailoa told profootballtalk.com. "We've talked about teams. We've talked to teams. Somebody might trade up and you could possibly drop or you could possibly go higher. We've been talking about all those scenarios.
"If you're saying to me, if I can choose what team I want to play on, as far as my favorite team growing up, then I probably tell you the Cowboys."
The Cowboys have a bonafide quarterback in Dak Prescott, who passed for 4,902 yards last season, but enters free agency this offseason. Prescott could demand more money than the Cowboys are willing to pay in order to stay under the salary cap, and many people believe the two sides will ultimately come to terms, and that Prescott will return in 2020.
This offseason has a plethora of quarterbacks potentially on the market, from Tom Brady to Dak Prescott, Cam Newton, Jameis Winston, Phillip Rivers, Ryan Tannehill, Marcus Mariota and Teddy Bridgewater in the NFL, and incoming college talent like Tagovailoa (Alabama), Joe Burrow (LSU), Justin Herbert (Oregon), Jordan Love (Utah State) and Jake Fromm (Georgia).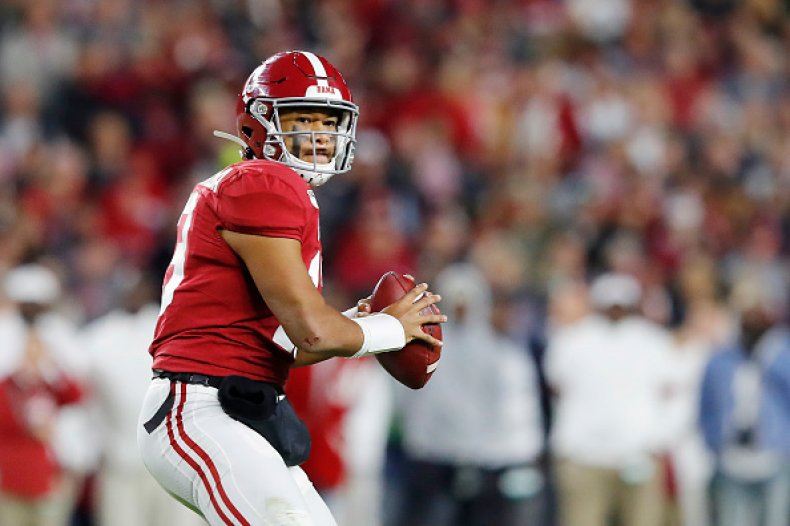 NFL Network analyst David Carr rated Tagovailoa as the top prospect among all of those quarterbacks, and a few other analysts agree. Fellow analyst Kyle Long said Tua's biggest hurdle, regardless of which team he makes, will be proving that his hip dislocation and nagging ankle injuries are behind him.
"I think there's a lot of stuff that needs to be said about the injuries," Long said. "As a guy who played in the league and dealt with injuries, it can go one of two ways ... if Tua can find a way to get healthy, for the long term he can be a tremendous quarterback in this league. That remains to be seen."
Tagovailoa, who was the backup quarterback behind Jalen Hurts in 2017 at Alabama, came off the bench in the championship game that season and led the Crimson Tide back from a deficit to win the national championship. Tua became the starter the next season, leading Alabama to another national championship appearance. In 2019, he led the Tide to a 9-0 record before a loss to LSU. Tua got hurt the next game against Mississippi State, and he declared for the NFL Draft after the season ended.
Tua said that if he were to end up on his dream team, he wouldn't mind sitting behind Prescott and learning from a pro.
"I'm not trying to bump him. I'll learn under him," Tagovailoa said of getting a chance to play behind Dak Prescott. "I'd handle it the way that the coaches there want to handle it. Honestly, I just want to be able play again. I wouldn't mind learning under whatever guy that's the starter. Give me a whole year to rest up and then go back out and compete, but I just want to go back out and play."