University of Alabama quarterback Tua Tagovailoa was injured during the second quarter of Saturday's game against Mississippi State.
After getting pulled down while throwing a pass, Tagovailoa carted off the field. He previously suffered a severe sprained ankle in October, 24/7 Sports reported. At the time, the Alabama Crimson Tide were leading 35-7 at the half.
According to ESPN sideline reporter Molly McGrath, Tagovailoa screamed in pain, as he was taken back to the locker room. "Medical training staff had to pick him up and carry him off the cart," McGrath reported. She also stated that his right hip was injured, despite initial thoughts that he injured his right ankle. Tagovailoa will receive x-rays.
Head coach Nick Saban told ESPN that he'd intended to take Tagovailoa out at halftime. He'd kept him in to run a two-minute drill. "We were going to do two-minute before the half was over just for practice," he said. First, we've got to block them better so he doesn't get sacked. It's too bad."
Despite the misfortune of Tagovailoa's injury, Saban ensured that the team would play on. "I don't worry about players getting hurt. You certainly don't want to see anybody get hurt, especially him," he told ESPN.
Wide receiver Henry Ruggs was also injured during the game, reported AL.com.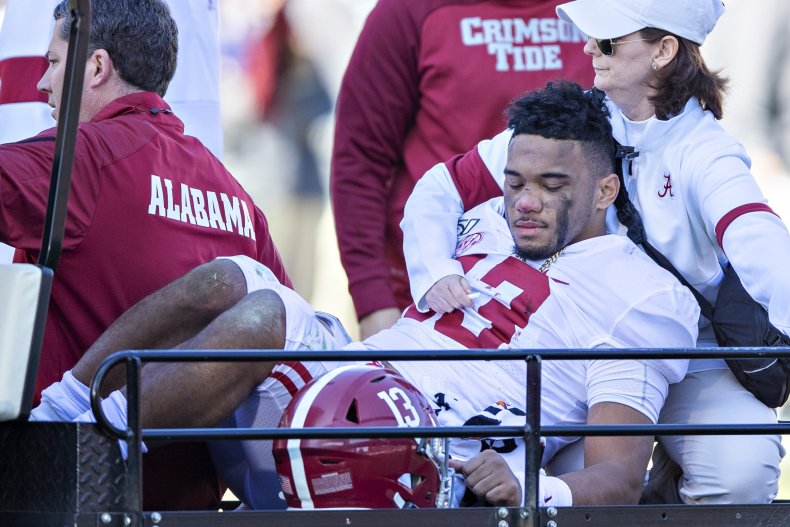 Fans on Twitter were critical of Saban for his comments and decision to play Tagovailoa, despite his recent injury. Questioning why Tagovailoa was even playing in the first place, one fan wrote: "How much money did Nick Saban cost that young-man..."
ESPN commentator Emmanuel Acho ripped Saban for endangering the quarterback. "It's your job to protect Tua," he said. Alex Kirshner wrote that it was unjust to play Tagovailoa, especially because he was unpaid as a college athlete.
Others expressed their sympathy for Tagovailoa. Alabama reporter Mike Rodak shared a video of Mississippi State fans cheering on the player as he was carted off the field. Stewart Mandel, editor-in-chief for The Athletic, wrote: "This guy just cannot catch a break."
Before the game, Saban made a late decision to include Tagovailoa in the game. In a Monday press conference, Saban stressed that he was not sure if he would play the quarterback, following his injury but was hopeful to. "We'll just have to manage it day to day and he should respond each and every week. The situation that he's in is very much expected, and he doesn't have any further issues," he told reporters, as reported by ESPN.
Alabama currently leads 38 to 7 in the fourth quarter as of this writing.
Uncommon Knowledge
Newsweek is committed to challenging conventional wisdom and finding connections in the search for common ground.
Newsweek is committed to challenging conventional wisdom and finding connections in the search for common ground.