Tua Tagovailoa Injury Update: Nick Saban Says QB's Recovery is 'Probably Ahead of Schedule'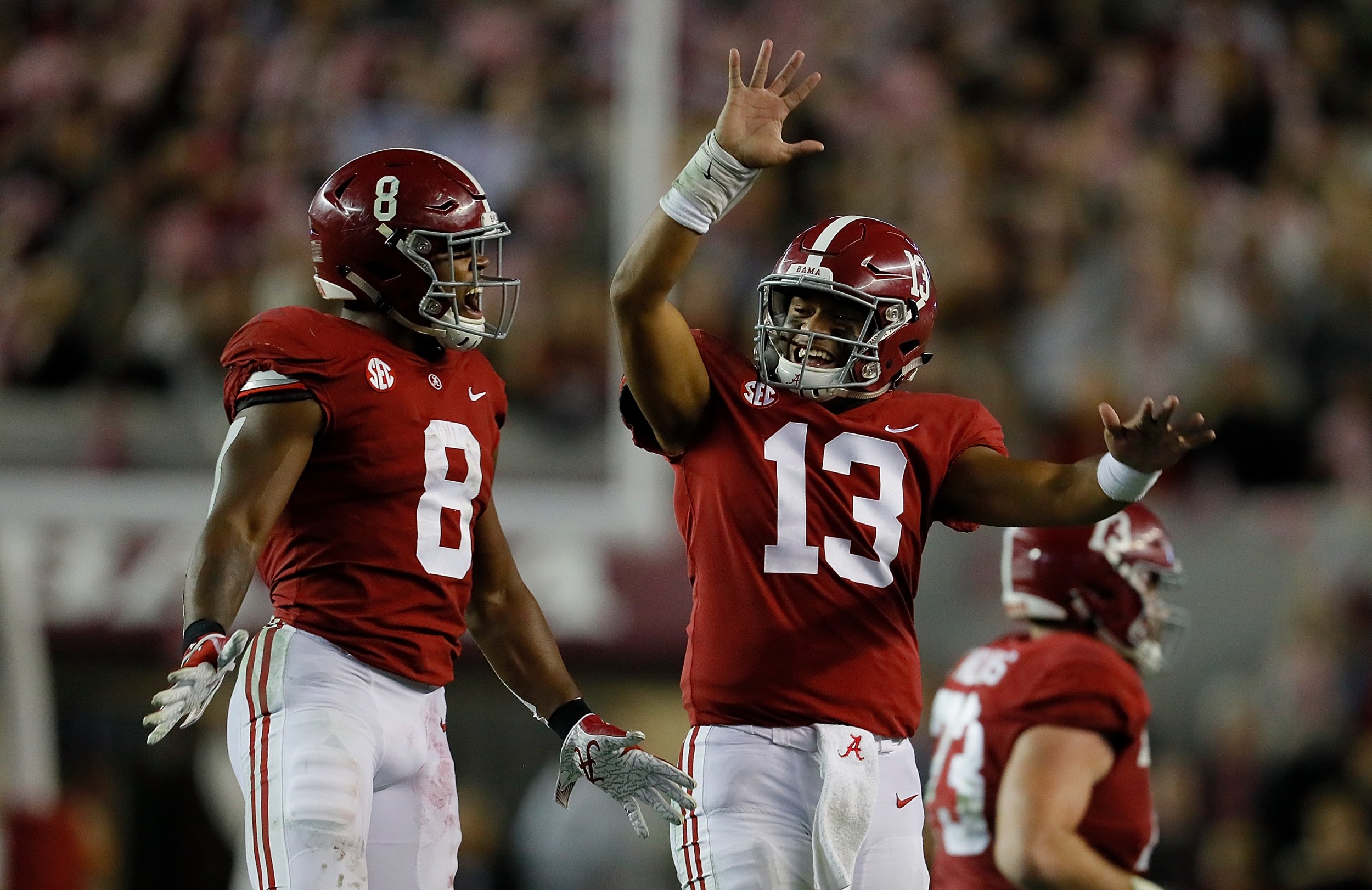 Alabama quarterback Tua Tagovailoa is "doing well" and "probably ahead of schedule" in his recovery from an ankle injury, according to head coach Nick Saban.
Tagovailoa experienced the injury during the Crimson Tide's SEC Championship Game victory over Georgia on Dec. 1 and underwent surgery the following week. But the Heisman Trophy runner-up participated in Alabama's practice on Monday in preparation for its matchup against Oklahoma in the College Football Playoff semifinal at the Orange Bowl on Dec. 29.
"He's doing well. I think he's probably ahead of schedule," Saban said. "He's been able to take a lot of reps. He's been able to throw the ball from the pocket. He can run.
"I don't think he's 100 percent change of direction yet. But he's already going 100 percent on the gravity treadmill. So he's been able to practice, and he's made really, really good progress. So we're encouraged by that."
Tagovailoa wore a boot to the College Football Awards -- where he won the Maxwell (college football's best all-around player) and Walter Camp (player of the year) Awards -- less than two weeks ago, but didn't during the Heisman Trophy ceremony two days later. The sophomore also reportedly took a private plane with Alabama's medical staff to the New York ceremonies, a member of the athletic department confirmed to ESPN.
Tagovailoa was hopeful that he would be able to play in the College Football Playoff Semifinal during the awards weekend.
"Hopefully, that's the goal," Tagovailoa said when asked if he'd be cleared. "For now I'm just trying to take it a day at a time, trying to get better."
Tagovailoa led the SEC with 37 passing touchdowns and a 202.30 quarterback rating, while also recording 3,353 yards and just four interceptions on 199 of 294 passing. The former 5-star prospect replaced former starter Jalen Hurts during the third quarter of the College Football Playoff National Championship Game and threw three touchdowns, including a game-winner in overtime to lead the Tide back from a 13-0 deficit to defeat Georgia, 26-23, in January.
Eleven months later, against the same opponent, in the same stadium, facing a similar situation, the tables were turned. Hurts replaced an injured Tagovailoa during the fourth quarter of the SEC Championship Game game to rally back from a 28-21 deficit and defeat the Bulldogs, 35-28.
The junior threw for 82 yards and the game-tying touchdown on 7 of 9 passing, while also recording 28 yards and the go-ahead score on five rushing attempts.