Tua Tagovailoa Injury Update; What is Tightrope Procedure That Let Alabama Quarterback Return to Field 20 Days After Surgery
With a showdown between the No. 1 and No. 2 teams in college football set for Saturday, fans are wondering if Alabama quarterback Tua Tagovailoa will be available to play against LSU.
Tagovailoa was injured with a right high ankle injury during the second quarter of the Tide's Oct. 19 game against Tennessee and the junior has not played since -- though he did return to practice last week following minor surgery.
The type of injury Tagovailoa incurred usually keeps players sidelined for at least two months, but the QB was able to return to practice just over two weeks after the surgery due to a "tightrope" procedure.
Thomas Clanton, a former team doctor for the Houston Rockets and Texans and a foot and ankle surgeon, told AL.com "high-ankle sprains have always been an injury that's typically taken much longer to heal than the traditional lateral ankle sprain."
"It's fairly amazing to see the fact that you can get a player back doing things within three to four weeks sometimes that would typically have taken eight to 12 weeks," Clanton said.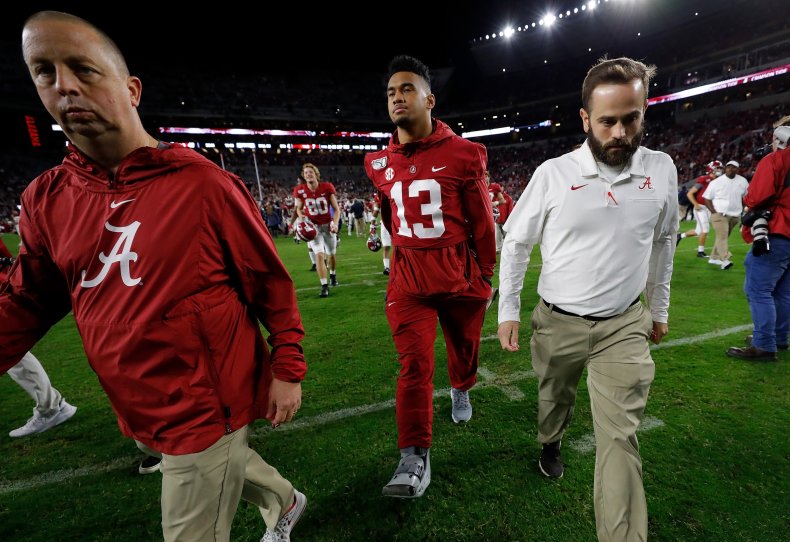 The tightrope procedure has become popular at Alabama in the past few years and has been successful for Tide players suffering from high ankle injuries, including former Alabama quarterback Jalen Hurts, former offensive tackle Cam Robinson and current linebacker Anfernee Jennings. All four players have returned from injury in four weeks or less, compared to the normal two to three month recovery time for a normal surgery.
To help players with recovery time, doctors use a flexible stitch instead of screws to repair the joint between the tibia and fibula. The flexible stitch is the tightrope implant that was developed by Arthex, from Naples, Florida.
"With the tightrope, because it is flexible in the normal anatomic motion that it allows, it does tend to keep the bones together and still allow normal motion," said Pete Denove, a senior director for product management at Arthrex told AL.com
Players like Tagovailoa who receive the tightrope procedure can begin their rehab right away, compared to a surgery that uses screws, which requires players to be more conservative with rehab.
Prior to the 2018 National Championship game, Tagovailoa underwent the same procedure on his left ankle, and according to Alabama head coach Nick Saban, Tua's right ankle has less swelling than his left did.
Dr. David Chao, a former team physician for the San Diego Chargers, wrote in the San Diego Union-Tribune that the tightrope procedure Tagovailoa received is not the norm for athletes in the NFL.
"I am not being critical of the procedure. I am merely pointing out that this is not the current norm in orthopedics, let alone with a high-level athlete. It certainly is not the norm in the NFL today," Chao said. "There are doctors like Tua's surgeon who are promoting this idea and, indeed, they may prove to be ahead of the curve."
Tua is expected to start for the Crimson Tide on Saturday during their highly anticipated matchup against LSU.