When Is Tua Tagovailoa Draft Announcement? QB to Reveal Whether He'll Head to the NFL or Return to Alabama
The biggest announcement of the college football offseason is due on Monday afternoon, when Alabama quarterback Tua Tagovailoa reveals what his future holds.
The 21-year-old, along with Crimson Tide coach Nick Saban, will hold a press conference at 12 p.m. ET to announce whether he will declare himself for the NFL draft or return to Alabama for a further season.
Tagovailoa was widely expected to be one of the most coveted players in this year's draft, but his chances of being a top-10 pick have decreased dramatically since he suffered a serious injury on November 16.
Here's all you need to know about one of the most-awaited moments of the college football offseason.
When will Tua Tagovailoa make his NFL draft announcement?
As he revealed on Twitter last week, the Alabama quarterback will make his plans for the future public on Monday, January 6.
Tagovailoa is scheduled to hold a press conference alongside coach Saban in the Naylor Stone Media Room at the Mal Moore Athletic Facility at the Tide's campus in Tuscaloosa, Alabama.
What is Tagovailoa's injury status?
Tagovailoa's season was curtailed by injury on November 16 against Mississippi State, when he suffered a dislocated hip and posterior wall fracture late in the first half of Alabama's 38-7 road win.
At the time, team orthopedic surgeon Lyle Cain told The Athletic the player was expected to make a "full recovery." However, without a detailed timeline for his recovery, it remains to be seen how long Tagovailoa would need to be back fully fit.
Last week, AL.com's Matt Zenitz reported the 21-year-old and Alabama medical staff had met with doctors in New York to discuss his draft decision.
How does Tagovailoa's injury affect his draft eligibility?
Strictly speaking, Tagovailoa's injury has no bearings on his decision. Players can choose to declare for the NFL draft even if they are injured, but doing so may obviously see them slide down the pecking order, particularly if the injury is serious.
Before the season started, Tagovailoa was considered the top prospect of the class of 2020. The emergence of LSU quarterback Joe Burrow and Ohio State defensive end Chase Young threatened his status as No. 1 overall pick-in-waiting, but before his injury Tagovailoa remained a consensus top-five name.
Despite his enforced lay-off, the picture hasn't changed dramatically for the Alabama signal-caller.
Mock drafts by NBC, Bleacher Report, The Draft Network, Tankathon and Yahoo Sports all have him going to the Miami Dolphins with the No. 5 overall pick, while Draft Site has him going to Miami with the 18th overall pick.
Speaking on December 30, Alabama coach Nick Saban confirmed Tagovailoa was the only Crimson Tide player to have received a top-15 grade NFL Draft grade last month.
"We only had one guy that has that high of a grade and he's not going to be playing in the game [Alabama's showdown against Michigan in the Citrus Bowl on January 1] because he's injured," Saban said on his radio show last week.
"And that injury may affect his grade, unfortunately, for him, right now."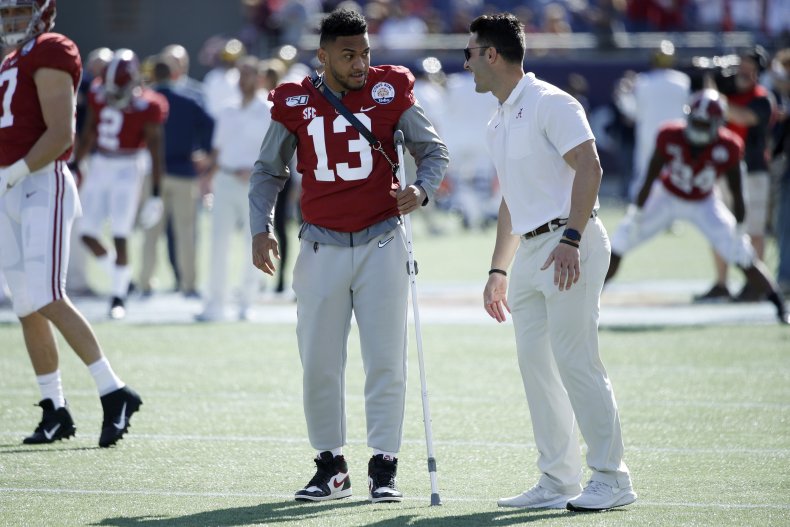 What will Tagovailoa do?
It's hard to tell. On the one hand, the mock drafts make encouraging reading for the junior, whose talent remains on the thoughts of most front offices across the league.
Conversely, however, returning to Alabama would give Tagovailoa the chance of making a full recovery without having to shoulder the pressure of playing in the NFL.
A final season with the Crimson Tide would also give him another shot at winning a second national title and the Heisman Trophy. At the same time, it would also expose Tagovailoa to the risk of further injury without getting paid an NFL salary.
The Hawaii native has undergone "tightrope" surgery to address high-ankle sprains on both ankles—the second of which came in November ahead of the game against LSU—and his durability could come into question after another serious injury.