Tuberville's Win in Alabama Primary Is Vote of Confidence For Trump, Too
Alabama's Senate primary race was as much a test for Donald Trump as it was for Tommy Tuberville, but both the president and his hand-picked candidate passed with flying colors.
Tuberville, a first-time political candidate who Trump gave his full-throated endorsement, defeated former Attorney General Jeff Sessions in a contested runoff for the party's nomination Tuesday. The former Auburn University football coach will now face Democratic incumbent Doug Jones in the general election this November.
Tuberville's victory was a big win for Trump and his influence over Republican voters, whose popularity has declined across the board in recent weeks due to the coronavirus pandemic and the resulting economic recession.
"President Trump's endorsement carries the day. Tuberville was able to harness the enmity towards Sessions into the Republican nomination. Now the fun begins," David Mowery, a Montgomery political consultant who has worked on Democratic and Republican campaigns, told Newsweek. "The last week or two was largely about events or quotes in Coach's past, and I would brace for impact from the Jones campaign on all of that and more if I were advising Tuberville. Voters are going to want to see him answer the call and hit back, which I think he will with so much riding on this seat."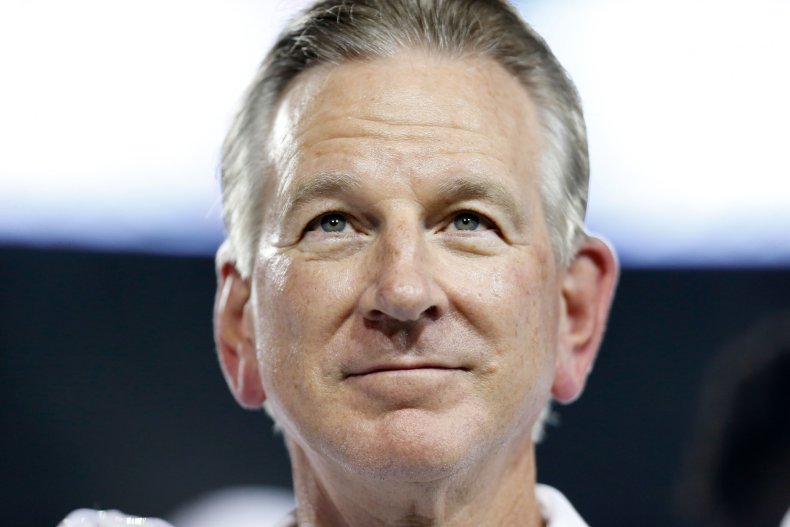 While Trump won Alabama by nearly 30 points in 2016, a recent survey from Auburn University at Montgomery found his advantage over Democratic nominee Joe Biden to be cut in half to roughly 14 percent. Yet it's clear the president still retains a sizable grip over his core group of supporters in the deep-red state as they followed his lead in casting out Sessions, who was scorned by Trump after recusing himself from the FBI's probe into potential connections between the 2016 campaign and Russia. Even before Sessions resigned in 2018, Trump slammed his as not "mentally qualified" and a "dumb Southerner."
In a tweet issued just days before the July 14 runoff, the president deemed Sessions a "disaster who has let us all down."
"We don't want him back in Washington!" Trump added.
Sessions, who has been reluctant to criticize Trump since he resigned in 2018, responded that his meddling in the race has been "juvenile."
"My honor and integrity are far more important than these juvenile insults. Your scandal ridden candidate is too cowardly to debate," Sessions tweeted, referring to was charges of fraud against Tuberville involving the hedge fund he previously co-founded. Tuberville was sued by investors and reached a private settlement in 2013 while his business partner was sentenced to 10 years in prison.
But the scandal didn't hurt Tuberville in the runoff, which he won by 25 points. The former coach is expected to emerge as a clear front-runner against Senator Jones. Jones was the first Democrat to win in Alabama in decades after defeating Roy Moore, whose campaign was derailed after he was accused of sexual assault and misconduct against teenage girls.
The Democrat is viewed as one of the most vulnerable senators up for re-election this fall. Election forecasters like the Cook Political Report and Sabato's Crystal Ball rate the race as leaning Republican. The seat is considered a must-win for Republicans as the party aims to keep its 53-to-47 hold on the Senate.
A poll conducted for the conservative super PAC Club for Growth from June 29 to July 2 found Tuberville with a double-digit lead over Jones. Fifty percent of likely voters polled backed the former coach, while 40 percent said they would support Jones.