Tucker Carlson Gives Sex Advice to Young Men, Warns of Dangers of Porn
Fox News' Tucker Carlson called pornography "dehumanizing" and "desensitizing" in an interview with an 18-year-old college student, warning young men that they would wind up "unhappy" if they spend their time having casual sex.
University of Chicago student Daniel Schmidt shared an interview he conducted with the Tucker Carlson Tonight host on Twitter and highlighted some of the controversial Fox News personality's opinions. Schmidt segued into the conversation about porn by suggesting a lot of young men lack purpose.
"A question that came to me while you were speaking is that you are talking about how a lot of young men don't have meaning, don't have purpose," Schmidt said. "Do you think porn is the main driver behind that? Do you think because men can just get that stimulation from a bunch of pixels on the screen, do you think that has been a big change since you were a kid?"
Carlson replied: "It has certainly been a big change. I'll be honest, that is one subject we have done a couple subjects on it but I am just too squeamish to dig into it. My suspicion is exactly what you said...Any time you have a societal change you are going to have downstream effects and if it is big change there are going to be big effects."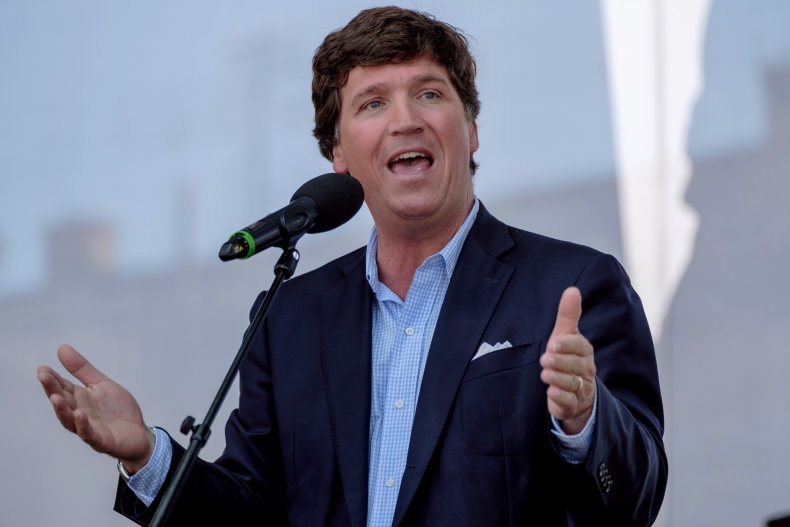 Carlson went on to say: "Porn is clearly bad, it is clearly dehumanizing, it is clearly desensitizing, how could that not be true? Of course, it is. It is also clearly very profitable, so who are these people getting rich from porn and why don't we know their names."
The Fox News host questioned why there wasn't more focus on the owners of porn websites compared to other areas of society. He reflected on the possibility of doing another segment on porn on his show in the future and asked: "why aren't they answering for the damage they are doing?"
In a clip shared by Schmidt, which now has over 30,000 views, Carlson also took aim at feminism and hook-up culture.
"This whole idea that banging 40 people in your 20s is a net positive or something, it is actually not even that fun," Carlson said. "I think, for men anyway, it is all in the chase, men are programmed to want to pursue women, of course. But that is the pleasure, having sex with strangers is never that fun, let's just stop lying about it. You are too drunk anyway.
"First of all [casual sex] is super easy, so that is not an achievement at all, because feminism has convinced women that they have to be like men so that they have to sleep with you or whatever. It is all so unbelievably f**ked up it's hard to believe it is actually real, but it is.
"Anyway, it is all fake, it is all pure propaganda, that is why everyone is so unhappy...add meaning to your life and you will be happy."
In a closing message to young men, Carlson suggested that they should drop out of college unless it is required for a specific profession, get married, and choose wisely but not overthink the commitment. He also advised that they have more children than is affordable, to take a job they are unqualified for, and go "balls out" and have adventures.
Newsweek reached out to Daniel Schmidt for comment.