Tucker Carlson to Air Series About Men During Women's History Month
Fox News host Tucker Carlson announced a special series dedicated to men will air every Wednesday throughout March—which happens to be Women's History Month. The series, called "Men in America," will focus on the "crisis" facing American men, Carlson told his viewers.
In his announcement, Carlson said the series will discuss the "largely ignored disaster" that is the lack of messaging around male empowerment.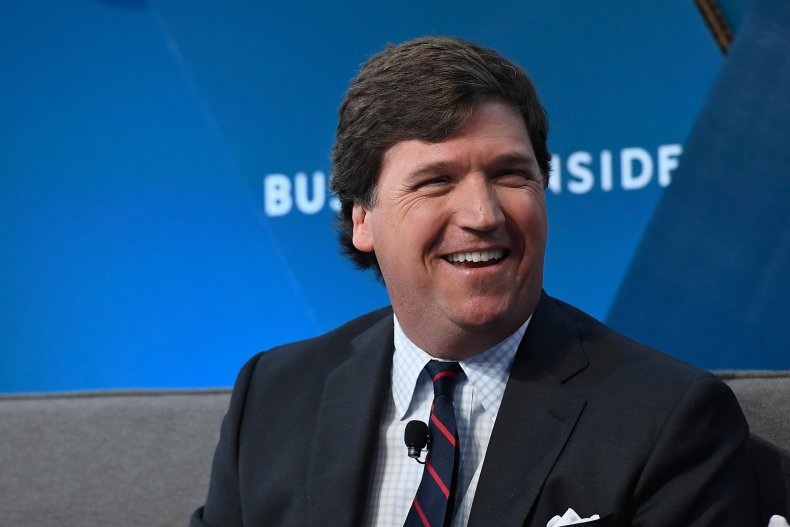 "We hear a lot about female empowerment in this country, and, of course, we are totally for that. We're for empowering all Americans," Carlson said. "But, for some reason, you almost never hear about how men are doing in America."
Carlson said his show "took a close look at the numbers" and what it found was "shocking." He continued: "You'll be stunned by the scope of the crisis. We were. It's a largely ignored disaster, and it is a disaster. It affects every person in America."
The first episode of the series, which airs Wednesday night, will feature controversial psychologist Jordan Peterson, The Cut reported.
Twitter users were quick to note that the series would run during a month meant to celebrate and commemorate women throughout U.S. history.
In an emailed statement to Newsweek, Carlson said, "Since the first of this year, four men I knew personally have killed themselves. It seemed like part of a bigger story nationally, and once we checked the numbers, it turned out to be. American men are in crisis. Virtually every measure shows it. That's not a partisan or political statement. It's something everyone ought to care about."