Tucker Carlson Calls Alexandria Ocasio-Cortez 'Vacuous Idiot' Who Could Win In 2024
Fox News anchor Tucker Carlson has said the gap between the rich and the poor is growing at such a rate that it is creating a climate in which Representative Alexandria Ocasio-Cortez could run for the presidency in 2024 and win.
In a segment on Friday, Carlson said that big corporations which have done well in the coronavirus pandemic are "giving capitalism a bad name," increasing the wealth gap and laying the groundwork for "socialists" to come to the fore in future.
In a sentiment that many progressives might agree with, he said that companies like Amazon, Netflix and Walmart were the "big winners" of the pandemic and so should pay a "one-time COVID fee" to pay for the next bailout. He also suggested that Ivy League universities should use their endowments "to pay off some of the student debt they caused."
"Here's the bottom line—the rich are getting richer, everyone else is getting poorer, that is not a talking point, it's true and measurable," Carlson said.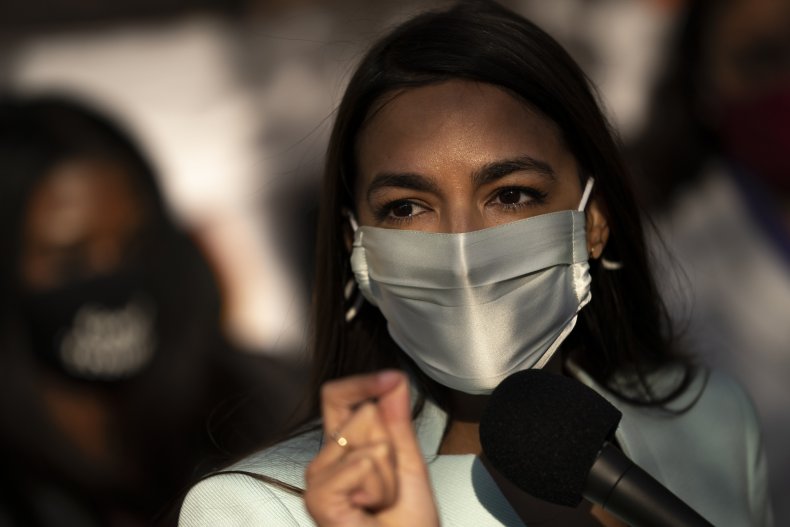 "Why is it a problem? Because if it continues, we are going to wind up with an even more volatile society in which everybody hates each other and is consumed by envy and along the way, capitalism itself will be discredited and you don't want that. It's already happening."
He said that the people in charge of the economy "are discrediting our system" and "giving capitalism a bad name." He described the U.S. economy as a "closed game" run for the benefit of the elites which in the long run, will be a "disaster for all of us."
"In four years, for example, Sandy Cortez will be eligible to run for president," he said, referring to the progressive New York representative Alexandria Ocasio-Cortez and the constitutional requirement to be 35 years old to take office.
"So you may laugh at Sandy Cortez, and you should. She is a vacuous idiot, not the rich girl narcissist with an overheated Twitter account. But that doesn't mean she couldn't win. If we keep up this economic craziness, she could win," he said.
Last week, Ocasio-Cortez, a Bronx native who once had to work as a waitress and bartender to help keep her family financially afloat, criticized Republican Representative Dan Crenshaw who was caught on tape mocking her former food-service job.
On Thursday, she defended her push a liveable minimum wage and coronavirus relief measures without strings.
"You know, shout out to my fellow radicals who think that we should live in a humane advanced society," she said during an Instagram Live.
Newsweek has contacted Ocasio-Cortez's office for comment.