After Alexandria Shooting, Tucker Carlson Says 'Hard Left' Uses Political Violence to Destroy Country They 'Despise'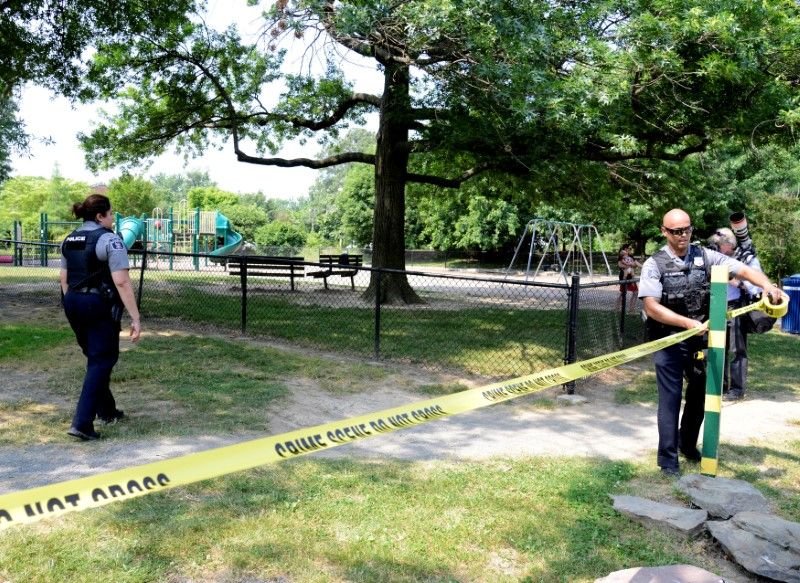 In the wake of Wednesday's shooting attack at a congressional baseball practice in Alexandria, Virginia, that left Republican Representative Steve Scalise in critical condition and injured four others, many people called for unity, including President Donald Trump and House Speaker Paul Ryan. Meanwhile, Fox News host Tucker Carlson was accusing the "hard left" of using political violence to destroy a country they "despise."
Related: Congress shooting motive: 'Morning Joe' co-host, GOP lawmaker blame Donald Trump
After taking shots at "ignorant liberals" talking about firearms in the wake of the shooting, Carlson, host of Fox's Tucker Carlson Tonight, moved on to differentiate "killing a man in a bar because he hit on your wife" from what happened on the baseball field Wednesday. "Shooting a congressman for his party affiliation," he said, could lead to "civil war"—and that, he argued, is something those on the "hard left" would enjoy.
"Some on the hard left understand this, and that's exactly why they support it, because political violence could lead to the dissolution of a country they despise. Our country," Carlson said.
Moments later, Carlson, in what could be considered a lack of self-awareness, cautioned, "In this volatile moment, people with megaphones ought to be responsible about what they say."
The now-deceased shooting suspect, James Hodgkinson, posted repeatedly on social media about his support for Democratic Senator Bernie Sanders and about his wish to remove Trump from office. Moments before the shooting, Republican Representative Ron DeSantis said a man matching Hodgkinson's description asked him if "Republicans or Democrats" were practicing at the time.
Fellow Fox News host Sean Hannity, who ran his show live from the baseball field Wednesday, called the shooter a "staunch left-wing liberal" and decried what he said was a "record level of vicious left-wing hate."
On MSNBC, meanwhile, host Joe Scarborough, with whom Hannity has had, at best, a frosty relationship, joined the chorus urging an end to such heated political rhetoric on both sides of the debate. "The heated rhetoric in this country has to calm down. We have been saying it on this show for a decade now," he said on Thursday's Morning Joe.
Scarborough's co-host, Mika Brzezinski, struck a similar tone, chastising rhetoric on the right and the left. But she also singled out Trump.
"We also have a president who pushes fake news and conspiracy theories," she said. "From birtherism to promoting violence on the campaign trail. I mean, this is the new dynamic here. I'm not putting anything squarely on the president, but I have to say that this is the new added dynamic to what is a very dangerous climate."
The entire spectrum of reaction is eerily familiar. After Democratic Representative Gabrielle Giffords was shot in Tucson, Arizona, in 2011, the No. 1 talking point on cable news media by far was the role of political rhetoric. On the left, there was a rush to blame the political tone on the right at a time of heated opposition to President Barack Obama and the rise of the Tea Party.
After the incident, cable news outlets pushed back against some of the rhetoric, Scarborough noted Thursday. One of the most vocal critics on the left, Keith Olbermann, was dismissed from MSNBC soon afterward, although both he and the network have denied it was directly related to his scolding of former vice presidential candidate Sarah Palin and then-Fox News hosts Bill O'Reilly and Glenn Beck.
Surely there are lessons from the events of six years ago. Perhaps this is one of the bigger ones: After the rush to judgment had already reached full speed, a friend of the man who shot Giffords said the shooter didn't watch television and disliked the news.