Tucker Carlson Says 'America Deserves Better' After 'Highly Depressing' Presidential Debate
Fox News host Tucker Carlson said the "most obvious" lesson from the first 2020 presidential debate was that America deserved better as he railed against the performances of both leading candidates.
Delivering his opening monologue on Tucker Carlson Tonight on Wednesday, Carlson said the Tuesday debate had been "highly depressing" and "painful" as he suggested Americans would have "little confidence" in the country's future after the display.
He was also critical of "personal attacks" leveled by both President Donald Trump and his Democratic rival Joe Biden, arguing that neither would win on polling day by lobbing insults at their opponent.
Speaking on Fox News last night, Carlson said: "America deserves better, that's the first and most obvious thing we learned. All kinds of people said that today, and they were right.
"This is a great country. The most decent people in the world live here. We ought to be proud of the fact we're Americans, proud of our culture, proud of our history. Most of us want it all to continue... but last night's debate gave us little confidence that will happen.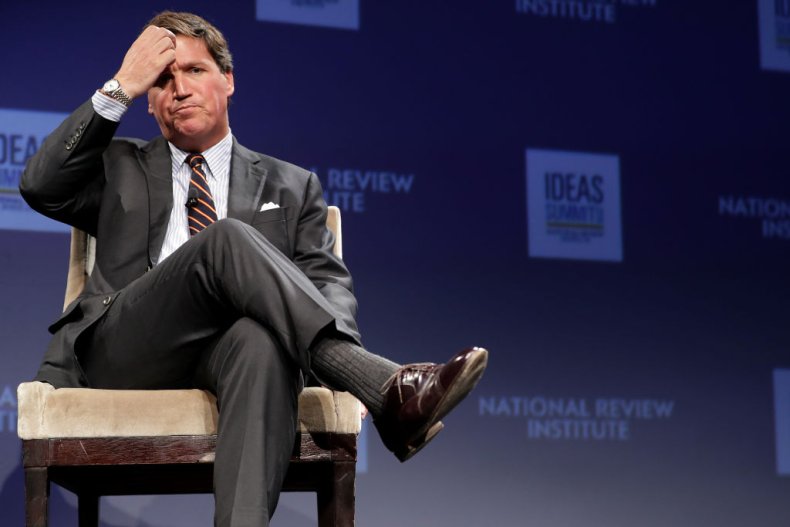 "It was a painful, highly depressing 90 minutes. At times, things seemed out of control."
The Fox News host added that it was a "mistake" for Trump to spend a lot of time "focusing on Joe Biden's mental decline," adding that the Democratic nominee "did not seem senile" on the debate stage.
"If you tuned in expecting him to forget his own name, and honestly we did expect that, you may have been surprised by how precise some of his answers were," Carlson said. "Not all of them, but enough of them."
He added that Trump wouldn't win the 2020 presidential election by "calling Joe Biden senile" and added that Biden would not win the contest by calling the president a racist.
"That slander did not work four years ago, it will not work now," the presenter said. "Because personal attacks rarely work. They rarely determine election outcomes."
The first presidential debate moderated by Fox News Sunday host Chris Wallace was marred by frequent interruptions throughout its 98-minute runtime, prompting the Commission on Presidential Debates (CPD) to promise that "additional tools to maintain order" would be introduced for future debates.
"Last night's debate made clear that additional structure should be added to the format of the remaining debates to ensure a more orderly discussion of the issues," the commission said in a statement. "The CPD will be carefully considering the changes that it will adopt and will announce those measures shortly."
The second presidential debate between Trump and Biden is scheduled to go ahead on October 15, and will be followed by the third and final debate a week later on October 22.
Florida will host the second debate moderated by C-SPAN's Steve Scully, and will take the format of a town hall—meaning audience members will be able to ask questions. The third presidential debate hosted by NBC News will take place in Tennessee and use a similar format to the first debate.
The graphic below, provided by Statista, shows how the viewership of the debate between Trump and Biden compared to past presidential head-to-heads.